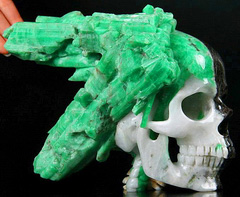 Jun 1, 2014 ACSAD (A Crystal Skull a Day) - The Queen of Dances - Gemstone Emerald Cluster Carved Crystal Skull Sculpture, Super Realistic, Crystal Healing Therapy Meditation
Item ID:W4000162
Size:4.1"x3.7"x5.5"(180x95x140 mm)
Weight:
Material:Emerald Cluster
The Queen of Dances. All eyes are drawn to look upon her. She is truly regal with her flamboyant display of fashion. She doesn't flaunt herself. She doesn't have to. She knows no other is as dynamic, as rare as she, wearing her Beryl King's crown.

Emeralds, diamonds, rubies, and sapphires, are referred to as the Top Four Gems. Emerald, with a green color unique among gems, is known as the "king of beryl". People love emerald because of its unique color and charm, as well as its amazing ancient history.

Emerald occurrence in the world is extremely rare. Compared with ruby and sapphire, emeralds grow in more complex and unique geological conditions, so emerald is far less common and the prices are more expensive.

This emerald is one of the most remarkable acquisitions of raw stones for Skullis in years due to the fact that emeralds large enough to be carved into sculptures are so exceedingly rare. Besides the gorgeous green color and the awesome large size of the emerald, what makes this stone so unique and rare is its fantastic natural combination colors. A stunning emerald crystal skull with spine sculpture, with her extravagant gorgeous green headdress of gemstone emerald, complimenting, while at the same time contrasting, so beautifully her matrix of white quartz and black shale matrix.

So very, very rarely will an emerald large enough to carve be found. For more than a year the specimen sat waiting in the studio while our designer contemplated it, considering many ideas, but none felt right. Then suddenly, while working on a druse crystal skull, an amazing revelation came to him. As he began working with the specimen, twice more inspiration came from different and unrelated sources, and the skull in the stone began to reveal itself.

Metaphysically, emerald has been used to nurture the heart and heart chakra, to facilitate healing at all levels, and to enliven the spirit. It is considered a stone of the mind, facilitating meditation, patience, wisdom, discernment, unity, compassion, and visions and intuition. Emerald has been used to enhance memory, a greater mental capacity, insight, and to increase focus and intent. Emerald inspires artistic creativity and provides focus, and also stimulates thought, reflection, and philosophical contemplation.

Emotionally emerald is considered to strengthen and bring balance to relationships, especially domestic relationships, to inspire unity, contentment, sensitivity and sympathy, and unconditional love. Emerald was associated with the goddess of love, Venus.

The Queen of Dances holds a special place in our hearts here at Skullis. This is among the rarest and most valuable sculptures Skullis has produced in almost ten years of carving crystals and minerals. All of our works are special and personal, but once in a while a carving becomes a labor of love, coming from the heart, and we find ourselves deeply connected with it on a personal level.

The Queen of Dances is exactly that piece for us. To find an emerald crystal cluster of this size is almost unheard of. This sculpture is a completely unique, one of a kind creation. The combination of the immense emerald cluster and the uncounted hours spent bringing this masterpiece to life make it one of our most valuable works of fine art, and Skullis is excited to finally present this rare sculpture to you now!

Skullis has produced amazing crystal and gemstone skull carvings over the years, and The Queen of Dances has to be one of the absolute best, one of the royal best. Surely a queen would be. We are so proud of this magnificent sculpture. Appropriately, we have asked her to inaugurate our A Crystal Skull a Day event, leading us forward on a wonderful journey. And you are invited to come along! Welcome to Skullis' A Crystal Skull a Day!

| | | |
| --- | --- | --- |
| ORIGIN: Yunnan, China | HARDNESS: 7 | NATURAL: 100% natural |
The skull pictured is the exact one you will receive.
You are welcome to save or print one or more pictures below as a certification of the skull's Skullis identity.