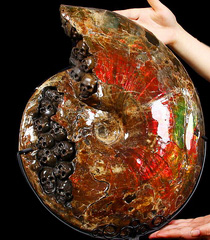 May 30, 2015 ACSAD (A Crystal Skull a Day) - Harmonious Universe - Ammolite on Ammonite Fossil Carved Crystal Skulls Sculpture with Stand
Item ID:W4000420
Size:16.3"x3.9"x14.0"(415x100x355 mm) Stand: 13.7"x7.7"x17.9"(350x195x454 mm)
Weight:
Material:Ammolite and Ammonite Fossil
Harmonious Universe is a magnificent and very beautiful crystal skulls sculpture carved from a stunning ammonite fossil with a high quality ammolite exterior from Canada. This amazing and beautifully designed sculpture features three groupings of crystal skulls while also managing to preserve the experience of the fossil and its ammolite shell as a whole. An eloquent work of art, the Harmonious Universe displays on a custom designed stand featuring decorative yet inconspicuous iron work rising from a gorgeous finished wood stand. The Harmonious Universe ammolite on ammonite fossil crystal skulls sculpture measures 16.3 x 3.9 x 14.0 inches (415x100x355 mm) and the polished wood stand measures 13.7 x 7.7 x 17.9 inches (350x195x454 mm). The total weight of this masterpiece from Steven Z. is 41.78 pounds (18949 g).

From the creator himself, Skullis' master artist and designer Steven Z. recounts his serendipitous experience of finding and creating the Harmonious Universe ammolite on ammonite fossil crystal skulls sculpture with stand:

There is a story about how I got this ammolite: Years ago I went to a large scale jewelry exhibition. As I entered a section of the venue I was attracted by a gorgeous rainbow. I walked towards its direction and found a colorful ammolite arranged by an Australian exhibitor. Its beautiful colors were shining and glittering in the light, magnificent! I was carried away by its beauty and wondering if this was the boudoir of the river girl in Chinese ancient mythology. It was amazing! Her beauty was so breathtaking that I hardly heard anything about the introduction by the exhibitor. When I learned that beautiful ammolite gems were used for decoration and served as the accessory part for jewelry, I told myself that I had to find a way to make this gorgeous gem covered ammonite fossil more beautiful, charming, and collectable! I decided to buy it. The Australian exhibitor asked about my job and I told him that I work in the sculpture and design industry. He was quite surprised and asked, "Are you going to carve the ammolite? How is it possible?!" He had an incredulous look and said that he had owned a mine for dozens of years and had never heard that ammolite could be carved. He said that he felt my aura when I entered the exhibition hall with my hair standing on end. "I could feel your aura, and you are destined to meet this gem and I am sure you will create something great! Don't forget to show me the pictures of your pieces of art when they are done," he added. (I had showed him my previous works and he gave me the thumbs up. He said I was the forerunner of ammolite sculpting. I really appreciated his encouragement and confidence in me. Thanks!)

That's how I met the beautiful gem, ammolite, the first time. It gathers the essence of the universe and has seven layers of bright colors. Each color will align with a chakra of the human body and bring good luck. Therefore, the ammolite in the colors of the rainbow is a "magical stone," and it can develop the treasure of the human body. It is cold outside and warm inside. Warm is love. In the universe, the spiral is a cosmic symbol, standing for good luck and harmony, and it is universe's code of the heavenly body and nature. "Tai Chi circle " also comes from the idea of the cosmic spiral. Therefore the fossil of the spiral shell is a mascot with infinite spiral signs for thousands of years. The colorful light of the ammolite enables us to feel the harmony of embracing nature, and to come to realize the code of the universe.

I was inspired from the universe and galaxy-like symbols of the spiral shell. How she looks like a revolving galaxy in the universe with rainbows! Spiral shell has a powerful reproductive capacity and there are numerous seeds inside her when she is reproducing, and it reminds me of the elements of the crystal skulls. Yes, I boldly decided to design skulls full of wisdom in the beautiful ammolite. I worked with great care with the imperfect places of the ammolite and at last designed several dense clusters of irregular skulls. When drawing the skulls of different sizes and shapes, I felt that "the harmonious universe" was to going to come out, and I was so exited. I selected a most experienced senior sculptor of Skullis, Mr. Pan, to work with me for this carving. (Mr. Pan has 15 years experience in jade carving. He has considerable knowledge and background, and has carved many different styles of works. He is a highly skilled sculptor.) After one year of arduous yet happy cooperation, we created a miracle – a rare and large original work fashioned from ammolite: Harmonious Universe!

Within the Harmonious Universe sculpture, we see a number of small skulls appearing indistinctly within the ammonite's swirls. They look like seeds multiplying in an endless succession, yet they also resembles small stars swirling around a galaxy in outer space. Harmonious Universe is a rare and beautiful treasure!

I needed to create a pedestal to display her perfectly. She is beautiful when viewed from either side. As I held this amazing piece in my hand and watched over and over again, a sudden inspiration for the pedestal came and my hands moved to hold her in a half-moon shape. I overcame some difficulties and designed a revolving structure that can be manually turned. She revolves when hands are supporting and pushing the ammonite. Spiral patterns decorate the half-moon shaped support, continuing the natural theme established by the Harmonious Universe ammonite fossil. I designed the pedestal to be simple, elegant, and tasteful. Now, finally, the whole piece is presented. "Harmonious Universe" is born! Let this beautiful Harmonious Universe ammolite on ammonite fossil crystal skull sculpture bring happiness to you and everyone in the world.

The Placenticeras genus species of ammonites lived approximately 94.3 to 66.043 million years ago in the Late/Upper Cretaceous period. These ancient sea dwellers inhabited the Western Interior Seaway that bisected the North American continent. They are considered to have been fast moving carnivores which inhabited coastal, offshore, transition zone/lower shore face, shallow subtidal, deep subtidal shelf, basinal, and offshore shelf ocean environments. Specimens from the Alberta, Canada deposits are considered to be the finest examples of ammolite occurrence on ammonites.

In north Indian legends, ammolite absorbs the essence of the universe and has a curing and regulating effect on the body. In Feng Shui, ammonite and ammolite symbolize longevity, harmony, and virtue and are used for prosperity, improved flow of chi, detoxifying the body, and are used to bring about good health, happiness, and wisdom. Ammolite increases the energies and effectiveness of Feng Shui, as well as other consciously directed thoughts and energies intended for creation and manifestation work. Ammolite can be used for heightening spiritual awareness, connecting to, and communicating with, the shared energy and consciousness of the Earth, and is considered one of the best crystals to work with for assisting with the current Earth changes and consciousness shifting we are experiencing. Ammolite transforms negative energy into healing energy, and enhances meditation, encourages a positive outlook, and helps to alleviate stress and suffering. Ammolite is one of the few gems of organic origin, and it is worn as talismans, amulets, and other forms of jewelry to promote abundance and bring one good luck.

Ammolite is used to activate dormant DNA to move one forward to the state of perfect health of the physical and etheric bodies. It is also used for craniosacral therapy. It helps to reduce stress and tension, and in Feng Shui it is used to detoxify the body and improve energy flow to bring about overall well being.

More closely related to octopi, cuttlefish, and squid than the modern chambered nautilus, ammonites enjoyed a lengthy 175 million year existence in prehistoric oceans, with many genus and species rapidly evolving and disappearing during that time. Ammonites descended from the bacrites straight shelled cephalopods that lived around 415 million years in the past. The ammonites first arrive in the fossil record at a point of about 240 million years ago, surviving several extinction events. They continued until coming to their final extinction in company with the dinosaurs at 65 million years ago. It is believed that the majority of ammonite species inhabited the shallow, warm and temperate waters along the inner part of the continental shelves in around the world.

Having been discovered numerable times throughout recorded history, often by asking very simple and unrelated questions, the Golden Ratio, or Fibonacci Sequence, the consistently repeated pattern of nature growing and evolving, is represented here in this ancient fossil. This Golden Ratio is considered one of the forms of Sacred Geometry which reflects the universe, its pure forms, and the dynamic relationship we share with nature - the inseparable relationship of the part to the whole. By studying the Sacred Geometry of one thing we find meaning and structural insight into the workings of the inner self and other processes of the universe. Incredibly this spiral growth pattern occurs over and over in the universe around us, from the molecular structure of our DNA, to most plants, including cauliflower, cacti and succulents, daisies and sunflowers, many, many trees, pinecones and pineapples, shells of many invertebrates, and so on, all the way out to the astronomical scale of the Milky Way and other distant galaxies! The ammonite is considered to directly connect one to the Golden Mean Spiral energies to promote personal growth, self-awareness, and the evolutionary consciousness of the Earth and the higher consciousness we all share.

Metaphysically, ammonites are employed for gaining insight of where to begin a process, and to maintain sight of the whole picture while focusing on the individual steps of that process. They are used for protection, structure, and stability, and to transform negativity into a gentle, fluent energy. Ammonites are also used to assist one with relaxation and to provide support and minimize depression that can be associated with the re-birthing process. In Feng Shui, ammonites symbolize longevity, harmony, and virtue and are used for prosperity, improved flow of chi, detoxifying the body, and are used to bring about good health, happiness, and wisdom. Physically ammonites have been used to ease the birthing process, and for treatment of issues with the extremities of the body and the lungs.

NOTE: Skullis does not prescribe treatment for medical issues. Skullis offers information for reference to assist with the selection and understanding of crystal skulls, including this ammolite occurrence ammonite fossil crystal skulls sculpture.

| | | |
| --- | --- | --- |
| ORIGIN: Canada | HARDNESS: 5.5 | NATURAL: 100% natural |
The skull pictured is the exact one you will receive.
You are welcome to save or print one or more pictures below as a certification of the skull's Skullis identity.