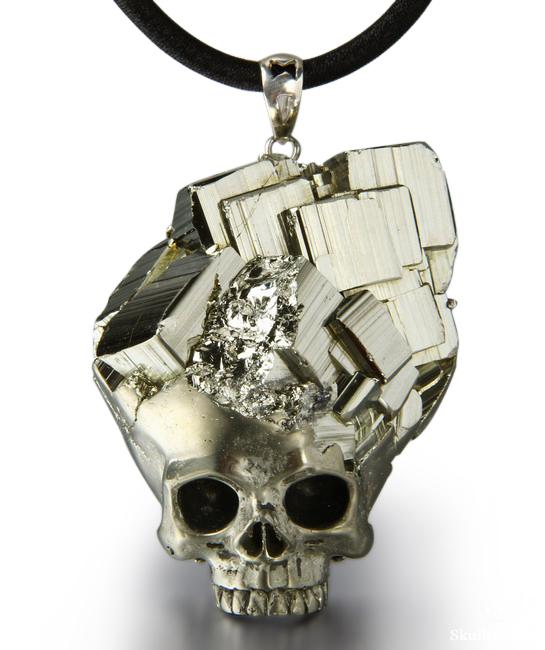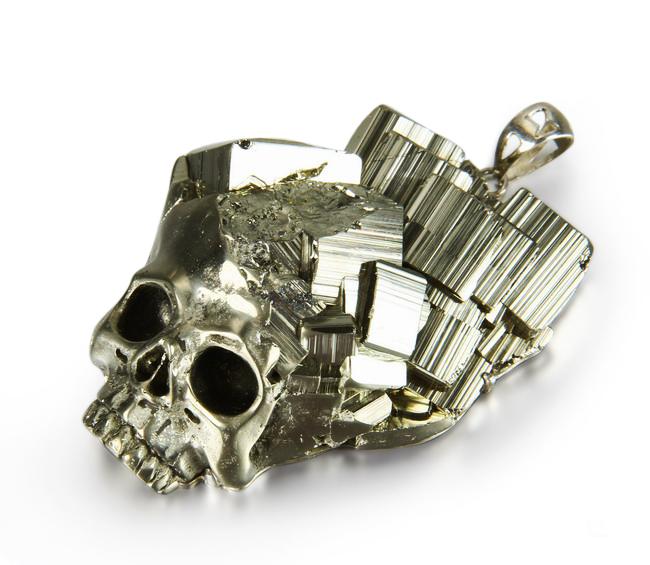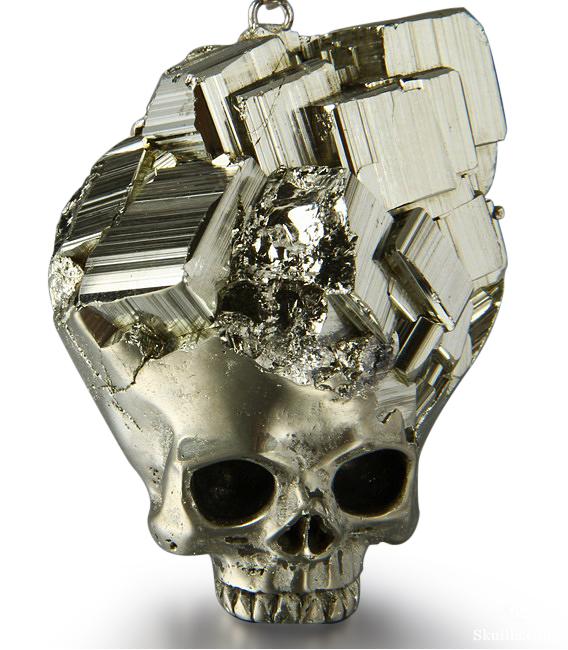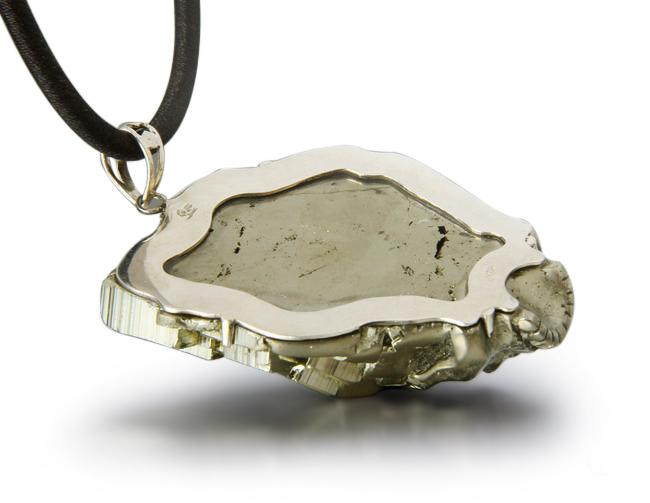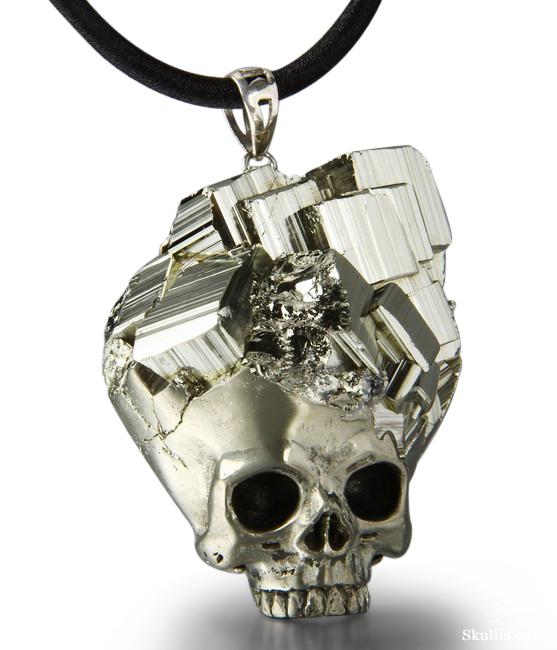 Apr 27, 2015 ACSAD (A Crystal Skull a Day) - Dreamtime - Pyrite Druse Carved Crystal Skull Pendant with Sterling Silver
Item ID:W4000303
Size:2.2"x1.7"x0.8"(56x42x20 mm)
Weight:
Material:Pyrite Druse
Dreamtime has been crafted from a pyrite crystal cluster from Peru, and set onto a sterling silver backing to be worn as a uniquely attractive pendant. The crystal skull at the bottom of the pyrite crystal cluster is a perfectly detailed skull without a lower jaw. The pyrite features a brilliant polished surface resembling finished gold on the natural stacked cube shaped crystals. The Dreamtime pyrite crystal skull pendant is a beautiful one of a kind piece, measuring 2.2 x 1.7 x 0.8 inches (56x42x20 mm) with a solid weight of 3.25 ounces (93 g).

The Dreamtime crystal skull pendant encourages us to become what we may only dream of being, helping us set aside self doubt to understand we each have the ability to create and manifest in our reality every desire that furthers our growth and our process of finding spiritual enlightenment.

Dreamtime inspires us to remain true to what we believe, while also helping us to see the wisdom of being open to changing our perspective and our opinions. The Dreamtime crystal skull pendant helps us to be comfortable with the knowledge that we will not always be correct, and reassures us by encouraging us to always strive for truth and honesty.

The Dreamtime crystal skull helps us to recognize the guidance of higher consciousness in our lives, increasing our sensitivity to the information and wisdom being offered to us through the experiences and situations in our lives. The Dreamtime pyrite crystal skull pendant also encourages us to focus on developing our intuitive and psychic talents, and to maintain the peaceful balance of our emotional state by following where our spiritual hearts may lead us.
Pyrite is an earth element that also represents the element of fire. It symbolizes the lasting presence of the sun and the ability to create wealth with one's own power. Native American Indian tribes valued pyrite as a healing stone of magic, and Incas and Aztecs were known to carve and polish it into mirrors for divination and scrying, one side of the stone usually was flat and the other side highly convex and carved with symbolic markings.

Pyrite represents action, vitality, and will, and assists one to recognize their inborn potential and abilities, stimulating the creative mind. Pyrite instills confidence and perseverance, and is an excellent stone of manifestation, enabling one to manipulate high-frequency energy through the physical body and create abundance in one's life.

Pyrite is a very effective stone of protection, utilizing earth energies to shield against negative energies, pollutants, contagious diseases, emotional assault, and physical harm. Pyrite gives support by instilling boldness and assertiveness when one is protecting other people, the planet, or community issues. It strengthens will and the ability to see truth through deceptions and masks. Pyrite is particularly useful for protection when traveling or doing dangerous work. It also is used to protect against control, criticism, and manipulation, giving one the strength to resist without reacting with anger or ill thought, and in this way shifting the power from the one that would do harm to the person who is responding from a position of unconditional love. It is an excellent protective stone for caregivers and medical workers.

Being a crystal of positive energy, it is helpful for dispersing depression, despair, anxiety, and frustration, revealing the causes of these emotions and stimulating one to find answers to the core issues. Pyrite in one's environment brings energizing vitality, conquering intellectual fatigue caused by overwork, and is used to stimulate blood flow to the brain to heighten mental clarity, memory, and concentration, and to dispel tiredness.

Pyrite brings inspiration and creativity to many subjects of study and expression including art, mathematics, science, architecture, and especially disciplines that recognize the inherent perfection and harmonious symmetry of nature and the universe. It brings ambition, commitment, and dedication, and is a wonderful stone for students.

Pyrite augments male energies in men and women, bringing assertive and protective traits forward, increasing confidence and one's feeling of self-worth, and providing a means of leaving concepts of servitude and inferiority behind.

Pyrite promotes health and well being, activating and nourishing energies of the body with the energies of the universe. It has been used for healing, getting fast results, and is considered to be effective in cases that seem to have no options. It is helpful to determine the root causes of karmic and psychosomatic dis-ease.

Pyrite brings to us the powerful lesson that often that which bothers us about other people is a trait we ourselves also possess. It empowers the spirit, giving support needed to overcome fears and take action, and can be used to help one let go of their insecurities and self doubt to become more dynamic and confident.

Pyrite encourages the realization of optimal health by actuating the body's own energies. It can be used to achieve results quickly and for situations that seem to have no solutions. It helps to identify the cause of health issues and the reasons for the experience, especially when it is a dis-ease resulting from karma or emotional situations.

Pyrite is an excellent defensive stone, protecting the body from pollution and contagious diseases. It is used for treating viral infections; including colds and flu and other disease causing viruses, and also skin disorders and fungal infections, and may be useful in treatments for highly infectious diseases. It is used to reduce fever and inflammations.

Pyrite is beneficial to the respiratory and circulatory systems, helping the blood and the circulatory system efficiently transfer oxygen from the lungs to the bloodstream. It can be effective for treating blood disorders, and helps to relieve asthma and bronchitis. Pyrite assists in structural and cellular issues of the skeletal system, and it can help repair and prevent damage to the DNA. It brings balance to the body's acidity, assists in assimilation of minerals, and can be used to protect the skin from excessive light, heat, cold, dryness, or moisture. Pyrite is a stone of the solar plexus chakra. It aids in maintaining proper health of the stomach and intestines, in the prevention and treatment of ulcers, and it also aids the digestive tract, lessening irritation by ingested toxins. It also stimulates proper function of the endocrine system and can be used for issues of male impotence and infertility.

The most important gift of Pyrite, though, is its ability to aid mental capacity. It helps to balance creative and intuitive impulses with scientific and practical ones, and communication skills can also improve with the help of pyrite. Pyrite eases anxiety and frustration and is used to stimulate blood flow to the brain to heighten mental clarity, memory, concentration, and to dispel tiredness.

NOTE: Skullis does not prescribe treatment for medical issues. Skullis offers information for reference to assist with the selection and understanding of crystal skulls, including this pyrite crystal skull sculpture.
| | | |
| --- | --- | --- |
| ORIGIN: Peru | HARDNESS: 7 | NATURAL: 100% natural |
The skull pictured is the exact one you will receive.
You are welcome to save or print one or more pictures below as a certification of the skull's Skullis identity.