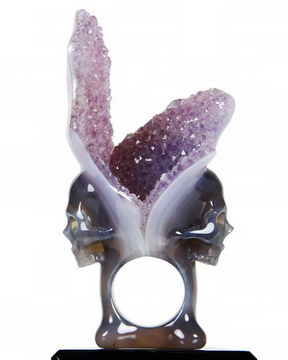 Two of a Mind - Size 10 1/2, Agate Amethyst Druse Carved Crystal Skulls Ring Sculpture with Black Obsidian Stand
Item ID:4805558
Size:1.7"x2.0"x3.9"(43x50x98 mm) 2.4"x2.3"x3.1" (60x59x79 mm)
Weight:
Material:Agate Amethyst Druse
The Two of a Mind agate amethyst druse crystal skulls ring is a cleverly crafted wearable sculpture from Skullis.com. Carved from a solid specimen of agate geode from Brazil, Two of a Mind is a single piece sculpture which features two opposite facing agate crystal skulls skirting a beautiful sparkling amethyst druse geode interior. Standing on the bone shaped base of the ring, the translucent agate of the Two of a Mind sculpture displays layers of natural coloring that gradually turn to an opaque white towards the center of the specimen, adding a lovely framework to the transparent amethyst crystal encrusted cavity. The Two of a Mind crystal skulls ring sculpture displays on a highly polished black obsidian block stand with beveled edges.

Two of a Mind is a brilliant addition to the collection of unique, one of a kind crystal skull jewelry sculptures from Skullis. This remarkable work of wearable art measures 1.7x2.0x3.9 inches (43x50x98 mm) inches and the black obsidian stand measures 2.4 x 5.3 x 3.1 inches (60x59x79 mm). The total weight is 1.68 pounds (765g).

| | | |
| --- | --- | --- |
| ORIGIN: Brazil | HARDNESS: 7 | NATURAL: 100% natural |
The skull pictured is the exact one you will receive.
You are welcome to save or print one or more pictures below as a certification of the skull's Skullis identity.