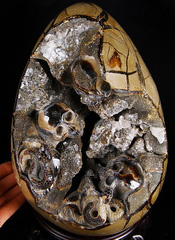 Titan 10.0" Dragon Septarian Stone Carved Crystal Skulls Sculpture, Ruby and Green Garnet Eyes
Item ID:W0000061
Size:10.0"x6.7"x6.7"(255x170x170 mm) 6.4"x6.4"x3.7"(162x162x93 mm)
Weight:
Material:Dragon Septarian Stone
You are looking at a Dragon Septarian Stone skull. The skull is 10 inches long, from front to back.



Septarian is a geode that is a combination of yellow calcite, brown aragonite, grey limestone and white/clear barite, thus it has properties of each of its component minerals. Septarian is brings calming energies which have a nurturing feel to them, and can bring feelings of joy and spiritual uplifting. Septarian is used to enhance and nurture communication with groups, making it much easier to speak clearly and kindly in group settings.Septarian is also used to assist with communication with Mother Earth. It is said to bring unconscious foreknowledge needed by the user to help him or her always be prepared for what is coming up. In crystal healing folklore, Septarian is used for healing of the blood and kidneys. Septarian is related to the lower chakras, root, sacral and solar plexus.





PLEASE NOTE: We listed this item at our eBay store as well. If, respectively, one buys it at our eBay store and another one buys it here, buyer who makes the purchase and pays first get it (and we will send full refund to the other buyer). Thanks for your understanding.

| | | |
| --- | --- | --- |
| ORIGIN: Madagascar | HARDNESS: 5 | NATURAL: 100% natural |
The skull pictured is the exact one you will receive.
You are welcome to save or print one or more pictures below as a certification of the skull's Skullis identity.