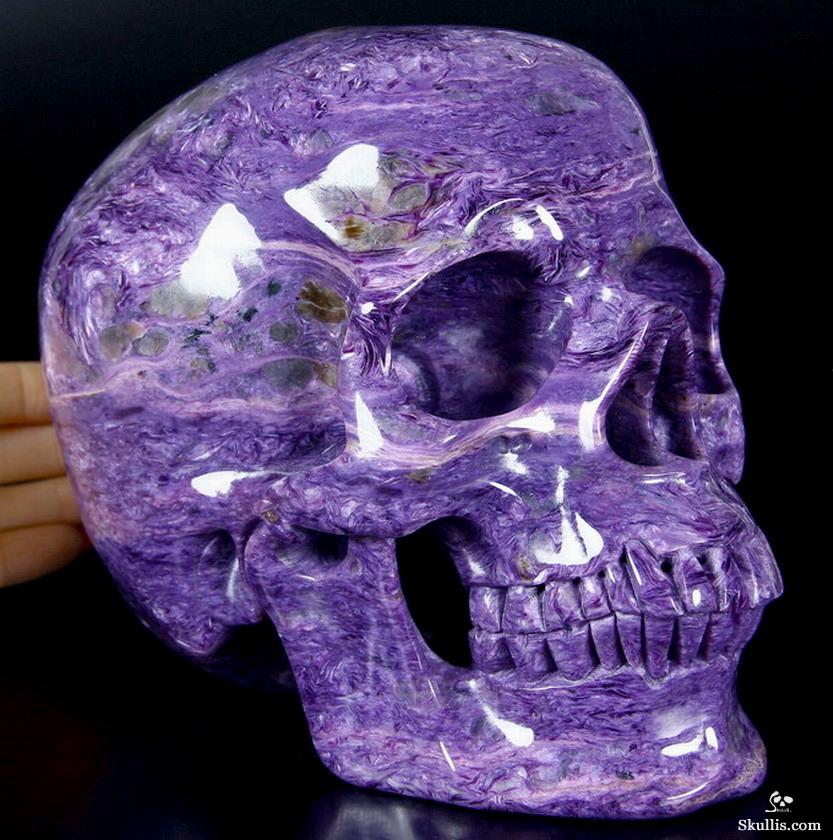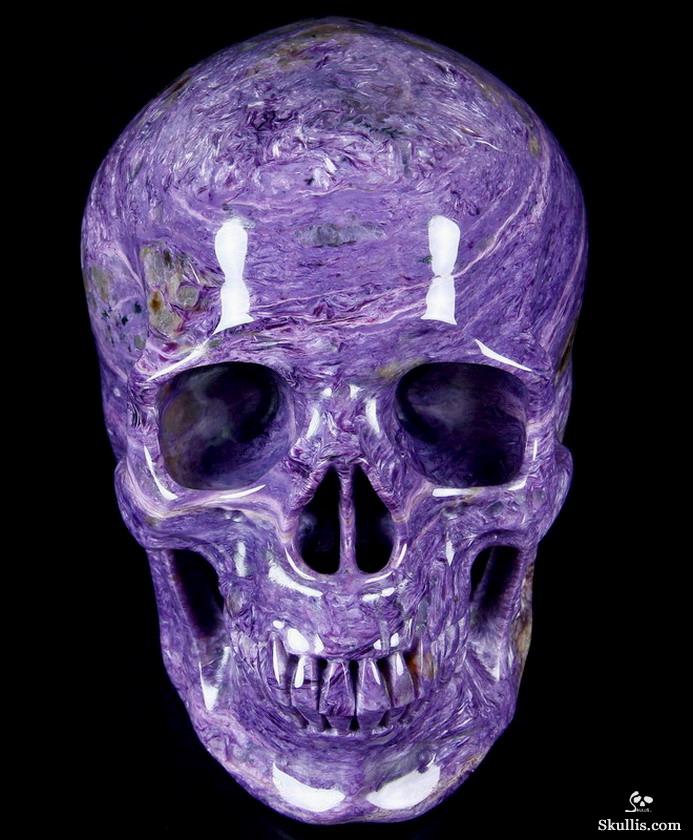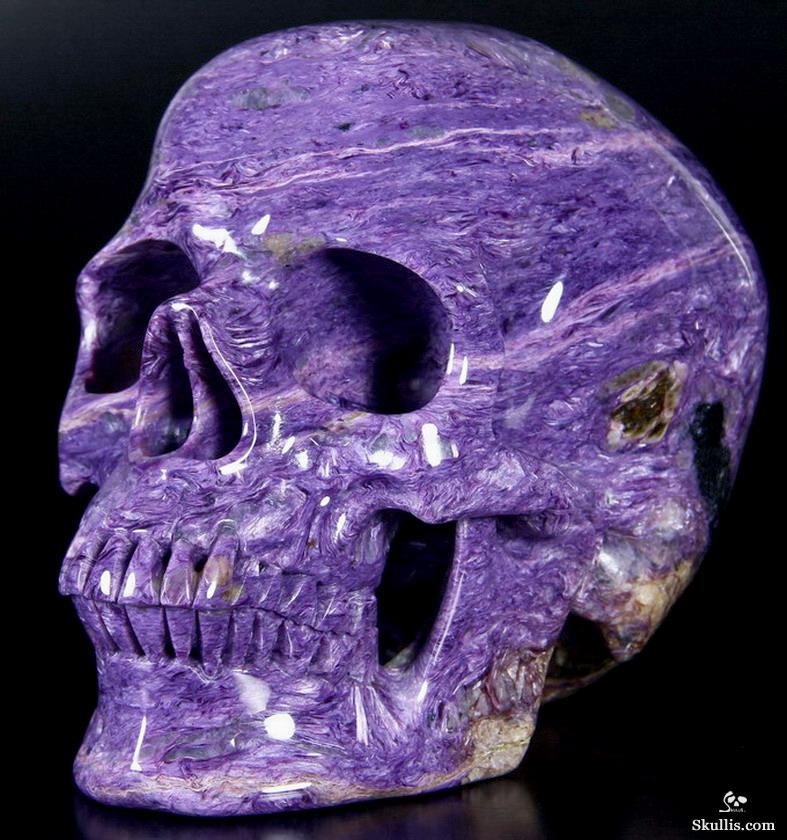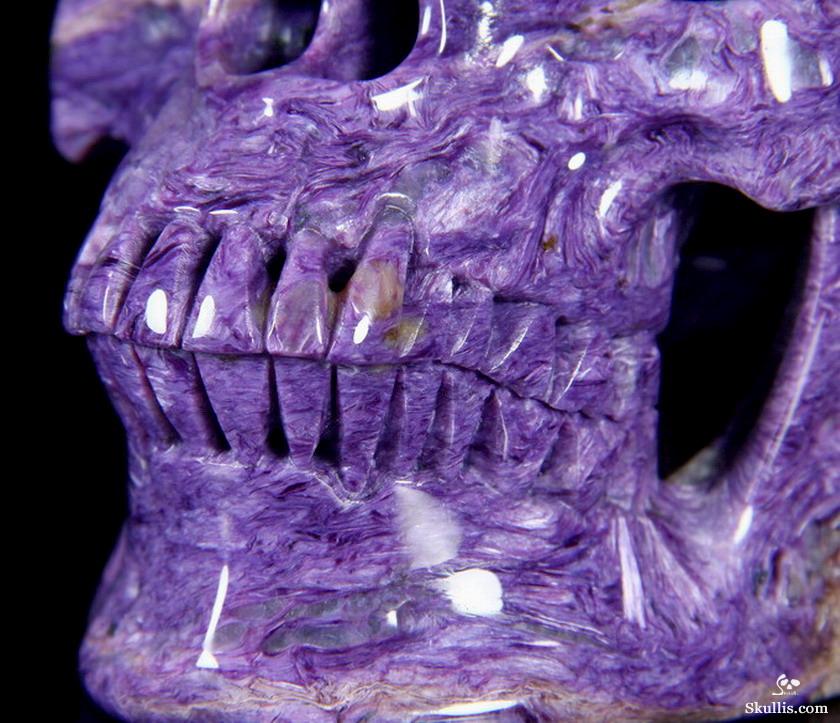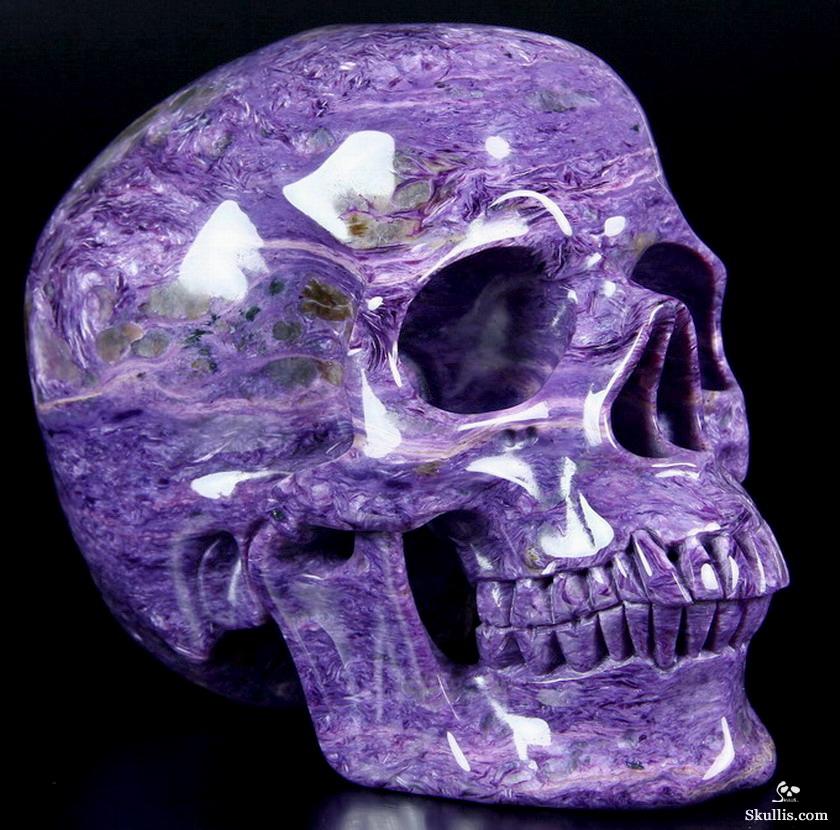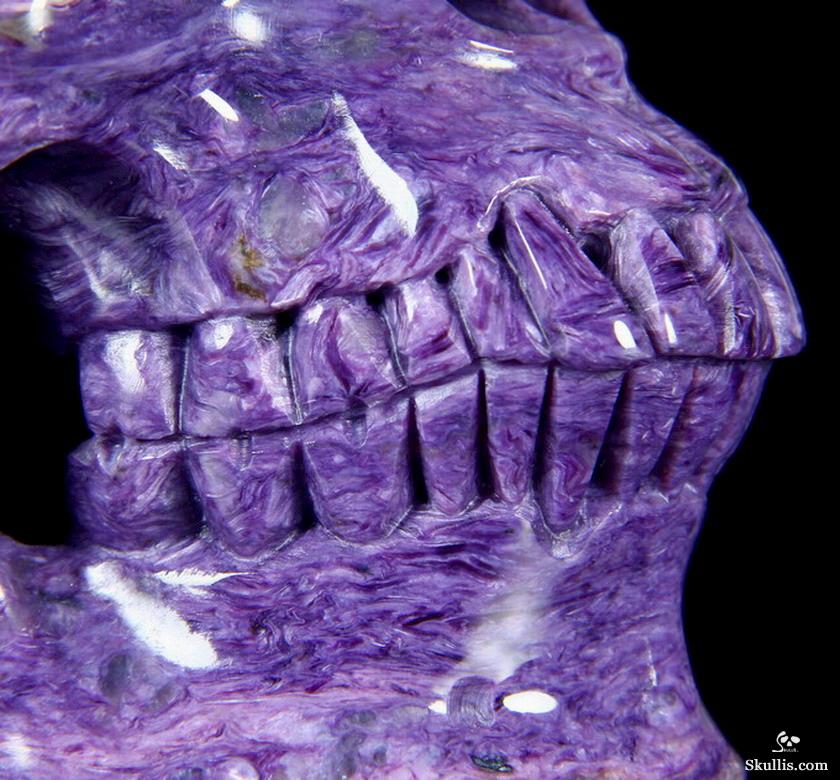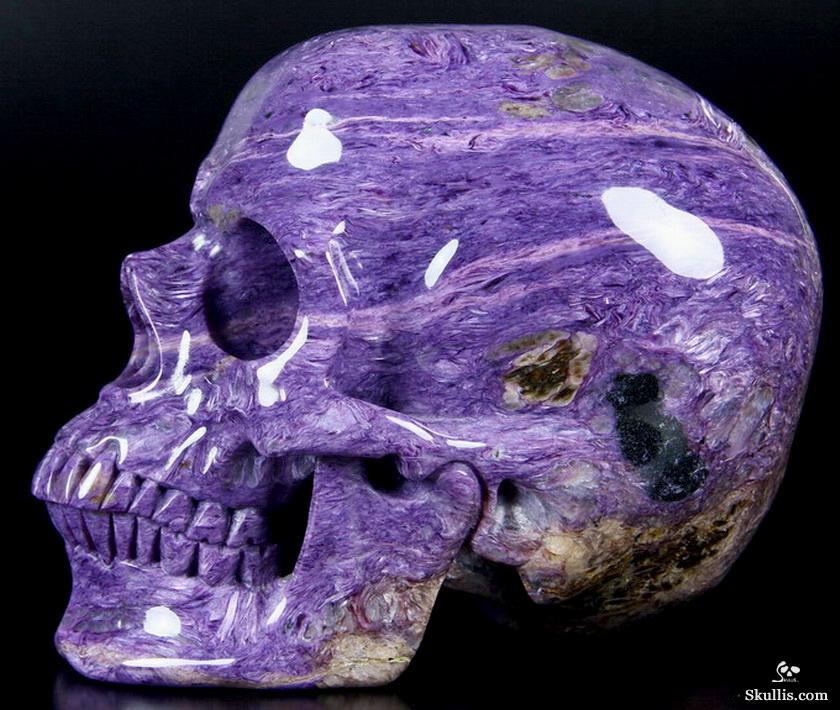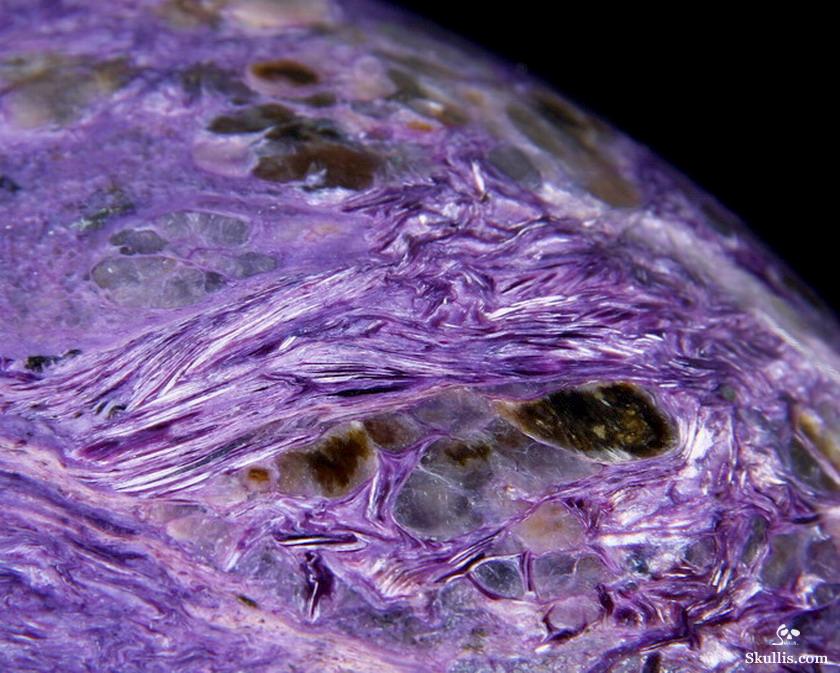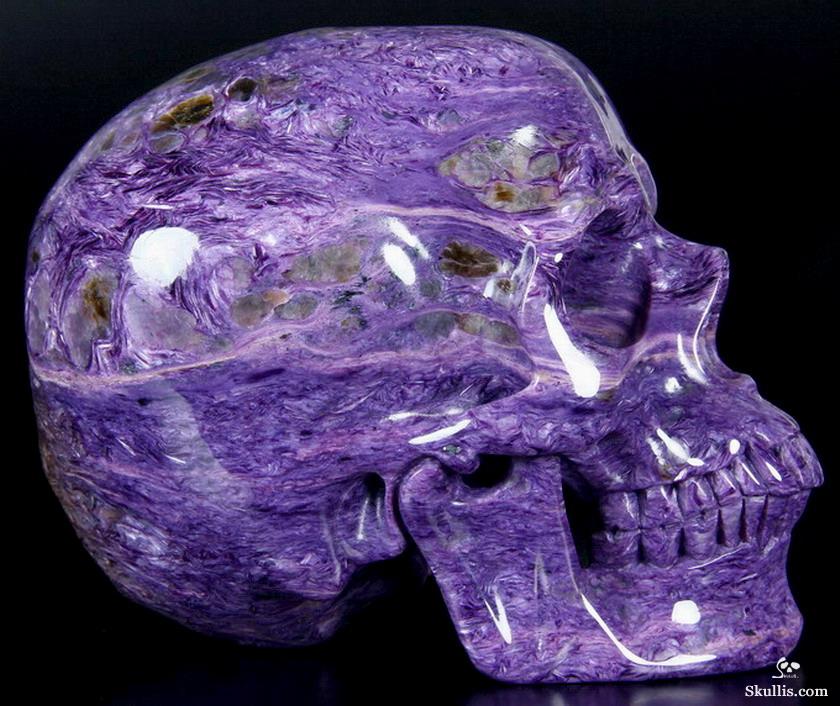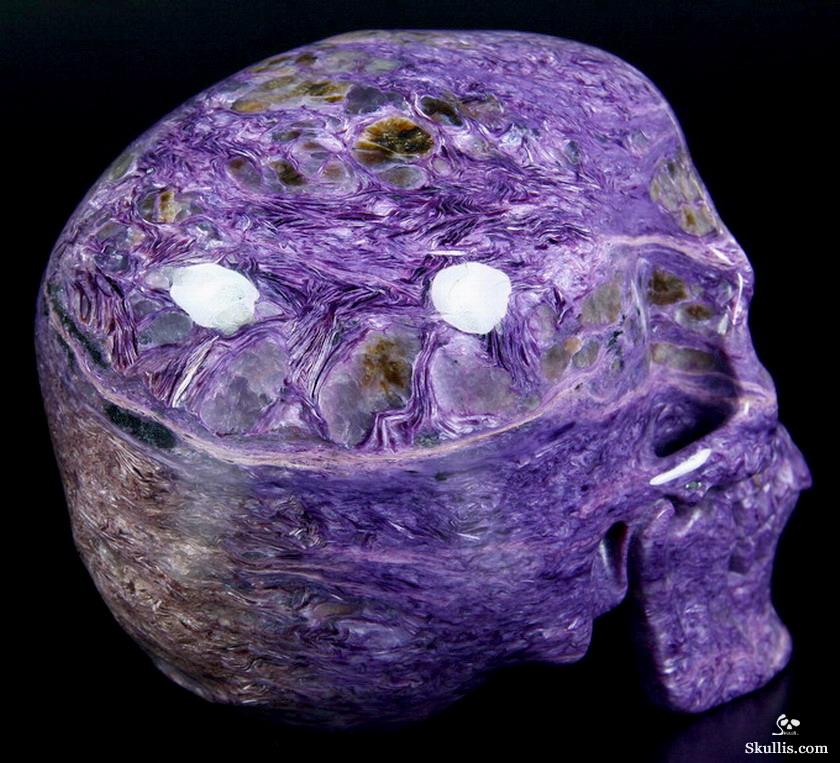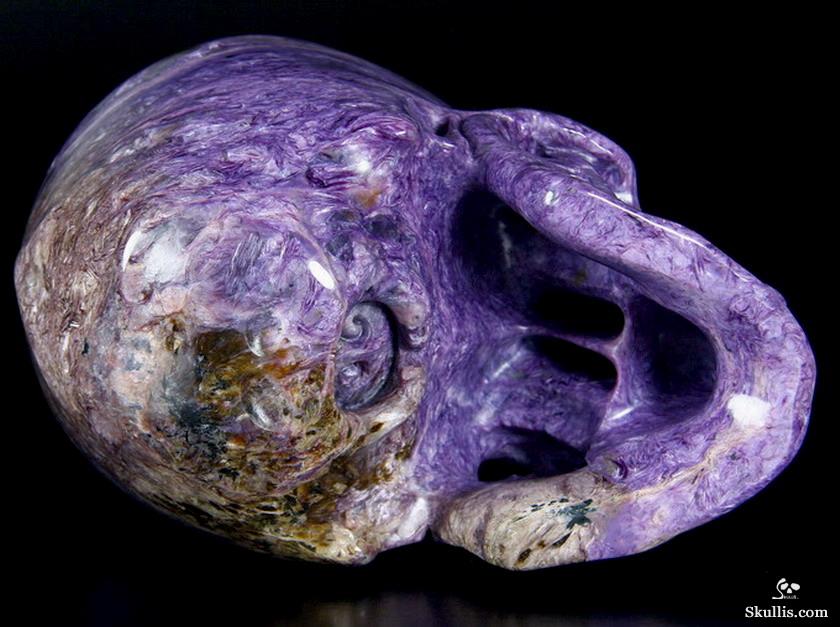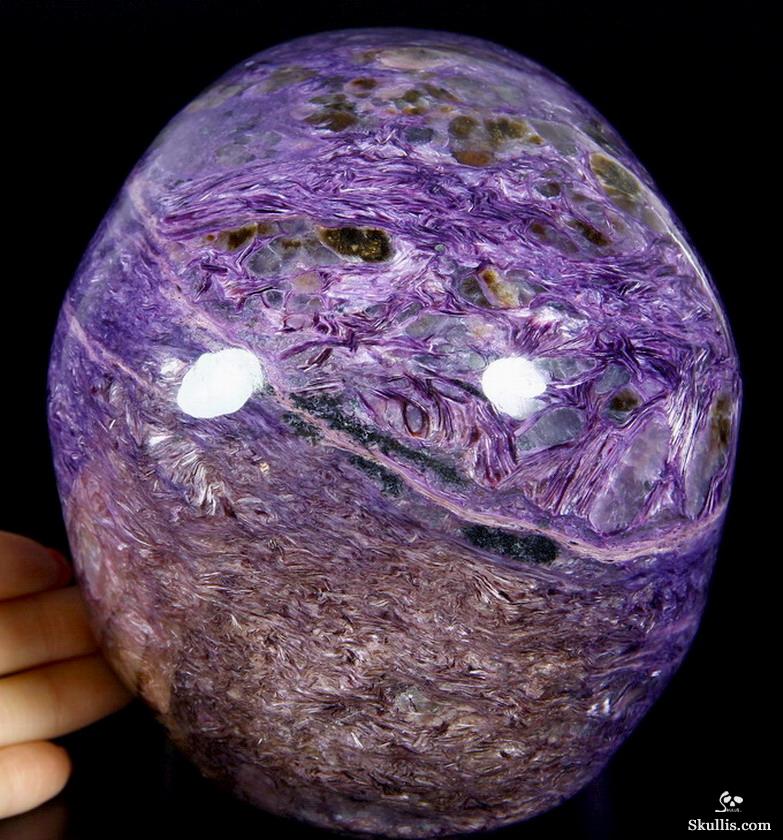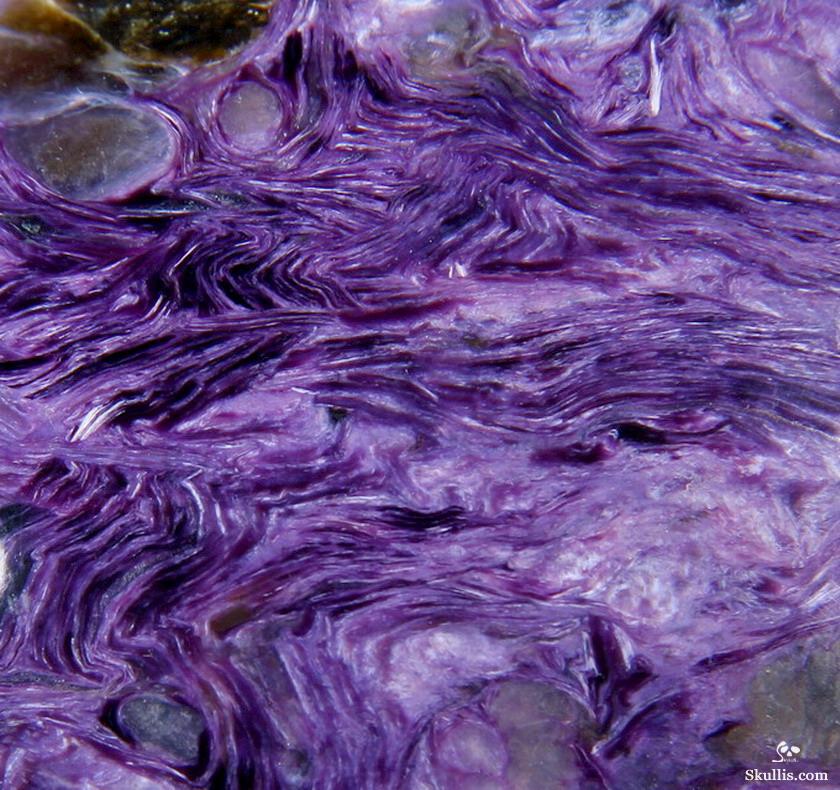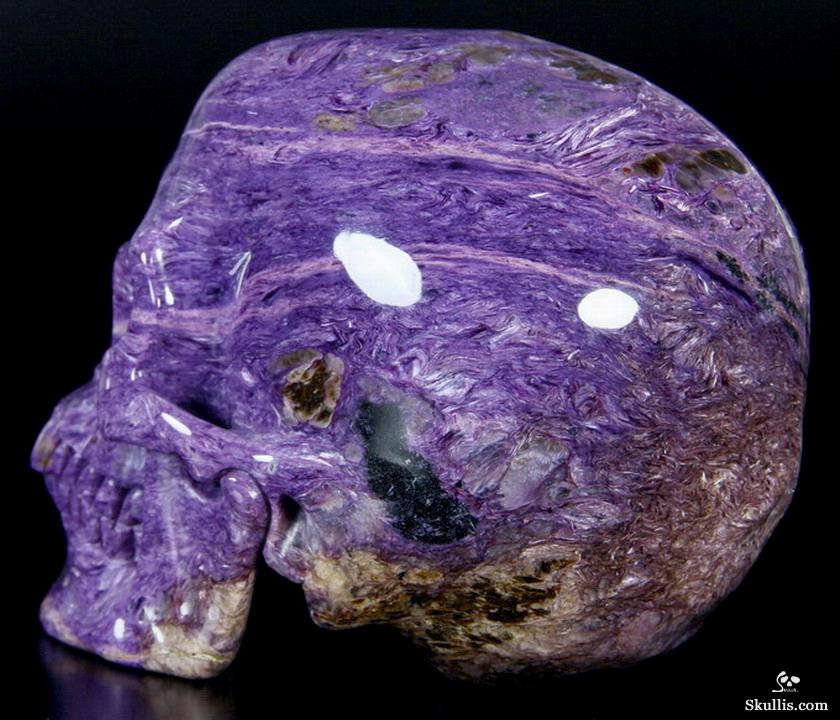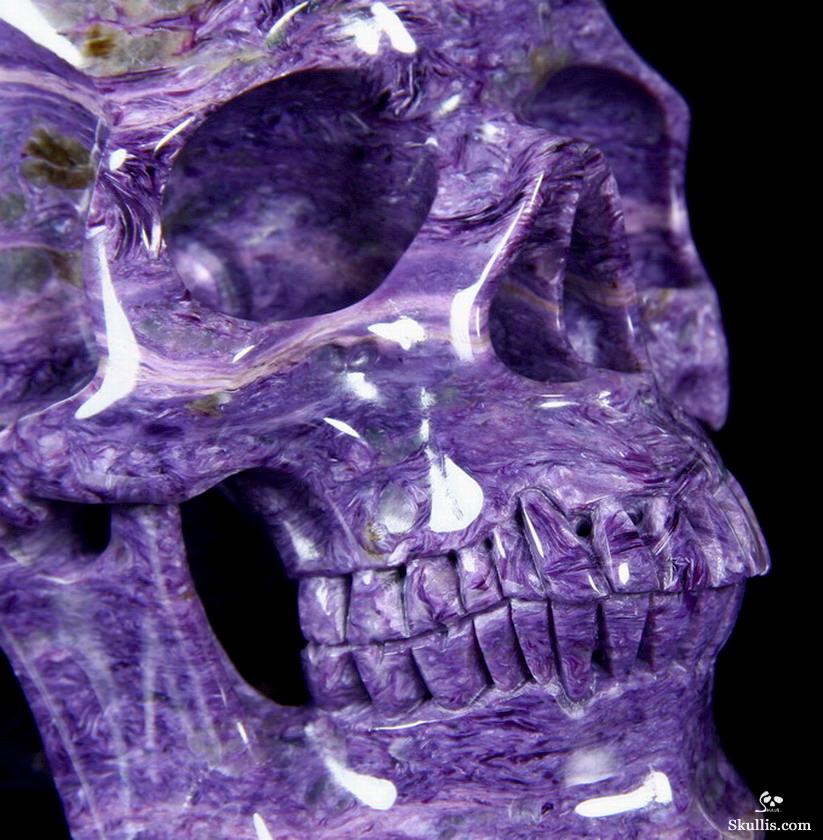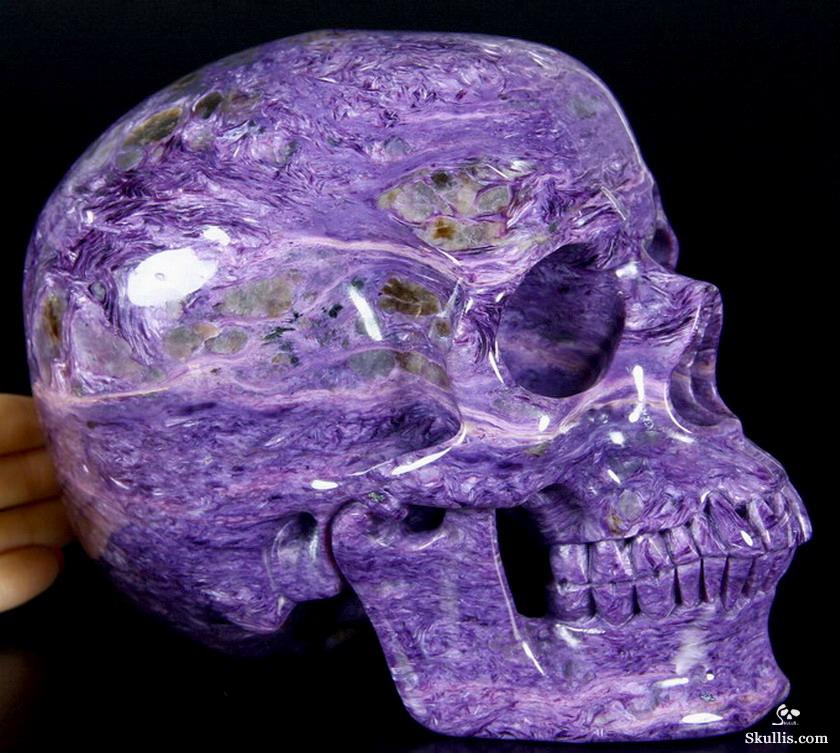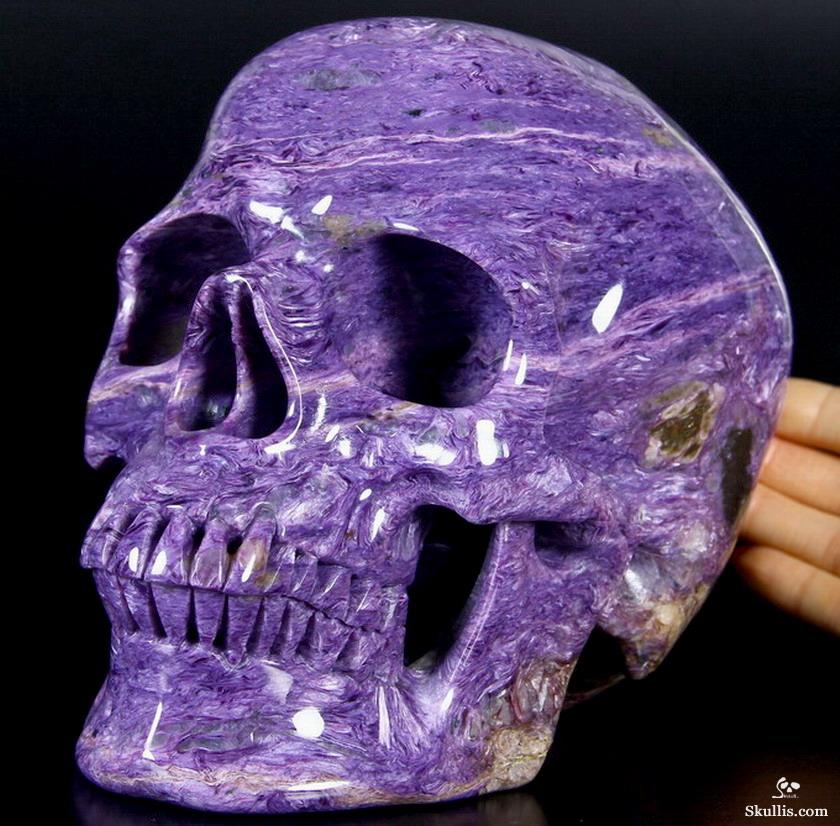 Ocharovaniye - Russian Charoite Lifesized Carved Crystal Skull Sculpture
Item ID:4805687
Size:7.3"x4.9"x5.6"(185x124x143 mm)
Weight:
Material:Russian Charoite
Ocharovaniye is a superb life-sized crystal skull sculpture carved from a massive specimen of gem quality charoite. Ocharovaniye is a Russian word which means charm, enchantment, glamor, allure, loveliness, magic, and delight, and can be used to convey each possible definition of these words. The Ocharovaniye Russian charoite crystal skull is a stunning sculpture in both material and the outstanding details of the Super Realistic crystal skull design from Skullis. Ocharovaniye is carved from the highest quality charoite Skullis has ever had the good fortune to acquire, with perfect color and patterning of this most beautiful gemstone. The Ocharovaniye crystal skull displays many colorful crystal inclusions of aegirine, canasite, steacyite, and tinkasite woven into the wonderful shades of violet and purple charoite. Ocharovaniye is a life-sized crystal skull sculpture which measures 7.3 x 4.9 x 5.6 inches (185x124x143 mm) and weighs an impressive 8.5 pounds (3859g). Skullis is extremely proud of the Ocharovaniye life-sized crystal skull sculpture, considering this beautiful piece to be amongst our finest works of art.

Though it is known that the Mongols used charoite to create carvings for ornamentation, as well as for healing, strengthening the bonds of family and community, and for protection from evils, charoite is commonly thought of as originally being discovered during the construction of a rail tunnel in the 1940s. However, possibly due to being unremarkable as a rough stone, it didn't gain popularity until it was described in 1978. Only one source of charoite is known, found in the Sakha Republic, Yakutia, Siberia in Russia, and it remains a rare stone. Surprisingly, the formation process which creates charoite is very common. A mass of igneous rock, in this case a syenite of the Murunskii Massif was forced into limestone causing a chemical alteration. As this is how many mountains have been formed, it remains a mystery as to why charoite occurs only at this one small region in Russia. Some sources say the supply of charoite has been decreasing.

If you've ever seen charoite up close you'll understand how beautiful it is with it's swirls and shades of light violet to lavender to dark purple. The wonderful patterning is unique to charoite and the colors are so remarkable that it is often mistaken as a man made material rather than a naturally occurring crystallization of minerals. It polishes to a wonderful glassy smooth surface which allows one to fully appreciate the opaque to translucent, lustrous, and sometimes chatoyant appearance of one of the most beautiful of gemstones.

The possible origin of the name for charoite varies, as it may have been named after the Chara river where it was discovered, while others say it is named based on the Russian root word chara- which is part of words such as charm, fascination, glamor, enchantment, allure, and magic in the Russian language. Whatever the origin, charoite certainly does possess charm and allure, engendering our fascination and enchantment.

Charoite regularly hosts a myriad of crystal inclusions. The most common of these are dark green to green black aegirine, translucent to transparent brownish or greenish yellow to grayish or light green canasite, translucent to opaque gray, dark brown, or green steacyite, and an orange translucent variety of tinkasite. These various shades of white, orange, green, and black create a beautiful contrast to the violets and purples of charoite.
| | | |
| --- | --- | --- |
| ORIGIN: Russia | HARDNESS: 7 | NATURAL: 100% natural |
The skull pictured is the exact one you will receive.
You are welcome to save or print one or more pictures below as a certification of the skull's Skullis identity.