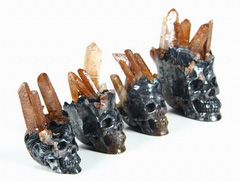 Specularite with Quartz Crystals Carved Crystal Skull Sculpture Set
Item ID:4806718
Size:3.0"x2.0"x3.7"(77x50x94 mm)1.9"x1.3"x2.8"(47x32x70 mm)
Weight:
Material:specularite with quartz crystals
Each of the specularite skull aristocrats are crowned with transparent and semi-transparent quartz crystals. Similar in appearance, yet differing in size, this noble family of crystal skulls comes from the same specimen of specularite with quartz crystals and include fascinating growth interference details on the quartz crystals. Either displayed as a group, or individually located for grid work, or to connect distant friends and family, these skulls are both beautiful and intriguing. As well, the specularite is magnetic, which gives added effect during physical therapies and healing work.



Specularite is a type of hematite, also referred to as specular hematite and specular iron, that is combined with mica. The mica encourages contemplation and observation while still coming from a heart perspective. Specularite has a higher vibration than standard hematite.



Specularite is an excellent grounding stone, enabling one to work with higher vibrational energies and travel into spiritual realms while remaining grounded to this reality. It also conveys a higher energy vibration to the user, and assists one to understand perceive and understand multiple levels of reality. Specularite assists one to live life according to one's spiritual desires and create that which brings happiness.



Specularite encourages one to manifest one's spirit on Earth and to attain one's dreams and goals while letting go of the need to pass judgment on one's self or others, including one's judgment of one's own spirituality, bringing the understanding that with Spirit all things are possible. It is considered to be paramagnetic, enabling the peaceful harmonizing of different types of energy fields, thus helping one to follow one's own path without interference from other people.



It allows one to release the tendencies to find fault in and doubt themselves, instilling a greater sense of self respect. Specularite dissolves all types of negativity into an energy of loving acceptance and returns it to its source. Magnetic specularite balances the meridians and the yin/yang energies.



Specularite aids mental processes, memory, and development, bringing to the mind calmness and peace. During meditation it assists in past life research and enhances connections to, and communication with, of the energy of the soul, the Angelic realm, and other planes of existence. It helps one to identify one's talents and perceive where those talents will be most effectively utilized.



Specularite is useful in protecting from the harmful effects of electromagnetic fields produced by computers and other technologies.



Specularite has been used for dis-eases involving blood disorders, sleep disorders, healing of broken bones, and magnetic specularite has also been used for spinal alignment issues.



NOTE: Skullis offers information for reference. Skullis does not prescribe treatment for medical issues.

| | | |
| --- | --- | --- |
| ORIGIN: Hunan, China | HARDNESS: 7 | NATURAL: 100% natural |
The skull pictured is the exact one you will receive.
You are welcome to save or print one or more pictures below as a certification of the skull's Skullis identity.