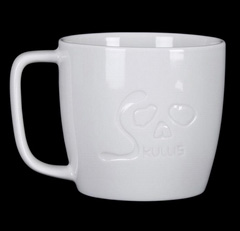 Crystal Skulls Logo Porcelain Coffee Mug, Tea Cup, 13.5 OZ Ceramic
VIDEO
Click above to see the video
Item ID:S0000907
Size:3.8"x4.9"x3.5" (97x125x89 mm)
Weight:
Material:Porcelain
Our Skullis logo embossed mug, big and comfy, holds plenty of your necessary coffee and tea, a hearty amount of hot soup, or a decadent helping of ice cream! A fine porcelain cup with our own unique Skullis Crystal Skulls logo recessed into the surface of the mug makes the perfect refreshment all the more enjoyable! The inconspicuous white on white design rewards the careful observer, but those not looking close won't easily notice the skull face design. This porcelain cup is generous in size, plenty of room for warming your lady fingers, and nearly wide enough for all the digits on both of your man hands, holding about 400ml = 13.5 fl oz. And more coffee in your cup naturally increases your expected miles per gallon before needing to refill. You'll receive your Skullis Crystal Skulls mug wrapped in tissue paper inside a sturdy brown paper gift box decorated with our logo. It is suitable for gifting as it is, or you may choose to wrap it first. Skullis offers our crystal skull ceramic mugs and espresso cup individually, as matched sets of multiple pieces, and as a special three piece set including one of each design. If you're looking for the perfect gifts for yourself and your hot, beverage loving friends, our custom designed porcelain cups and mugs are your answer! If you wish to send a gift directly to family and friends, just let us know and Skullis will gladly arrange for your shipment to be delivered to the address of your choice.

| | | |
| --- | --- | --- |
| ORIGIN: China | HARDNESS: 7 | NATURAL: 100% natural |
The skull pictured is the exact one you will receive.
You are welcome to save or print one or more pictures below as a certification of the skull's Skullis identity.