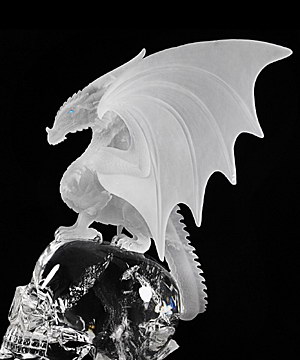 SKULLIS MASTERPIECE! 16.7" Dragon Light Quartz Rock Crystal Carved Dragon & Mitchell-Hedges Crystal Skull Replica
Item ID:W4000490
Size:9.6"x16.7"x7.7"(245x425x195 mm)
Weight:
Material:Quartz Rock Crystal
The Dragon Light sculpture features a noble and stately dragon of frosted quartz sitting on a breathtaking life-sized Mitchell-Hedges crystal skull replica. A life-like serene expression suggests timeless wisdom, and the labradorescence of rainbow moonstone ignites the dragon's gemstone eyes with mystical blue light. Frosted quartz wings spread wide as the dragon's lengthy tail hugs the crystal skull. The majestic figure enhances the captivating clarity of the polished crystal skull with fascinating details including gracefully curving horns, a spade tipped tail, intricately defined scales, and a dorsal ridge that runs almost the entire length of the dragon.
Ever since our success accomplishing what was said to be impossible; duplicating the infamous Mitchell-Hedges crystal skull at the request of the National Geographic Channel, Skullis has offered replicas of this historical piece carved from a wide variety of gemstones. Skullis is able to recreate the Mitchell-Hedges crystal skull and detachable jaw to the exact size of the original, as well as crafting larger and smaller versions that are proportionally accurate. Now we're building on our success, literally! The Dragon Light sculpture is the first Mitchell-Hedges crystal skull replica we have created as part of a larger work of art.
After finally determining our design, we began a lengthy search which resulted in finding a wonderfully clear quartz crystal from Madagascar. During more than two months of meticulous crafting, this exceptional quartz specimen would gradually become our next masterpiece. Dragon Light is a four piece sculpture. The dragon and the skull are a single piece, and the wings are both individual pieces. Like the original Mitchell-Hedges crystal skull, the lower jaw is detachable.

| | | |
| --- | --- | --- |
| ORIGIN: Brazil | HARDNESS: 7 | NATURAL: 100% natural |
The skull pictured is the exact one you will receive.
You are welcome to save or print one or more pictures below as a certification of the skull's Skullis identity.