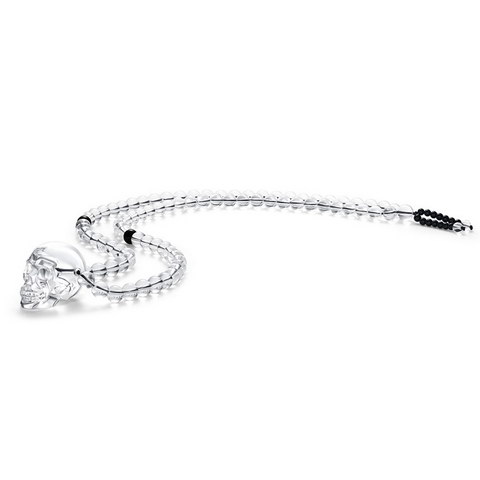 Quartz Rock Crystal Carved Crystal Skull Pendant with Quartz Rock Crystal & Black Obsidian necklace
Item ID:S0000639
Size:1.4"x0.9"x1.1" (35x22x27 mm)
Weight:
Material:quartz rock crystal
You are looking at a Rock Crystal skull Pendant/Necklace.

Clear Quartz with metallic, golden rutile, copper, or blue/gray titanium fibers that powerfully electrically conduct and amplify energy/thoughts/programming for healing. Intensifies/deepens altered states. Opens Crown/Brown Chakra for meditation, clairvoyance, telepathy, insight. Some make one too spacey or scattered to wear. (Induces Alpha) Stimulates immunity, strength, blue corona, imagery, dreams. Golden fibers may increase radiation protection and health rejuvenation. Each stone's energy/qualities are unique. Androgynous. Helpful with Lung disorders. Contains Rutile in needle-like mineral inclusions. One can find Rutilated versions of most of the types of Quartz discussed thus far. It heightens whatever energetic influence the regular Quartz posses and helps direct that boosted energy to problematic areas.

| | | |
| --- | --- | --- |
| ORIGIN: Brazil | HARDNESS: 7 | NATURAL: 100% natural |
Below is a sample piece. Due to stones' natural characteristics, what you receive may be of some difference to this one. Each one is unique. And we guarantee all are of same quality.
You are welcome to save or print one or more pictures below as a certification of the skull's Skullis identity.