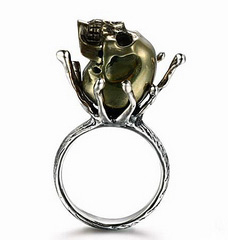 Pyrite & 925 Sterling Silver Carved Crystal Skull Ring with 925 Sterling Silver
Item ID:S0000499
Size:0.8"x0.5"x0.6" (21x12x14 mm)
Weight:
Material:Pyrite & 925 Sterling Silver
You are looking at a Pyrite skull Ring.

One of the most grounding stones in use today. Conducting, Energizing, Increases Wealth. Used for focus, practicality, logic, memory, clearing fuzzy thinking/scatteredness etc. like Hematite. Helps Yellow Chakra: Stomach, intestines, ulcers; sulfur and mineral assimilation, circulation, body acidity imbalances, depression, illusions/lack of clarity about situations/people. Great for grounding spiciness after meditation/psychic readings. Represents Sun's golden energy. A mineralized crystal that forms in clusters of metallic like cubes. Color varies from a bright gold or brass to shades of copper or green. Found in most of North America as well as in Chile and Peru. "Fool's Gold". Beneficial to the respiratory and circulatory systems. Connected to the transfer of oxygen from the lungs to the bloodstream. Helps the skin protect itself from the elements, and also aids the digestive tract, lessening irritation by ingested toxins. The most important gift of Pyrite, though, is its ability to aid mental capacity. Helps to balance creative and intuitive impulses with scientific and practical ones. communication skills can also improve with the help of Pyrite, which eases anxiety and frustration. Strongly suggested for people who tackle large conceptual ideas in business, the arts, or education. Effective in attracting money to its owner. The stimulation of the mind can be enhanced by using Pyrite in conjunction with Fluorite and Calcite.

| | | |
| --- | --- | --- |
| ORIGIN: Brazil | HARDNESS: 6 | NATURAL: 100% natural |
Below is a sample piece. Due to stones' natural characteristics, what you receive may be of some difference to this one. Each one is unique. And we guarantee all are of same quality.
You are welcome to save or print one or more pictures below as a certification of the skull's Skullis identity.