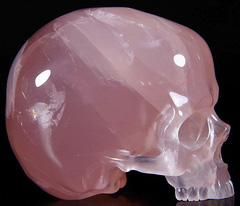 Nov 28, 2014 ACSAD (A Crystal Skull a Day) - Love is Absolute - Rose Quartz Carved Crystal Skull Sculpture
Item ID:W4000270
Size:3.3"x2.2"x2.7"(85x56x69 mm)
Weight:
Material:Rose Quartz
Love is Absolute is a beautiful rose quartz crystal skull sculpture crafted in the Super Realistic style from Skullis Crystal Skulls, and is also designed without a jaw, giving it a very unique presence. The rose quartz is from Brazil and is a remarkably clear and translucent gentle pink, with natural fractures of the crystal refracting light to create beautiful prismatic rainbow patterns. The Love is Absolute rose quartz crystal skull measures 3.3 x 2.2 x 2.7 inches (85x56x69mm) and weighs 2.07 pounds (942g). Love is Absolute is an elegant example of the fine crystal skull art created by Skullis artists.

The Love is Absolute rose quartz crystal skull sparks our imagination and creativity, leading us to find new ways to express our generosity, kindness, humor, and love. Love is Absolute also promotes our optimism and helps us to find confidence in ourselves by using love to motivate us into taking action to achieve our desires. We are encouraged to fortify our every encounter and action with the unlimited capacity of our genuinely felt love for ourselves, for others, and for our world. The Love is Absolute rose quartz crystal skull also inspires us to give special attention to nature as a whole and to the many individuals of the natural world, including plants, animals, inanimate expressions, and the environments that are their homes. Through these we can establish a more intimate connection with nature and the Earth, and also a greater sense of peace and calm for ourselves. The Love is Absolute rose quartz crystal skull persuades us to develop and utilize our emotional sensitivity, our intuition, our humor, and our love to discover the harmonious unity of our shared Earthly experience and to better understand each other and ourselves.

Rose quartz is very much the crystal of love. The energy of rose quartz is calm, gentle, peaceful and soothing, exactly what one would expect from a true friend, and yet the energy is still very intense and powerful. Rose quartz inspires harmony, peace, and unconditional love in every aspect, including the love of others, love in relationships, and love for oneself. Perhaps most importantly, rose quartz encourages one to be forgiving and to work to understand how to see situations differently so that one can find a path to forgiveness. This includes self forgiveness, as rose quartz also helps one to find, and be open to, unconditional self acceptance.

Rose quartz reminds one of the truth that there is always enough time when one is in tune with the universe, and haste is neither productive nor required. It clears and calms emotional actions and reactions, bringing peace and harmony to an agitated and emotionally distressed mind, to assist one to deal with trauma and crisis in a collected and serene manner.

Rose quartz brings equilibrium to the yin-yang energies, and it inspires imagination, creativity, and expression. It is quite useful for uniting one with the energy of love, aiding in achieving a meditative state as well as maintaining this focus while actively engaged in one's daily routines. It encourages altering one's perceptions to find appreciation in that which is observed, whether it is a pleasing form of artistic expression such as a preferred art or music, or if it is something that one would normally not find appealing. Rose quartz allows one to alter one's perceptions and perceive the inherent beauty in all people and all things. In stimulating love and tender appreciation of all things, rose quartz helps one to understand that everything, including all change, is important and necessary, especially the things and changes one finds challenging and difficult to accept.

Rose quartz gently replaces any discordant negative energies with the relaxing gentle energy of love. It clears and balances all the chakras of the body and returns them to their correct and natural energy frequencies. It is particularly useful for the crown, brow, throat, and heart chakras to address emotional issues, again, bringing balance and loving energy to the person using it. This loving energy is brought from the initial one source of energy in the universe, as well as from within the person. In response to negative stimuli, rose quartz is very effective in assisting one to find a loving solution. It also helps to determine the appropriate loving response to challenging and emotionally charged situations, helping to determine a positive resolution for everyone involved. It helps to bring healing to the emotional level to assist one in letting go of hurt feelings, uncomfortable memories, and negative self images caused by others or by one's own perceptions. Rose quartz can be used to access one's heart to dissolve angst, stress, tension, and other negative energies.

Physically rose quartz has been used to diminish and heal blisters caused by heat, and an elixir can be used to soften the complexion, reduce wrinkles, and remove blemishes for clear skin. Rose quartz is used to treat kidney and adrenal gland related issues, to lessen pain and encourage proper heart function, and to reduce coughs and sooth the lungs when irritated. It has been used to detoxify and remove impurities from the body and to clear fluids in the cells of the body. Rose quartz has also been used to treat vertigo.

NOTE: Skullis does not prescribe treatment for medical issues. Skullis offers information for reference to assist with the selection and understanding of crystal skulls, including this rose quartz crystal skull sculpture.

| | | |
| --- | --- | --- |
| ORIGIN: Brazil | HARDNESS: 7 | NATURAL: 100% natural |
The skull pictured is the exact one you will receive.
You are welcome to save or print one or more pictures below as a certification of the skull's Skullis identity.