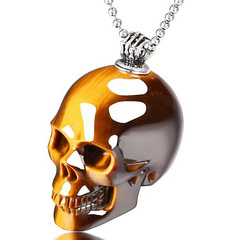 Necklace of 1.4" Gold Tiger's Eye Carved Crystal Skull Perfume Bottle Pendant
Item ID:S0001326
Size:1.4"x1.0"x1.5" (37x25x38 mm)
Weight:
Material:Gold Tiger's Eye
An exclusive Skullis Crystal Skulls design! Our new Gold Tiger's Eye perfume bottle pendant is made in our highly detailed Realistic crystal skull design. Natural black volcanic obsidian sourced from the South Africa is carved and hollowed to hold your favorite essential oils, perfumes, and potions! A sterling silver skeletal hand forms the bail on the threaded top, complete with a small applicator within the lid. Close inspection reveals the Skullis logo stamped on the back of the hand, which faces the wearer when the pendant is on a chain or cord.
At just under 1.4 inches in length, this carved crystal skull perfume bottle is a perfect size. It is not so bulky as to be ungainly, rather, even as a full skull, it is still small enough to be comfortable when worn as a necklace. Enjoy looking at it when you've hung it on a mirror, and of course the bottle sits flat as well, so it also works well as an accessory on your make up and vanity tables!
This exquisite carved perfume bottle pendant is only available from Skullis! We're excited to offer our latest custom original design and we know you're going to love it as much as we do!
Our Gold Tiger's Eye carved crystal skull perfume bottle arrives in a box that is suitable for regifting to your friends and loved ones. Skullis's original sculptures and carved jewelry will bring you happiness for many years into the future, and our unique designs such as this always bring fond comments of admiration from those who see them.

| | | |
| --- | --- | --- |
| ORIGIN: South Africa | HARDNESS: 7 | NATURAL: 100% natural |
The skull pictured is the exact one you will receive.
You are welcome to save or print one or more pictures below as a certification of the skull's Skullis identity.