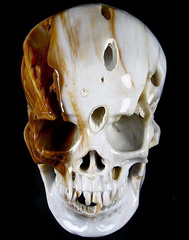 May 9, 2015 ACSAD (A Crystal Skull a Day) - The Crystal Skull of Resolution - Petrified Wood Carved Crystal Skull Sculpture, Realistic
Item ID:W4000400
Size:5.5"x3.7"x4.3" (140x95x110 mm)
Weight:
Material:Petrified Wood
The Crystal Skull of Resolution is carved from an intriguing specimen of petrified wood from Madagascar. The Crystal Skull of Resolution was once a living tree, when approximately 220 million years ago members of the Araucaria genus of trees lived in Madagascar in the Mesozoic age during the Triassic period. This beautifully colorful remnant of prehistoric life displays natural cavities which still show the perfectly preserved wood grain pattern of this ancient tree. The Crystal Skull of Resolution is carved in the Super Realistic design created by Skullis, and the intricately detailed crystal skull features work together with the natural structure of the fossil to bring a very unique and individual personality to this exceptionally designed work of art. The Crystal Skull of Resolution sculpture measures 5.5 x 3.7 x 4.3 inches (140x95x110 mm) and weighs 3.09 lb (1401 g).

The Crystal Skull of Resolution helps us to ground and harmonize our physical, emotional, intellectual, and spiritual aspects, bringing a balance to these diverse energies which enables us to adjust more easily to the changes we experience in our daily lives.

The Crystal Skull of Resolution emits an energy that acts to inspire our perseverance, encouraging each of us to discover within ourselves our capacity for peace and nonresistance. It helps us to understand the intricate details of the events and situations in our lives, and assists us to see how these diverse aspects interact dynamically to become the challenges we are faced with. With this insight, we can be better prepared to make adjustments when necessary, and so better equipped to respond with practicality and positivity.

The Crystal Skull of Resolution facilitates within each of us our understanding of the reasons we have chosen what we experience, and helps us to hold to our firmness of purpose. The Crystal Skull of Resolution petrified wood sculpture encourages our mindful consideration and responsiveness to our own needs as well as to those we interact with, helping us to maintain a peaceful outlook and further the growth and betterment of ourselves and of others.

Petrified wood helps to clear the mind of cluttering thought processes. It assists one to identify which parts of an issue or challenge one can affect and change, and also which areas one has no control over, encouraging one to take action where one can, and to gracefully accept and adapt to what cannot be changed.

Petrified wood brings support and strength during crisis, inspiring insight and understanding of the sequence of events that created the situation. It helps one to prevent making similar mistakes, and to resolve similar issues, in the future. It is useful in clearing and removing fears that stem from one's survival instincts, bringing calm and helping one return to a centered state so one may respond to a situation rationally. It brings balance to the emotions helping to prevent excessive emotional fluctuations.

Petrified wood assists one to let go of frivolous concerns. It helps to calm nerves and reduce fear and anxieties by providing gentle reassurance and a sense of security, safety, and well being. Petrified wood, having survived many eons of time, reminds us that "this too shall pass" and despite the physical reality and its challenges, the true reality is one of eternal spiritual energy.

Petrified wood is exceptionally attuned to grounding energies, and is an excellent stone of protection. It can be very useful during meditation. Petrified wood aids in gaining access to detailed past life recall and aids in utilizing the information learned to move past emotional experiences that may be affecting one's current behavior patterns in this life. Petrified wood encourages change and growth, helping one to choose to begin the process of growth, to attain a higher level of being, and to understand that all actions and experiences are what is required to achieve one's higher purpose.

Petrified wood is used to bring success in business. It can help one to follow the flow of time, preventing the experiences of not having enough time and of time going by too slowly. It helps to manage one's time with a resulting increase in efficiency and effectiveness.

Petrified wood has been used to strengthen the body, especially the back and the bones, bringing alignment to the back and skeletal structure, and to relieve back and hip pain. It is used for treatment of atrophied areas of the body, paralysis, and disorders that affect standing and walking. Petrified wood is also used to treat hearing loss and incontinence. Petrified wood provides reassurance and calm when one is recovering from a traumatic disease or related healing events. It helps one to identify the reasons for experiencing dis-ease and the lessons to be learned from the experience so that once the lesson is learned there will be no need for repeating the experience. A topically applied elixir is used to soothe the skin and to stimulate thick and lustrous hair growth.

NOTE: Skullis does not prescribe treatment for medical issues. Skullis offers information for reference to assist with the selection and understanding of crystal skulls, including this petrified wood crystal skull sculpture.

| | | |
| --- | --- | --- |
| ORIGIN: Madagascar | HARDNESS: 5.5-6.5 | NATURAL: 100% natural |
The skull pictured is the exact one you will receive.
You are welcome to save or print one or more pictures below as a certification of the skull's Skullis identity.