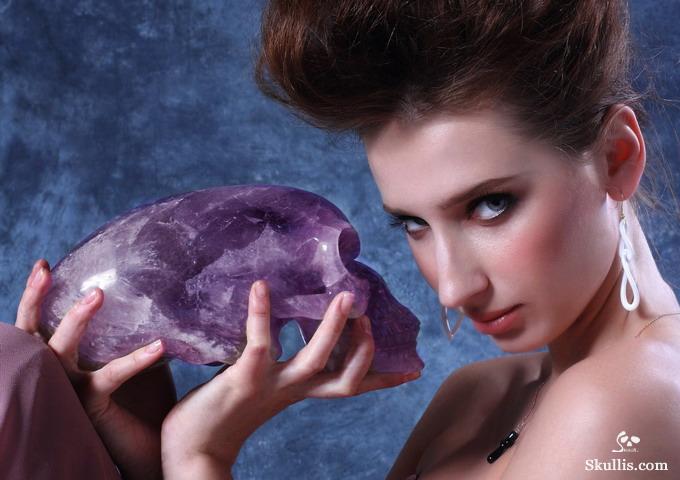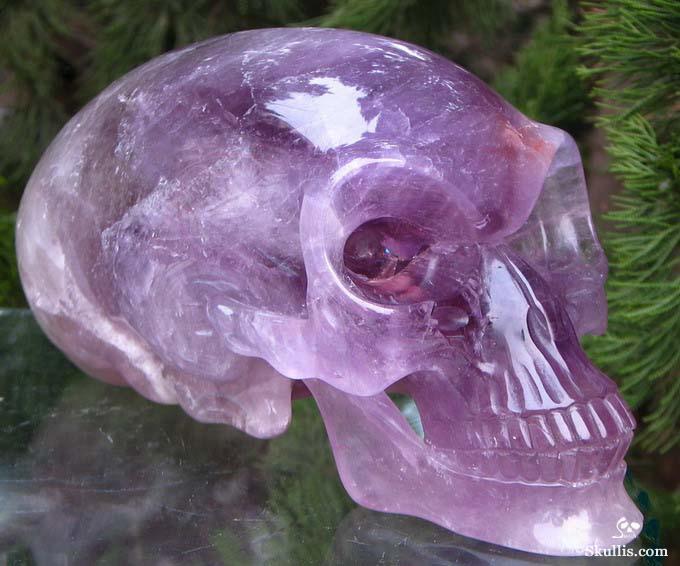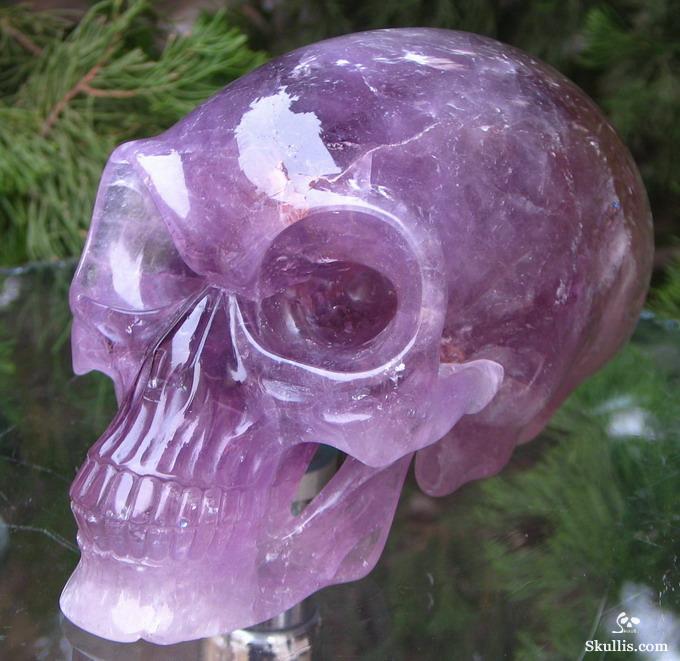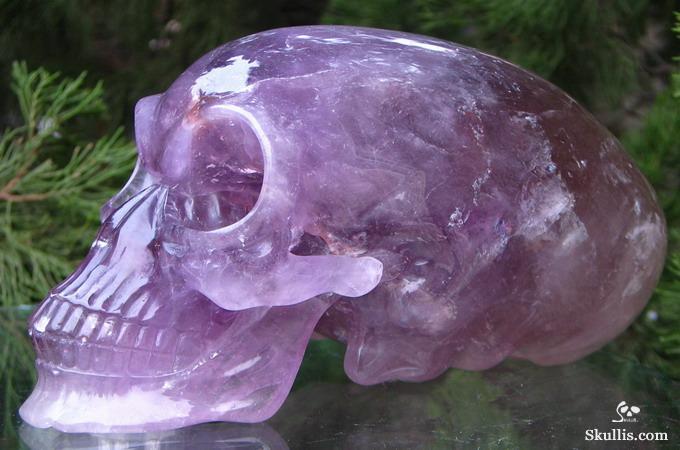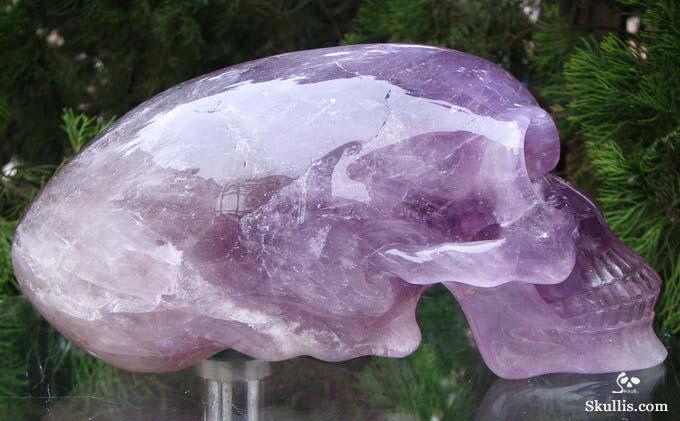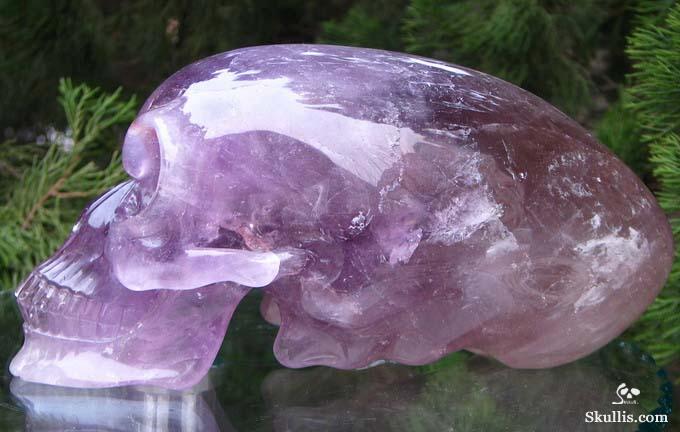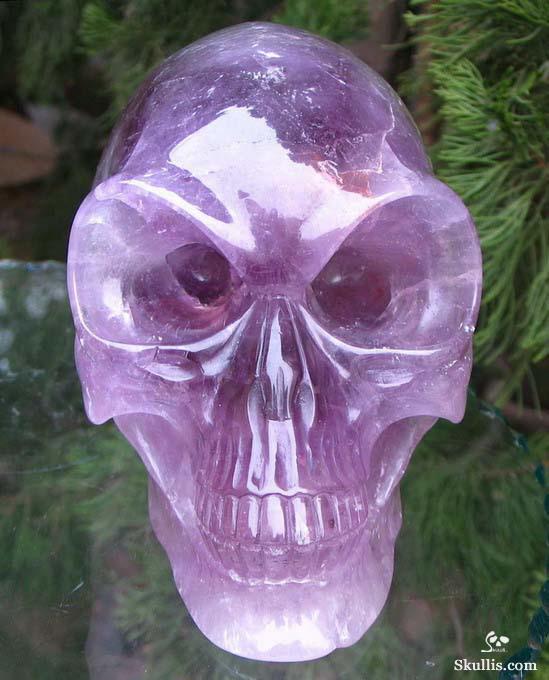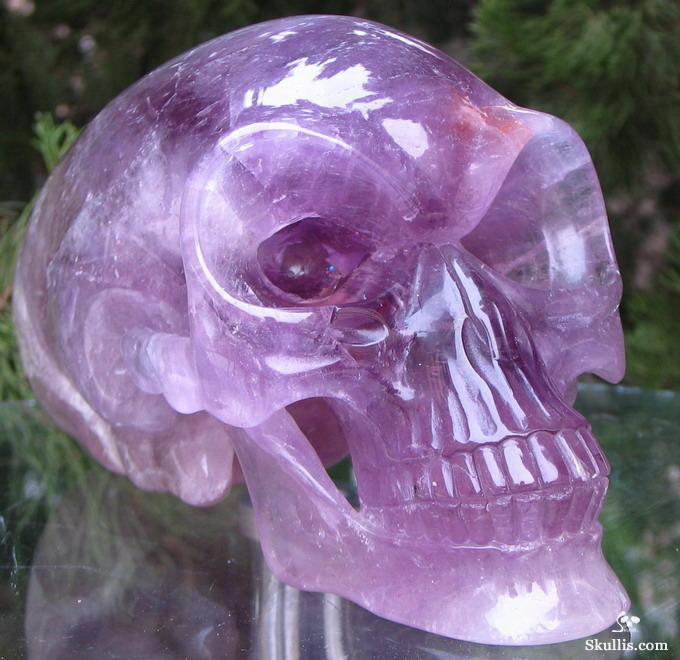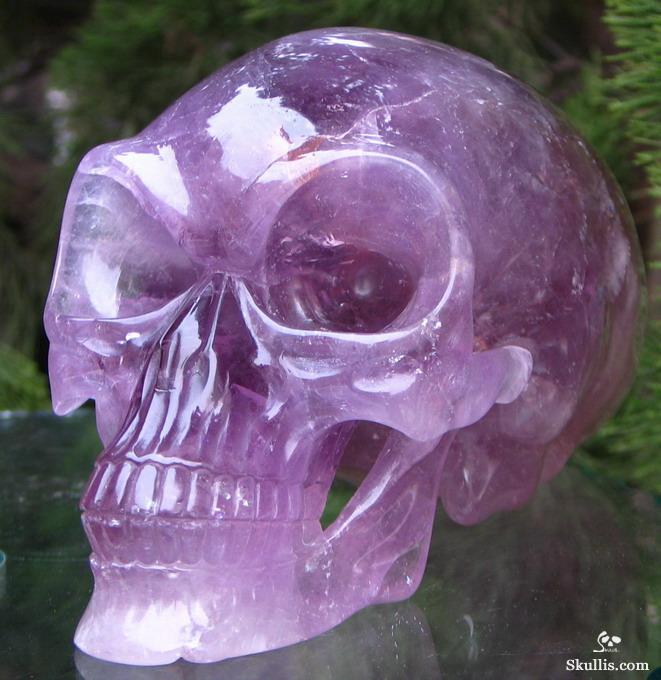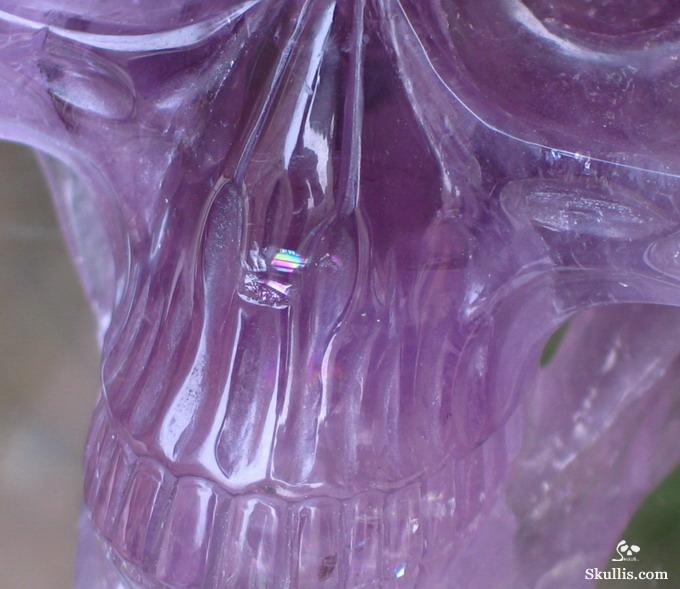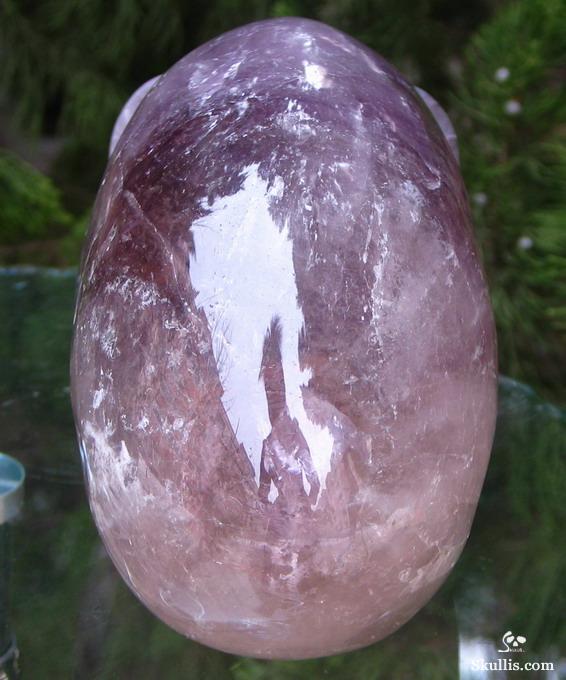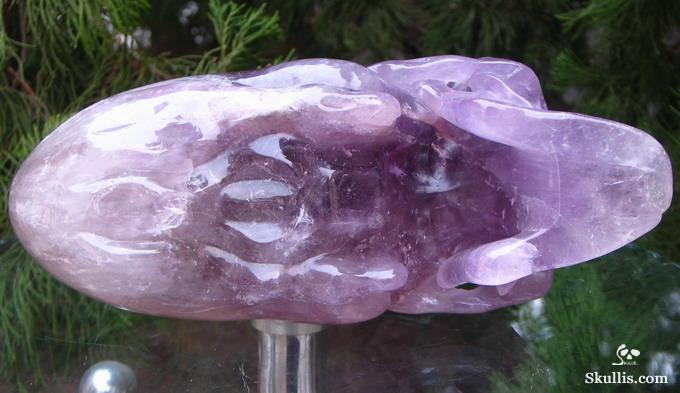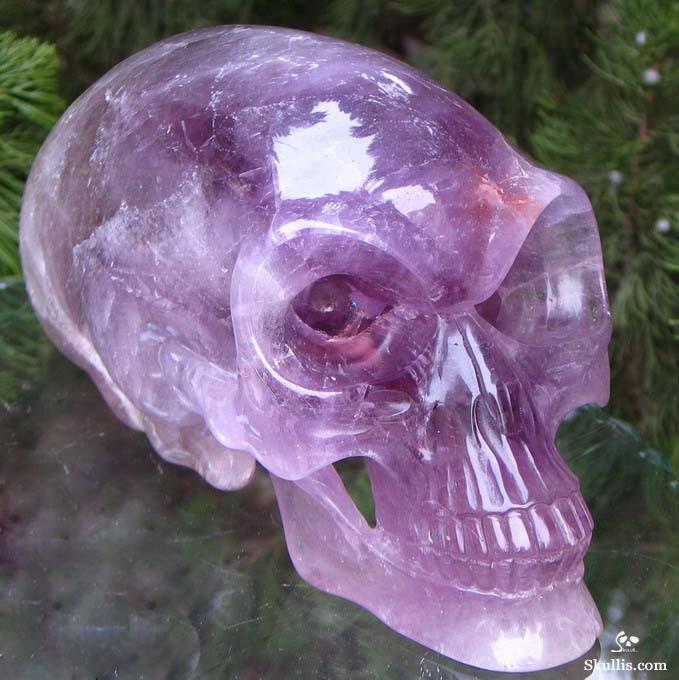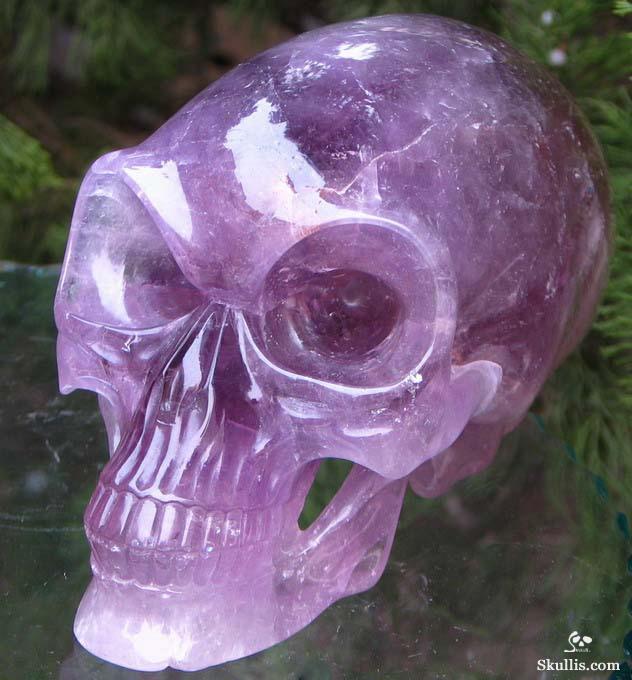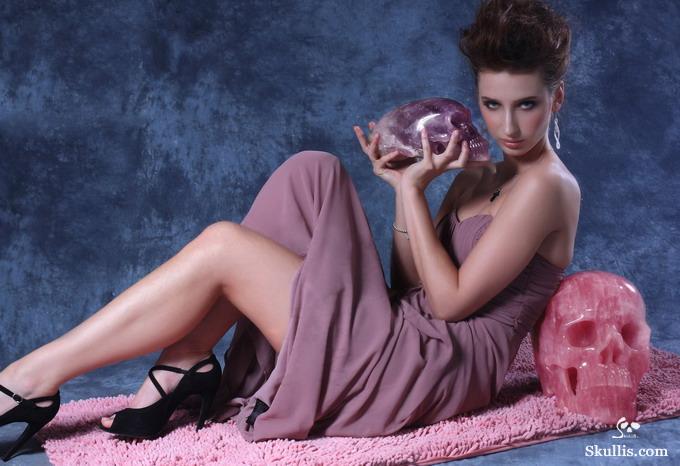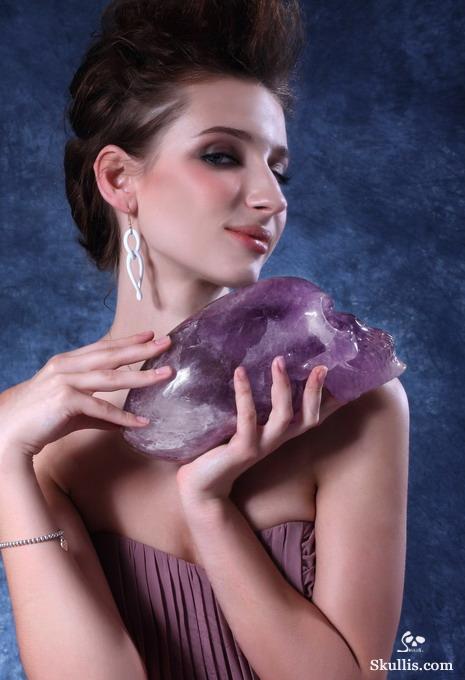 May 2, 2015 ACSAD (A Crystal Skull a Day) - Amethyst Encounter - Amethyst Alien Carved Elongated Mayan Alien Crystal Skull
Item ID:4800355
Size:10.4"x4.1"x4.7" (265x104x119 mm)
Weight:
Material:amethyst
Amethyst Encounter is a large alien crystal skull design carved from a wonderfully colored specimen of amethyst crystal from Brazil. The purple is most intense in the middle and toward the face of the alien crystal skull, and natural fractures bring added dimension and beauty to this stunning amethyst sculpture by refracting light into rainbow arrays of color. The Amethyst Encounter is an elongated alien crystal skull which measures 10.4 x 4.1 x .7 inches (265x104x119 mm) and weighs 9.5 lb (4314g).

True to it's source, the Amethyst Encounter alien crystal skull radiates a positive energy filled with loving compassion and enthusiastic encouragement for us to explore our inner and outer realities. Amethyst Encounter helps each of us to move past barriers that are preventing our realization of our greatest potentials for growth and enlightenment.

The Amethyst Encounter alien crystal skull presents to us the opportunity to practice our ability to calmly and peacefully experience the dynamics of our tumultuous and disorganized environment. Amethyst Encounter inspires our patience which helps us to consciously choose to allow the situations that may normally cause us to react emotionally to no longer affect us. A deep and peaceful energy resides within Amethyst Encounter, and we are encouraged to immerse ourselves within it, and to emulate this state of being and express it to the world and the people around us.

Amethyst Encounter helps us to release our desire to be in control, and aids us in letting go of our opinions generated by emotional attachments to how we feel things should be. Instead, the Amethyst Encounter amethyst alien crystal skull sculpture reminds us of the beneficial opportunities that are brought to us, through what we initially perceive as negative circumstances, so we may experience true our true love and happiness in our lives.

Amethyst, due to its royal purple color, has long been a valued crystal despite being commonly available. Historically amethyst has been used to dispel intoxication and all aspects of overindulgence, including gambling, bad investing decisions, and overspending. Amethyst is used to dispel negative energies within one's self, in others, in one's environment, and in the earth. It protects from psychic and paranormal attack and negative thoughts directed at an individual, transforming the negative energy into loving positive energy and returning it to its source. Amethyst is also used for promoting prosperity and good fortune. Amethyst is used to amplify creativity and so is considered an excellent stone for artists of all mediums. Amethyst prompts, and helps one to combine, spiritual insight and intellectual reasoning, allowing for one to benefit from the results of this process by enabling the application of unconventional and original concepts, and through the successful completion of tasks and goals.

For centuries amethyst has retained its association of being a stone of spirituality, and as being an effective crystal to keep one grounded, and also oriented in spiritual thought. It is considered to be an excellent stone for attaining and maintaining a connection to the Divine, creating an energy of pious calm and instilling a sense of mental peace and quietude. Amethyst clears the aura of negative energy and forms a Light shield around the body which enables one to be clear, centered, and open to spiritual guidance at the same time. Amethyst is also used to expedite development of the intuition and psychic talents.

Other beneficial properties of amethyst in regards to emotional states include giving comfort during the experience of grief from loss, regulating excessive tendencies towards passion, and again, providing peace and a calming energy. It is effective at transforming negative energy to positive energy, allowing for the enhancement of inspiration and meditation. Amethyst also encourages one to take action, resulting in achieving one's goals.

Mentally amethyst heightens intellectual perception and intelligence. It is used to attain wisdom and deeper understanding. Amethyst has been used to control and overcome evil thoughts, to enhance creative thinking, passion, imagination, and intuition, and for refining thought processes. Amethyst aids in the assimilation of new ideas and helps one to find focus and success.

Amethyst has been used as a protection stone for travelers to ward against treachery and surprise attacks, and is considered a powerful psychic stone of protection against witchcraft and black magic. Amethyst is also used to protect from disease and illness. It calms and soothes, relieves insomnia, and stimulates positive dream experiences while preventing nightmares.

Amethyst is considered to be one of the most effective healing crystals and is commonly used to alleviate headaches. Amethyst is particularly effective for treating disorders of the skin, digestive tract and stomach, heart, teeth, and skeletal structure, also helping to encourage proper posture. It boosts hormone production, and bolsters the immune system. It is useful for treating hearing disorders and the symptoms of tinnitus. Amethyst vitalizes the sympathetic nervous system and the endocrine glands, optimizing their functioning. It effectively reduces pain, swelling, bruising, and brings relief from headaches and migraines. An amethyst elixir can be used to treat arthritis, and for all other disorders as well.

Amethyst brings a peaceful and pacifying energy to the neural impulses of the brain. It is used to resolve insomnia, especially when the condition is caused by an excess of mental activity. Amethyst lessens and removes stress, anxiety, and nervous tension, stabilizes brain activity and imbalances, and is used to counter psychic disturbances.

NOTE: Skullis does not prescribe treatment for medical issues. Skullis offers information for reference to assist with the selection and understanding of crystal skulls, including this amethyst alien crystal skull sculpture.

| | | |
| --- | --- | --- |
| ORIGIN: Brazil | HARDNESS: 7 | NATURAL: 100% natural |
The skull pictured is the exact one you will receive.
You are welcome to save or print one or more pictures below as a certification of the skull's Skullis identity.