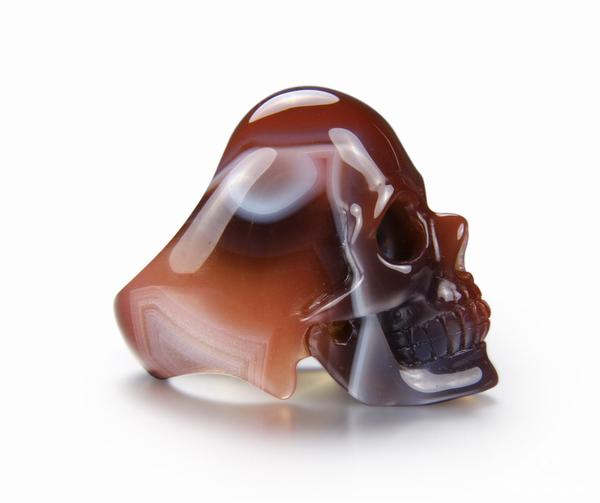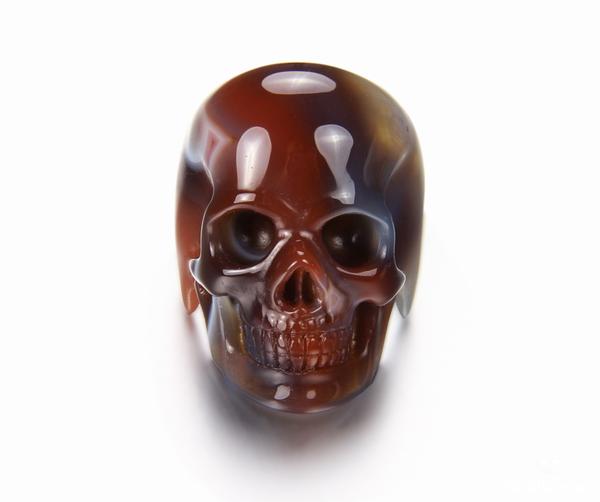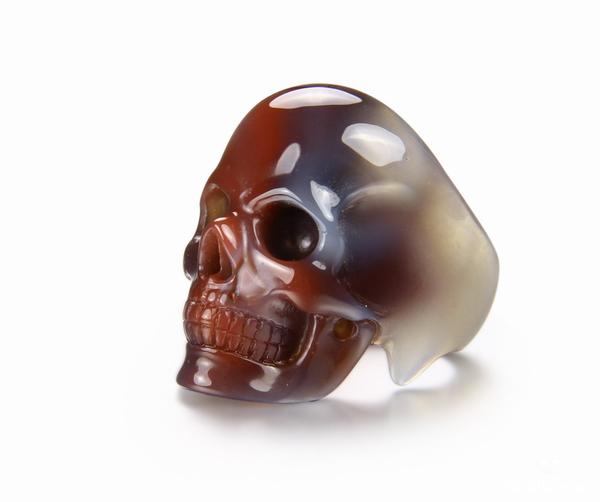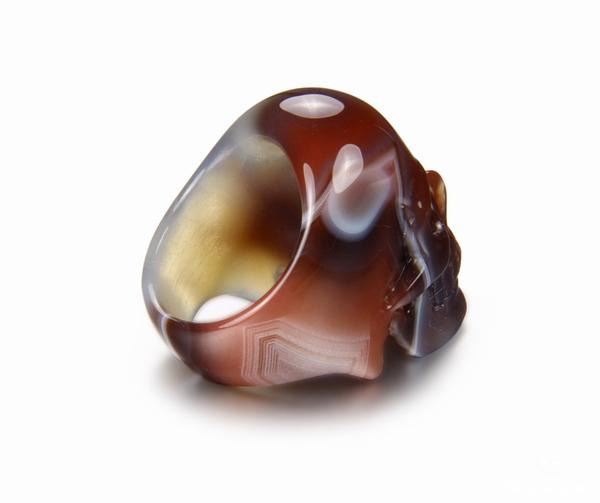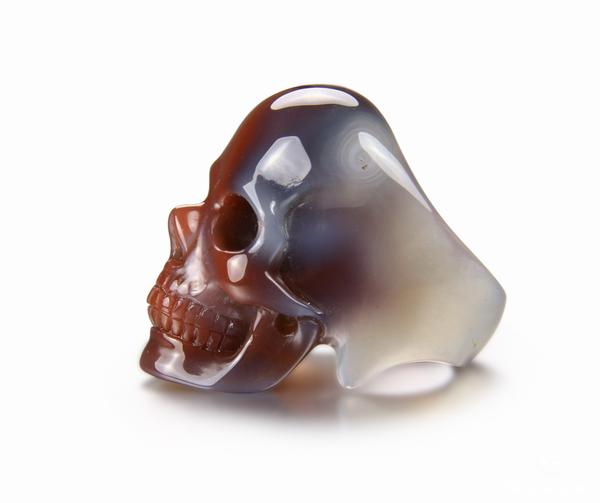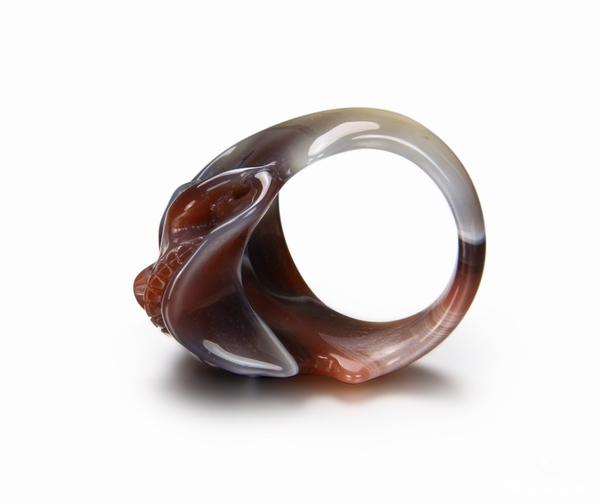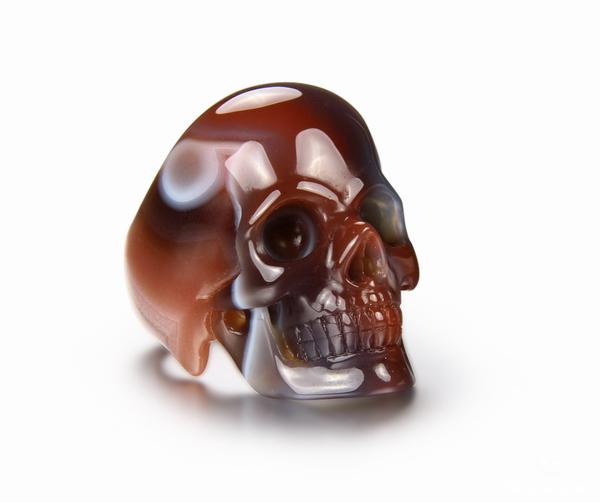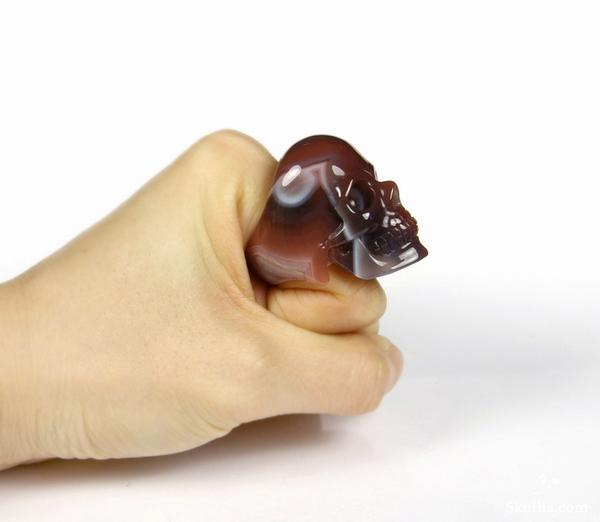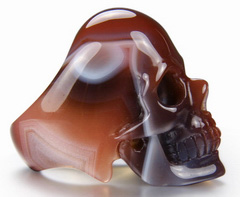 May 17, 2015 ACSAD (A Crystal Skull a Day) - Skullis Signature Crystal Skull Ring - Solid Fine Gemstone Mozambique Agate Carved Crystal Skull Ring #001
Item ID:4804493
Size:1.6"x1.2"x1.5" (40x30x38 mm) Size 12.5
Weight:
Material:Mozambique Agate
A high quality specimen of fine Mozambique agate has been sculpted into a single piece, solid crystal ring with perfectly detailed crystal skull features. This design is a Skullis Signature crystal skull ring that places Skullis artists, designers, and products far beyond any other. This particular ring is a completely unique individual piece, as no other specimen will match this one. A beautiful red becomes a blue-gray and changes again to a translucent off-white agate. The right side of this remarkable wearable artwork displays many agate fortification layers of white, then changes to a light red, followed by a darker red, and back to white again toward the front of the crystal skull face. Mozambique agate is one of the finest crystals for coloration and patterning Skullis has seen in many years, and crystal skull items are still being produced from the material currently in stock, including several more rings of this design as well as pendants and crystal skulls of all sizes. These delicate crystal skull rings are of exceptional quality and should be worn as one would wear any fine piece of jewelry. This Skullis Signature carved crystal skull ring design can only be crafted from a flawless crystal specimen. Of the solid Mozambique agate crystal skull rings Skullis has produced, this ring is among the finest, and has been selected to be featured in the A Crystal Skull a Day event. This exquisite one of a kind Skullis Signature carved crystal skull ring of fine gemstone Mozambique agate is a 12.5 ring size which measures 1.6 x 1.2 x 1.5 inches (40x30x38 mm) with a weight of 130.0carats (26 g).

Agate from Mozambique and Botswana share similar metaphysical properties, engendering and radiating the perfect and unchanging energy of universal love, as well as the joyful experiences of contentment, happiness, and playfulness. These remarkably beautiful agates bring the assurance that all is as it should be in one's life and share the message that all that is required is to be loving and grateful towards others. These agates facilitate one's efforts of growth and the progression toward enlightenment, increase one's natural resourcefulness, inventiveness, and ingenuity, and assist one to maintain one's integrity and morality.

These agates encourage one to increase one's knowledge pertaining to that which is mysterious and unexplained. They dispel illusion and deception, and act to activate one's conscious awareness and promote the recognition, consideration, and understanding of, and reaction to, the entire perspective of a challenging situation or issue.

When faced with situations that require foresight, caution, and careful consideration, Mozambique and Botswana agates inspire principled honesty, diligence, and dedication, encouraging one to act based on one's inner sense of what is right and what is wrong. These agates assist one to function independently of emotional aspects which may interfere with one's ability to determine optimal resolutions without prejudice or bias.

Mozambique and Botswana agates act to unify the energetic and physical bodies, bringing one's spirit, aura, mind, emotions, and physical aspects into alignment. They vitalize and activate the crown chakra and the energetic bodies.

These agates are used to remove toxins from the body and they have been used at the physical, mental, and emotional levels to neutralize poisons. They also act to relieve stress, depression, and negative thinking patterns. They can be used for treating disorders of the nervous system, issues affecting the skin, the skeletal system, and muscle tension and soreness, and to bring order to the function of the brain at the cellular level.

Agate has long been used as a stone of protection, to stimulate analytical capabilities and precision, for providing for perceptiveness to situations, and for awakening ones inherent talents and adroitness. It is also used to avert, and protect from, lighting and stormy weather (physically and metaphysically), and it is considered to be very effective for the protection of children, especially protecting children from falling.

It has also been used to produce inspiration from, and connectedness to, the spiritual worlds. Agate raises one's consciousness, builds self-confidence, and assists one in choosing one's friends carefully. Agate provides strength, helps us to have patience and courage, and its calming effect allows for finding inner peace.

Agate has been used to promote marital fidelity and stability within ceremonial activities, for balancing body, mind, emotions, spirit, and yin/yang energies, and as a stone of harmony and unification of all people. Agate symbolizes benevolence and good will, with these originating from the nurturing energy within the stone. Agate can alleviate hostility, irritability, and boredom, while enhancing one's generosity, responsiveness, and receptivity. Agate is often used as a gazing tool for divination and meditation. It assists in examination of the self and the learning situations that bring about growth. Agate also assists in abating stress and anxiety.

Agate is used to bring prosperity on all levels, and is considered an excellent stone for artists and students, as it amplifies creative and intellectual thinking.

Agate heightens and intensifies energy, sharing it when it is required, and storing energy when it is not needed, enhancing one's durability and endurance. Agate gives one emotional strength, alleviates fears, and dispels envy and desire through the grounding of emotions. Agate teaches acceptance of one's thoughts and feelings which helps one to overcome the emotions one desires to be free of. Agate's nature of bringing harmony allows for removing and releasing bitterness, resentment, ill will, and the desire for vengeance and retaliation, teaching one to learn and practice forgiveness. In this way, agate heals and improves relationships.

Agate transforms negative energy to harmonious energy which cleans and balances the aura. It harmonizes the energy of the body with the energy of the Earth, grounding and strengthening one's connection with the planet.

Agate stimulates the digestive system and relieves gastritis, the inflammation of the lining of the stomach. Agate is used to strengthen sight, promoting a state of good health for the eyes, and has also been used to diminish thirst. It is connected to the optimal health of the hollow organs such as the heart, lungs, stomach, intestines, and uterus, and is used to heal skin disorders. It has been used to alleviate itching caused by insect bites. Agate assists the heart and blood vessels, strengthening the heart and also healing emotional discord that may be blocking one's ability to accept love. Agate has been used to cure fever and reduce the symptoms of epilepsy, and may help some people with somnambulism. Agate is also used to cleanse the lymphatic system and the pancreas.

NOTE: Skullis does not prescribe treatment for medical issues. Skullis offers information for reference to assist with the selection and understanding of crystal skulls, including this fine gemstone Mozambique agate crystal skull ring.
| | | |
| --- | --- | --- |
| ORIGIN: Mozambique, Africa | HARDNESS: 7 | NATURAL: 100% natural |
The skull pictured is the exact one you will receive.
You are welcome to save or print one or more pictures below as a certification of the skull's Skullis identity.