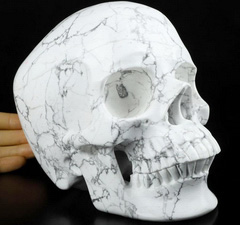 Lifesized 6.7" Howlite Carved Crystal Skull, Realistic, Crystal Healing
Item ID:4811138
Size:6.7"x4.4"x5.5" (171x111x140 mm)
Weight:
Material:Howlite
You are looking at a Howlite skull. The skull is 6.7 inches long from front to back. The stone of emotional expression, howlite can be used to facilitate awareness, encourage calm communication by combining reason with patience and observation. Howlite gently absorbs and uplifts stress, tension, anxiety and emotional intensity due to emotional imbalance. Howlite works by helping one to build decency of character. It shows us how to be less selfish, confrontational and less critical. This is a good stone to help eliminate rage and anger. Howlite increases action, dissolves hesitation as it encourages ambition towards one's goals. Although this stone in white in pure form, Howlite is most effective on the HeartChakra center, bringing greater gentleness, patience and tact. Howlite has been used in the past for astral traveling and accessing past lives. It has a strong spiritual connection to the past, as it can lead you to a stronger spiritual future. This can be done by placing the stone at the Third EyeChakra. It therefore makes for a wonderful meditation stone.

| | | |
| --- | --- | --- |
| ORIGIN: South Africa | HARDNESS: 6 | NATURAL: 100% natural |
The skull pictured is the exact one you will receive.
You are welcome to save or print one or more pictures below as a certification of the skull's Skullis identity.