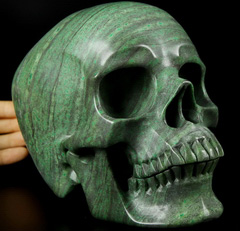 LIFESIZED 6.8" New Emerald Carved Crystal Skull,Super Realistic, Crystal Healing
Item ID:4811517
Size:6.8"x4.4"x5.2" (172x113x133 mm)
Weight:
Material:New Emerald
You are looking at an emerald skull. The skull is 6.8 inches long, from front to back. The name emerald comes from the Greek 'smaragdos' via the Old French 'esmeralde', and really just means 'green gemstone'. Emeralds are fascinating gemstones. They have the most beautiful, most intense and most radiant green that can possibly be imagined: emerald green. Inclusions are tolerated. In top quality, fine emeralds are even more valuable than diamonds. Emeralds signify loyalty, sensitivity, stone of "successful love" and domestic bliss. Enhances memory and mental capacity. Eliminates negativity, and allows one to focus. Brings harmony to all aspects of life. Can help to maintain rhythmic breathing during meditative state.
| | | |
| --- | --- | --- |
| ORIGIN: Columbia | HARDNESS: 7.5 | NATURAL: 100% natural |
The skull pictured is the exact one you will receive.
You are welcome to save or print one or more pictures below as a certification of the skull's Skullis identity.