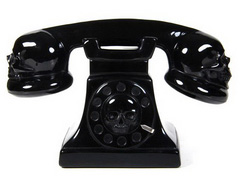 July 8, 2014 ACSAD (A Crystal Skull a Day) - Skull Telephone - Black Obsidian & 925 Sterling Silver Carved Crystal Skull Telephone with 925 Sterling Silver Sculpture
Item ID:4102207
Size:9.2"x4.1"x5.7" (233x103x145 mm) 9.2"x2.7"x2.9" (233x68x74 mm) 4.8"x4.1"x5.0" (123x103x127 mm)
Weight:
Material:Black Obsidian & 925 Sterling Silver
The black obsidian Skull Telephone is a superb and completely unique sculpture! Featuring a sterling silver finger stop, this work of art is convincing enough that some of the old timers may be inclined to attempt to dial out! The base of this sculpture is very reminiscent of the telephones used between 1937 and 1955. One of these models was referred to as the workhorse, and over time the phone gained the popular nickname of the "I Love Lucy" phone. This model was designed so well that many remain in use to this day. The Skull Telephone features a classic "cow hoof" base, and that's just about where the similarities end! The Skull Telephone has three obsidian crystal skulls, one centered on the rotary finger wheel, and two obsidian crystal skulls watch for incoming calls at both ends of the receiver. The most remarkable technological achievement of this Skull Telephone is it features something no other phone has ever had! The Skull Telephone has an invisible cord! You can't see it, and you can't even feel it, but trust us when we say it's there! Because how could a telephone work without a cord!?! No more nasty tangles and yanking the phone off the desk! The amazing new Skullis Invisible Telephone Cord technology connects the receiver to the base and the base to the phone line! The ringer inside the housing is permanently set to intuitive, so you'll always just know when someone is calling you!

Now waiting for a call can be a fun experience, and the Skull Telephone is a lot of fun! The Skull Telephone will definitely generate some double takes in the home or office! And there's no need for caller i.d. You'll want to take the call!

Black obsidian has been used for scrying and facilitating intuition for thousands of years. It is an excellent stone to assist in seeing past illusion to discern truth and understanding of oneself and of universal and spiritual laws. Obsidian is considered an extremely effective stone of protection, and a very powerful energy mover, as well as an excellent filter for absorbing negativity from its surroundings. Obsidian can be programmed to transmute this negativity to a different expression of energy, or can be cleansed regularly by smudging with smoke, washing with running water, associating it with other crystals, and more methods.

Obsidian is effective for removal of blockages and bringing courage to face and overcome fears. Black obsidian is commonly considered to be quite powerful and caution is recommended when using it. It is wise to be prepared for the speed of the transfer of energy and information. Conscious programming prior to use is one way to address this quality of black obsidian. One explanation for the excessive power of obsidian could be the elemental forces at work during its formation. Volcanic lava, Earth and Fire, join with Water to cool the material so quickly there is no time for crystallization.

Black obsidian possesses an excellent grounding ability, and assists one to find and maintain a clear and focused mental acuity. It can help to temper emotional reactions and bring balance and consideration to one's life and mental processes. It protects against negativity and assists one to release disharmony, resentment of self and others, and anger and fear caused by one's reactions to the situations and challenges they face as a part of life.

Physically black obsidian is used for pain relief and detoxifying the body. It speeds healing of wounds, improves circulation and brings warmth to the extremities, assists in helping aid the digestion process, helps reduce cravings for foods, and can be helpful for reducing an enlarged prostate.

NOTE: Skullis offers information for reference. Skullis does not prescribe treatment for medical issues.

| | | |
| --- | --- | --- |
| ORIGIN: United States | HARDNESS: 5.2 | NATURAL: 100% natural |
The skull pictured is the exact one you will receive.
You are welcome to save or print one or more pictures below as a certification of the skull's Skullis identity.