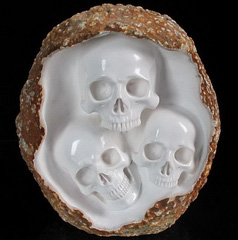 July 22, 2014 ACSAD (A Crystal Skull a Day) - Fellowship - White Chalcedony Carved Crystal Skull Sculpture
VIDEO
Click above to see the video
Item ID:4100965
Size:5.3"x3.5"x5.5" (135x88x140 mm)
Weight:
Material:White Chalcedony
Fellowship; three skull friends who seem to be fully enjoying their time together are found within a rounded specimen of this white crystallized chalcedony stone. It's a remarkable sculpture! Seeing such an exceptional work of art that exhibits unequalled sculpting skills in direct contrast to the rough presentation of the natural surface incites the curiosity and imagination! It practically demands that you reach out to explore by touch what looks to be a soft and silky smooth interior.

Fellowship exemplifies the essence of chalcedony with its show of companionship, togetherness, and merriment. Fellowship is made to inspire and remind us that our friends are important parts of our lives, as we are also important to them, and to remind us that every person can be considered a friend if we are willing to perceive them in this way. The sculpture conveys a sense of serenity, happiness, and comfort found. The exterior of the stone has been left in it's rough natural state, making the pristine and meticulously detailed threesome even more pronounced. The bottom of the specimen has been cut to allow the sculpture to stand for displaying.

Chalcedony is known as a stone of brotherhood and fellowship. It brings people together, promoting a sense of unification and camaraderie that encourages people to act with warmth and equality toward one another, regardless of their differences. It is also a stone of motherhood, with a nurturing energy that promotes kindness and compassion. Chalcedony inspires love and acceptance, peace, harmony, cheerful optimism, openness, sympathy, empathy, and enthusiasm. Chalcedony enhances all aspects of one's charitable thoughts, actions, and generosity, and teaches that one does not need to possess worldly goods to share their wealth of love and support with others. Chalcedony symbolizes friendship, service, selflessness, and good will.

Chalcedony opens the mind to new ways of thinking, new perspectives, and original ideas. It is an excellent stone to use for all types of meditation. It can be used for sending and receiving thoughts, will, and energies. It encourages spiritual growth, introspection, meditation and brings a calming peace. The energy of chalcedony naturally brings balance to the spirit, the emotions, the physical body, and the mind. Chalcedony brings vitality, stamina, endurance, and hardiness to one's life, energizing and increasing the mind and body.

Chalcedony eliminates aggression and anger, annoyance, impatience, and pensive depression. It protects one from anxiety, emotional turmoil and undesirable negative energies. Chalcedony absorbs and disperses negativity before it can affect a person or be passed on. It eliminates self doubt, negative thought processes and emotions, bad moods, obsessive jealousy, and bad dreams. In ancient times chalcedony was believed to ward against phantoms and visions of the night.

Chalcedony encourages intellectual thinking and emits a gentle energy that allows one to consider the effects one's words may have before one speaks.

Early seafarers wore amulets of chalcedony to prevent drowning. Assyrians and Babylonians used seals, signets and cylindrical pendants engraved with symbols as a form of protection and to legitimize contracts of agreements with imprints from these. Native Americans used chalcedony as a sacred stone to bring stability to ceremonial activities of the tribes. It is also used as a stone of protection for travelers.

Chalcedony is a type of quartz, composed of crystals so small only examining thin slices under a microscope will reveal the polarized light effect caused by the crystals. Common types of chalcedony are agate, bloodstone, chrysoprase, carnelian, chert, flint, jasper, onyx, sardonyx, touchstone, and petrified wood.

Chalcedony vitalizes the body with physical energy and stamina and protects against general weakness. It is used for bringing healing to the eyes, bones, and gallbladder. It is also effective for treating the circulatory system and blood related issues, including disorders of the blood and spleen, treating chilblains, and to help to remove and prevent build up of materials in the veins.

Chalcedony is used to treat dementia, reverse and remove the effects of senility, and to increase mental stability. It is also used for treating somnambulism and issues that affect one's sense of balance.

NOTE: Skullis offers information for reference. Skullis does not prescribe treatment for medical issues.

| | | |
| --- | --- | --- |
| ORIGIN: Xinjiang, China | HARDNESS: 7 | NATURAL: 100% natural |
The skull pictured is the exact one you will receive.
You are welcome to save or print one or more pictures below as a certification of the skull's Skullis identity.