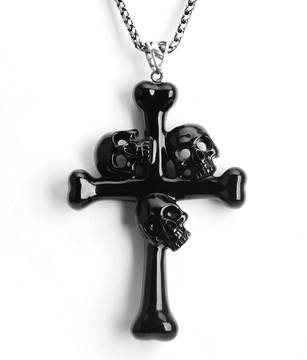 July 14, 2014 ACSAD (A Crystal Skull a Day) - Triad Crystal Skull Pendant - Black Obsidian Carved Crystal Skull Trio and Bones Cross Pendant
Item ID:W4000199
Size:3.1"x2.3"x0.5"(78x59x12 mm)
Weight:
Material:Black Obsidian
The Triad Crystal Skull pendant is an all new and unique crystal skull pendant from Skullis! This example of the Triad Crystal Skull pendant is carefully carved from a single piece of black obsidian, and features an array of three crystal skulls accentuating a bone cross. The skulls adorn the cross in a happenstance manner, defying conformity, adding to the overall originality of this pendant style. The Triad Crystal Skull pendant is a beautiful, solid pendant, sure to attract attention and praise!

The idea behind the Triad Crystal Skull pendant is basic. The cross represents unity, that which joins the triad. Three skulls represent three desires.

A wish for all people to understand their inherent qualities and to fully develop their mind and spirit, to express their unique individual potentials.

A wish for all people to continually gain wisdom from the master teachers the world has known, and from every other person they meet, regardless of class, status, age, and so on, and to integrate that wisdom into their daily lives, for every person is a teacher, and every one a student.

And a wish for all people to find harmony and unity, to work together towards a common goal. When we choose to act from wisdom garnered from our own experiences and those of others, we can ultimately choose to work towards the higher good of every one, including ourselves.

Skullis is happy to introduce the Triad Crystal Skull pendant as part of our A Crystal Skull a Day event. The Triad Crystal Skull pendant can be reproduced in a number of different precious and semiprecious stone materials. Feel welcome to request your own Triad Crystal Skull pendant in the stone of your preference at Skullis.com.

Black obsidian has been used for scrying and facilitating intuition for thousands of years. It is an excellent stone to assist in seeing past illusion to discern truth and understanding of oneself and of universal and spiritual laws. Obsidian is considered an extremely effective stone of protection, and a very powerful energy mover, as well as an excellent filter for absorbing negativity from its surroundings. Obsidian can be programmed to transmute this negativity to a different expression of energy, or can be cleansed regularly by smudging with smoke, washing with running water, associating it with other crystals, and more methods.

Obsidian is effective for removal of blockages and bringing courage to face and overcome fears. Black obsidian is commonly considered to be quite powerful and caution is recommended when using it. It is wise to be prepared for the speed of the transfer of energy and information. Conscious programming prior to use is one way to address this quality of black obsidian. One explanation for the excessive power of obsidian could be the elemental forces at work during its formation. Volcanic lava, Earth and Fire, join with Water to cool the material so quickly there is no time for crystallization.

Black obsidian possesses an excellent grounding ability, and assists one to find and maintain a clear and focused mental acuity. It can help to temper emotional reactions and bring balance and consideration to one's life and mental processes. It protects against negativity and assists one to release disharmony, resentment of self and others, and anger and fear caused by one's reactions to the situations and challenges they face as a part of life.

Physically black obsidian is used for pain relief and detoxifying the body. It speeds healing of wounds, improves circulation and brings warmth to the extremities, assists in helping aid the digestion process, helps reduce cravings for foods, and can be helpful for reducing an enlarged prostate.

Silver, long associated with the moon and water, reflects and mirrors the soul, giving calm and balance. Used to "draw down the moon" during lunar ceremonies, it shares the moon energy and protects from negativity. Silver is considered to be directly connected with the spiritual aspects of life. Silver has long been used to work in combination with the energies of gemstones, absorbing, amplifying, and emulating energies of gems and enabling the fusion of the different energies and a smoother transference to the wearer. Silver allows the wearer to tune in to the energy vibrations and flow of the universe. Silver is associated with love, the emotions, and healing. Metaphysical and mystical uses of silver include enhancement of manifestation, good health, communication skills, perception, psychic and intuitive capabilities, connection between physical and astral bodies, and revelations in dreams.

NOTE: Skullis offers information for reference. Skullis does not prescribe treatment for medical issues.

| | | |
| --- | --- | --- |
| ORIGIN: United States | HARDNESS: 5.2 | NATURAL: 100% natural |
Below is a sample piece. Due to stones' natural characteristics, what you receive may be of some difference to this one. Each one is unique. And we guarantee all are of same quality.
You are welcome to save or print one or more pictures below as a certification of the skull's Skullis identity.