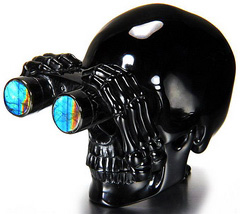 July 10, 2014 ACSAD (A Crystal Skull a Day) - Looking to the Future - Black Obsidian Carved Crystal Skull and Binoculars with Labradorite Lenses Sculpture
Item ID:W4000201
Size:5.4"x2.8"x3.9"(136x70x100 mm)
Weight:
Material:Black Obsidian
Looking to the Future is a stunning sculpture carved from one solid piece of black obsidian with the addition of two matching lenses of top quality labradorite showing amazing blue and gold adularescence! A carefully detailed carving with a spine and skeletal hands holding the binoculars, Looking to the Future searches for what is to come for mankind, with the hopes that a path to a new world consciousness can be discovered, accepted, and embarked upon together by the peoples of the Earth.

Looking to the Future inspires us to see the details we may be intentionally ignoring in our lives, encouraging us to alter our perspective and to choose to see clearly, to accept responsibilities and act accordingly in the various situations in our lives. It is designed to inspire patience by reminding us to be mindful of the future, but not at the cost of missing the present. We must plan ahead while keeping our consciousness in the here and now, determining each individual step on the path, rather than only focusing on the goal which may cause undesirable learning experiences to remind us we are forgetting to pay attention. Looking to the Future symbolizes the potential harmony possible by joining short and long term perspectives which will enable us to see and grow beyond our present situations, and to overcome challenges and gain wisdom from them.

Like black obsidian, binoculars also symbolize the talent of clairvoyance, and Look to the Future can be used to help with the development of this innate ability, allowing one to see through illusion and deception and discover truth and intent of our own behaviors and of others, as well as helping one learn to recognize the presence, energy, and wisdom of the higher spiritual self.

Look to the Future is a joyful and energetic visitor, coming to see the sights and appreciate the beauty of people and the world. An intricate sculpture that everyone loves to have as a guest, and an adept personality that offers great wisdom to those that choose to see with an open mind, heart, and eyes!

Labradorite symbolizes the sun and the moon, and it balances these energies as well as enhances them. Considered a Stone of Magic, labradorite facilitates travel from one plane of existence to another, and across the universe, during the pursuit of knowledge and guidance, and does the same when applied towards matters of introspection of the spirit, intuition, and psychic talents. In all of these applications labradorite can lead the way as a guide and assist with the understanding of the knowledge received.

Labradorite is referred to as the "temple of the stars," and believed to carry the light energy of other planetary beings to the soul of the user and the Earth plane. The Inuit people believed labradorite was from the northern lights, the Aurora Borealis, which is caused by charged particles from the sun's atmosphere colliding with gaseous particles in the Earth's atmosphere.

Labradorite is a great protection stone, shielding us by strengthening the aura and our natural energies. Labradorite protects from negativity and misfortune in this world when exploring others through meditation and visions as well as in the past and future.

Labradorite enhances magical abilities and aspects of intuition such as clairvoyance, telepathy, prophecy and conscious direction of serendipitous events. It assists with communication with higher spiritual guides, psychic readings, and past life recall. Labradorite allows for a smooth transition between worlds and states of being, keeping one safely grounded during the journey.

Labradorite encourages cooperation and congeniality, courtesy, and assists to instill a sense of belonging to part of a group. It can help reduce the tendency to judge others as well as helping to prevent feelings of depression or shame.

Labradorite is used to increase sensitivity in the hands, enhancing the skills of healers and energy workers who use their hands.

It is used to bring calm to the mind and energize imagination to allow for original ideas, and can be used to help one to find joy, adventure, change, and spontaneity in one's life again. It can energize one emotionally, preventing the feeling of being drained or weighed down by responsibilities. Labradorite facilitates introspection and thoughtfulness, and gives one intellectual clarity and intuitive wisdom to allow one to see through illusion to the cause of an issue, and find a resolution and bring peace. It helps to dispel fear and insecurity by bolstering faith, self reliance, and trust in the universe.

Labradorite is an excellent stone for communication and helps us share our true selves. It is very effective in uniting the chakras. Labradorite aids shamans, magicians, and Light workers to penetrate the veils of the Void and access the place of all knowledge and possibilities and the source of creation, providing protection on the journey and during subsequent recall. Labradorite also protects the aura and prevents energy leakages and stops the attempts of others who would drain personal energy. It balances and empowers all elemental forces within one's system. It is also a good tool when conducting radionic analysis and treatment with a goal of finding problem areas.

Black obsidian has been used for scrying and facilitating intuition for thousands of years. It is an excellent stone to assist in seeing past illusion to discern truth and understanding of oneself and of universal and spiritual laws. Obsidian is considered an extremely effective stone of protection, and a very powerful energy mover, as well as an excellent filter for absorbing negativity from its surroundings. Obsidian can be programmed to transmute this negativity to a different expression of energy, or can be cleansed regularly by smudging with smoke, washing with running water, associating it with other crystals, and more methods.

Obsidian is effective for removal of blockages and bringing courage to face and overcome fears. Black obsidian is commonly considered to be quite powerful and caution is recommended when using it. It is wise to be prepared for the speed of the transfer of energy and information. Conscious programming prior to use is one way to address this quality of black obsidian. One explanation for the excessive power of obsidian could be the elemental forces at work during its formation. Volcanic lava, Earth and Fire, join with Water to cool the material so quickly there is no time for crystallization.

Black obsidian possesses an excellent grounding ability, and assists one to find and maintain a clear and focused mental acuity. It can help to temper emotional reactions and bring balance and consideration to one's life and mental processes. It protects against negativity and assists one to release disharmony, resentment of self and others, and anger and fear caused by one's reactions to the situations and challenges they face as a part of life.

Physically black obsidian is used for pain relief and detoxifying the body. It speeds healing of wounds, improves circulation and brings warmth to the extremities, assists in helping aid the digestion process, helps reduce cravings for foods, and can be helpful for reducing an enlarged prostate.

NOTE: Skullis offers information for reference. Skullis does not prescribe treatment for medical issues.

| | | |
| --- | --- | --- |
| ORIGIN: United States | HARDNESS: 5.2 | NATURAL: 100% natural |
The skull pictured is the exact one you will receive.
You are welcome to save or print one or more pictures below as a certification of the skull's Skullis identity.