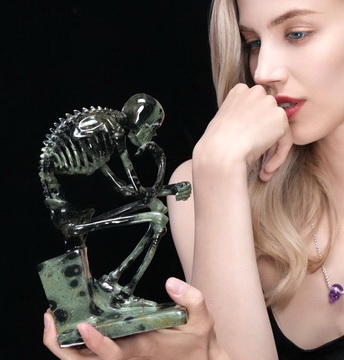 July 1, 2014 ACSAD (A Crystal Skull a Day) - The Skull Thinker - Kambaba Jasper Carved Crystal Skull and Skeleton Sculpture
VIDEO
Click above to see the video
Item ID:W0000093
Size:5.3"x4.1"x7.7"(135x103x195 mm)
Weight:
Material:Kambaba Jasper
Even more compelling than its enfleshed inspiration, Rodin's The Thinker, The Skull Thinker is an amazing work of considerable care and detail. Hand carved from one solid piece of kambaba jasper, The Skull Thinker holds the attention, ensnaring centuries and even eons of thoughts, leading one into a limitless space of contemplation. The Skull Thinker is another work of fine art that exemplifies the quintessence of Skullis. This unique sculpture is definitely one of a kind!

Auguste Rodin's The Thinker was originally entitled The Poet. He represents Dante Alighieri, author of the Divine Comedy which inspired Rodin's The Gates of Hell. The Poet is leaning forward to observe the circles of Hell, while meditating on his work. He is a being with a tortured body, almost a damned soul, and a free-thinking man, determined to transcend his suffering through his poetry.

Vividly lost in deep thought, The Skull Thinker contemplates the world, societies, individuals and the self, happiness, health, and the lack of these. Of course different people will react differently, and hopefully some will turn to introspection and seek to make improvements in their lives, through the thought processes they follow, how they relate with others, and the choices they make in their daily lives. This is the spirit of Skullis. This is how we hope to change the world for the better, by inspiring people's imaginations and encouraging them to explore their potential.

Kambaba jasper gives strength to recover from broken hearts, betrayed trust, and great loss. It brings peace and calm, reduces fear, anxiety, and stress, and brings balance to the spirit and the body. It is especially useful for meditation and allowing the troubled mind to release negative feelings and thoughts, particularly recurring issues that arise on a continual basis. It is also useful for restricting the occurrence of nightmares, and aids one to experience deep, restful sleep. Kambaba jasper brings stamina and strength to one's inner being. It also enhances one's skills of observation, and absorbs negative energies.

Kambaba jasper assists in focusing and concentration. It promotes self esteem and encourages self love and the love of others, and teaches one to accept the love received in return. It shares patience and courage, brings wisdom, and inspires cooperation with others. Kambaba is an excellent stone for aiding the seeing and reading of auras. It helps one to access akashic records, and assists in connecting with ancestors and ancient cultures, grounding and protecting during the process. It also assists in communications with the spiritual realms.

Kambaba jasper creates a closer connection with Earth life, especially with plant energies, assisting in their care to realize optimal health and growth, especially in dry environments and in less than quality soil conditions. In the home it can be kept near salt-water and tropical fish, exotic pets, reptiles, and any pets that require higher temperatures.

Kambaba jasper intensifies and increases the results of intentions and magical spells one focuses on when working with this stone. It brings insight to the challenges one faces, and the subjects being researched, and assists by strengthening one's emotional capacity to be able to process the knowledge received. It inspires and enhances creativity, and helps in the process of manifesting what is needed, and brings prosperity and abundance.

Medically Kambaba jasper assists the body to grow, regenerate and renew. It is helpful for treating skin, hair, and nail disorders, and beneficial to the teeth and jaw, including all dental work and wisdom teeth issues. It assists the body to properly assimilate minerals and vitamins, eliminate toxins ,fortifies the immune system, and stabilizes the digestion system and organs. As an elixir it is used to sooth the digestive system, relieving nausea and vomiting while strengthening the stomach.

Jasper is an Earth element stone that shares its unique connection with the planet through its consistent energy flow, encouraging one to be in the present and grounded to the physical body while enhancing perceptions of the surrounding environment. Jasper teaches one to appreciate silence and solitude of both the inner mind and the outer world. Jasper also allows for an enhanced perception of one's spiritual connection to the whole of nature, enabling one to recognize the sacredness of life, spiritual wisdom, the beauty in what may seem ordinary, and to find harmony with oneself and with others.

Jasper nurtures, balances the aura, and provides strength, healing, stability, grounding, security, and comfort. Jasper reflects one's spiritual choice to be of service to others by sharing happiness and a sense of purpose.

Jasper has long been used as a stone of mental, physical, and spiritual protection. Jasper is known as a stone for rain making, and is considered an effective stone to use as a tool for divination through dowsing and when dowsing for water.

Jasper clears negative energies and brings balance to the aura, instils peace by removing stress and anxiety, and increases one's ability to concentrate, eliminating negative thoughts and bad dreams. Jasper is used to balance and align the chakras, and protect during meditation that involves astral travel, providing grounding during the experience.

Jasper is considered an excellent healing stone, supporting the physical body and emotions during hospitalization, extended illness, and injury, helping one to understand the reasons for experiencing frustrating and/or painful experiences.

Jasper has also been used to assist during fasting and diet, giving physical energy, self control, and encouraging perseverance. It also assists one to let go of bad habits and addictions, assisting both the mind and the body to overcome the perceived need, and has been said to be very effective for quitting smoking. Jasper removes toxins from the body and reveals emotional processes that cause one to indulge in harmful addictions so they can be dismissed.

Jasper is considered to be an aphrodisiac, to increase fertility and lends energy to making the experience of pregnancy a joyful one.

Jasper brings vital energy to the emotional body, relieving stress and encouraging a balanced peace. Jasper inspires compassion, generosity, humility, patience, and courage, giving one the will to complete their goals. Jasper allows one to face challenges without feeling the need to pretend or hide one's true thoughts and feelings. Jasper assists in letting go of insecurities, fears, and guilt so one may find forgiveness for oneself. Jasper enables one to be assertive without aggression and helps one to be in harmony with others.

NOTE: Skullis offers information for reference. Skullis does not prescribe treatment for medical issues.

| | | |
| --- | --- | --- |
| ORIGIN: Africa | HARDNESS: 7.5 | NATURAL: 100% natural |
The skull pictured is the exact one you will receive.
You are welcome to save or print one or more pictures below as a certification of the skull's Skullis identity.