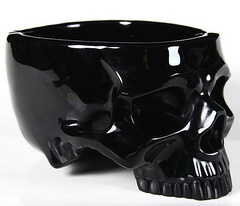 Jan 16, 2015 ACSAD (A Crystal Skull a Day) - Reservoir of Dreams - Black Obsidian Carved Crystal Skull Bowl Sculpture
Item ID:W4000326
Size:7.4"x5.1"x7.2"(188x130x182 mm)
Weight:
Material:Black Obsidian
Reservoir of Dreams is an impressive and mesmerizing crystal skull that is both aesthetically beautiful and also functional as a bowl shaped container as well. Carved from a specimen of intensely black obsidian volcanic glass from the United States, the Reservoir of Dreams crystal skull is a sizeable sculpture measuring 7.4 x 5.1 x 7.2 inches (188x130x182mm), and weighing an impressive 3.95 pounds (1793g).

The Reservoir of Dreams black obsidian crystal skull bowl sculpture encourages us to consider our future with an open mind and the understanding that there are no limits to what we may experience. Reservoir of Dreams reminds us that what we can imagine, we can create, and when we are centered in love and oriented toward achieving the greatest benefits for everyone, we have the ability to perceive, know, and experience alignment with all aspects of the spiritual and physical worlds.

The energy of the Reservoir of Dreams crystal skull helps us to concentrate our efforts to develop and enhance our intuitive and psychic skills, providing a focal point that assists us to shift our conscious awareness from our present time and physical surroundings to the concepts, situations, and places that we choose to explore. The Reservoir of Dreams black obsidian crystal skull enables us to be comfortable and confident with our capable spiritual awareness, helping us to recognize our connection to the oneness that provides us with accurate information that is relevant and applicable to the efforts we are undertaking.

Reservoir of Dreams inspires in each of us our creative imagination and our ingenuity, helping us to find new ways to accomplish our goals and respond to the challenges we face as part of our growth process. The Reservoir of Dreams black obsidian crystal skull bowl sculpture also helps us to focus our thoughts, directed energies, and our intentions, and can be used to amplify the energies we wish to manifest and share with the world and other people.

Black obsidian has been used for scrying and facilitating intuition for thousands of years. It is an excellent stone to assist in seeing past illusion to discern truth, and to understand universal and spiritual laws, and oneself. Obsidian is considered an extremely effective stone of protection, and a very powerful energy mover, as well as an excellent filter for absorbing negativity from its surroundings. Obsidian can be programmed to transmute this negativity to a different expression of energy, or can be cleansed regularly by smudging with smoke, washing with running water, associating it with other crystals, and more methods.

Obsidian is effective for removal of blockages and bringing courage to face and overcome fears. Black obsidian is commonly considered to be quite powerful and caution is recommended when using it. It is wise to be prepared for the speed of the transfer of energy and information. Conscious programming prior to use is one way to address this quality of black obsidian. One explanation for the excessive power of obsidian could be the elemental forces at work during its formation. Volcanic lava, Earth and Fire, join with Water to cool the material so quickly there is no time for crystallization.

Black obsidian possesses an excellent grounding energy, and assists one to find and maintain a clear and focused mental acuity. It can help to temper emotional reactions and bring balance and consideration to one's life and mental processes. It protects against negativity and assists one to release disharmony, resentment of self and others, and anger and fear caused by one's reactions to the situations and challenges one faces as a part of life.

Physically black obsidian is used for pain relief and detoxifying the body. It speeds healing of wounds, improves circulation and brings warmth to the extremities, assists in the digestion processes, helps reduce cravings for foods, and can be helpful for reducing an enlarged prostate.

NOTE: Skullis does not prescribe treatment for medical issues. Skullis offers information for reference to assist with the selection and understanding of crystal skulls, including this black obsidian crystal skull bowl sculpture.

| | | |
| --- | --- | --- |
| ORIGIN: United States | HARDNESS: 5.2 | NATURAL: 100% natural |
The skull pictured is the exact one you will receive.
You are welcome to save or print one or more pictures below as a certification of the skull's Skullis identity.