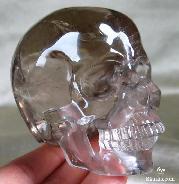 Rainbows Top QUALITY Large 3.6" Smoky/Smokey Carved Crystal Skull, Super Realistic
Item ID:4800931
Size:3.6"x2.4"x2.9" (92x62x73 mm)
Weight:
Material:Smoky
You are looking at a Smoky Quartz Rock Crystal skull. The skull is 3.6 inches long, from front to back. Smoky Quartz is a grounding stone. It is used most often to overcome depression, nightmares and stress. Quartz stimulates the natural crystal in body tissues and fluids to resonate at the highest healing frequency. The clearest smoky quartz are the most intense, powerfully opening the Crown Chakra emanating light down to the Root Chakra, therefore, inducing Alpha/deep meditation. Because of this situation, it's benefits also include channeling higher guidance, deep relaxation and helping with unconditional love. Heightens your understanding of nature and concerns for the environment. Smoky Quartz helps store information well for easier recall. Because it is associated with the Root Chakra, it helps to alleviate fear, anxiety and associated emotional depression. When placed opposite other smokies in a crystal grid these stone vibrate at a high energy level. It is the perfect stone for grounding the Etheric Layer of the Aura. This makes smoky quartz a great stone for detoxing, clears ambivalence and fortifies resolve. For those dealing with body image issues such as feeling too fat, skinny, short, tall, smoky quartz is for you. Of all the grounding stones, it establishes the most gentle and loving connection with the body.

| | | |
| --- | --- | --- |
| ORIGIN: Brazil | HARDNESS: 7 | NATURAL: 100% natural |
The skull pictured is the exact one you will receive. All pictures were taken in natural light.
You are welcome to save or print one or more pictures below as a certification of the skull's Skullis identity.