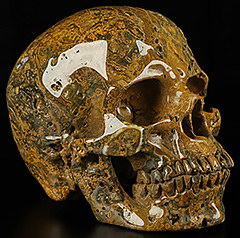 Huge 5.0" Ocean Jasper Carved Crystal Skull, Super Realistic
Item ID:4720035
Size:5.0"x3.5"x3.9" (128x87x100 mm)
Weight:
Material:Ocean Jasper
You are looking at a Ocean Jasper skull. The skull is 5.0 inches long, from front to back. Ocean Jasper is a silicon dioxide mineral that occurs in highly silicified rhyolite. This means that it is in the Quartz family and just like all other Jaspers it has a hardness of 6.5 to 7. Ocean Jasper is sometimes called Orbicular Jasper, a broad term given to several Jaspers displaying perfect circles throughout the piece. The peculiar orbs or "bull's eye" patterns are caused when Quartz and feldspar crystallize in radial aggregates of needle shaped crystals. A few of these other Orbicular Jaspers are Poppy Jasper and Leopard Skin Jasper. Many of these other orbicular jaspers are found in various locations throughout the world, however none are as rare as Ocean Jasper! Only found in one locale in the world ? off the northwest coast of Madagascar.
| | | |
| --- | --- | --- |
| ORIGIN: Madagascar | HARDNESS: 7 | NATURAL: 100% natural |
The skull pictured is the exact one you will receive.
You are welcome to save or print one or more pictures below as a certification of the skull's Skullis identity.