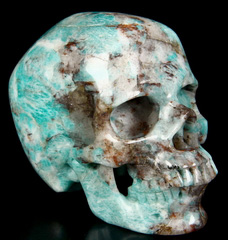 Huge 4.8" Amazonite Carved Crystal Skull,Super Realistic
Item ID:4703650
Size:4.8"x3.1"x3.8" "x"x" (121x80x97 mm)
Weight:
Material:amazonite
You are looking at an amazonite skull. The skull is 4.8 inches long, from front to back.

This stone represents prosperity. Great over a door to bring in new business. It is wonderful for entrepreneurs and those in sales. This hope stone is important to have when starting a new business or financial venture. Amazonite's energy works very well when combined with other feldspar stones such as topaz and aqua aura. A gentle friendly, calming, soothing stone, which opens throat, heart, and solar plexus Chakra. Used for self-expression, artistic creativity and healing. This is a great stone for communication, confidence and leadership. Reduces self-damaging behavior, increases self-respect, grace, self-assuredness with communication. Green stone instrumental in distilling the raw information used for personal expression. Helps filter information and combines it with natural intuition. Enhances masculine qualities. Good for anyone involved in the arts. Utilize Amazonite in order to encourage the pursuit of your unique path in life. Amazonite is used to disperse negative energy.

| | | |
| --- | --- | --- |
| ORIGIN: Guizhou, China | HARDNESS: 6 | NATURAL: 100% natural |
The skull pictured is the exact one you will receive.
You are welcome to save or print one or more pictures below as a certification of the skull's Skullis identity.