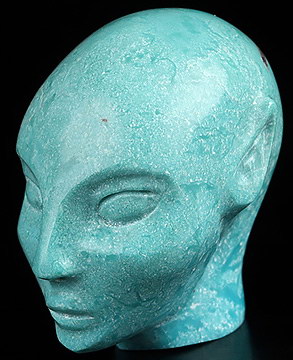 Gemstone 1.3" Turquoise Hand Carved Fairy Elf Alien Crystal Skull Companion Sculpture, Crystal Healing
Item ID:4504164
Size:1.2"x0.8"x1.3" (30x21x32 mm)
Weight:
Material:Turquoise
You are looking at a Turquoise skull. The skull is 1.3 inches long from front to back.
Top quality natural turquoise is hard to come by. Some "turquoise" found in cheapie souvenir jewelry contains no real stone at all--it's plastic! Some has what looks like tiny pieces of confetti in it--That's reconstituted turquoise, made from small pieces of stone mixed with blue dye and a plastic binder.
| | | |
| --- | --- | --- |
| ORIGIN: Hubei,China | HARDNESS: 5.5 | NATURAL: 100% Natural |
The skull pictured is the exact one you will receive.
You are welcome to save or print one or more pictures below as a certification of the fine art's Skullis identity.