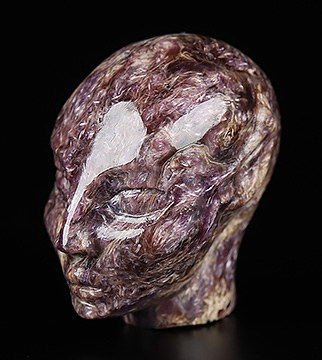 Gemstone 1.1" Russian Charoite Hand Carved Fairy Elf Alien Crystal Skull Companion Sculpture, Crystal Healing
Item ID:4720528
Size:1.0"x0.7"x1.1" (25x18x27 mm)
Weight:
Material:Russian Charoite
You are looking at a Russian Charoite skull. The skull is 1.1 inches long from front to back.
The stone of transformation. Charoite helps seeing old patterns with new possibilities. It is believed to open the heart, allow inspiration, encourage service, and grants us the ability for seeing more clearly (mentally, physically, psychically). It is believed that this stone brings about faster healing. Some find it useful for entity release work. Most effective on the upper centers of energy, which are the Heart, Brow and Crown Chakra to transmute/lift us out of troubled or stuck emotions and most of all, fear. This brings about vibrational change and therefore stimulates the Aura. Use this stone for transforming negative energies into acceptance. Use Charoite to assist in the foresight and ability to improve your intuitive vision.
| | | |
| --- | --- | --- |
| ORIGIN: Russia | HARDNESS: 7 | NATURAL: 100% Natural |
The skull pictured is the exact one you will receive.
You are welcome to save or print one or more pictures below as a certification of the fine art's Skullis identity.