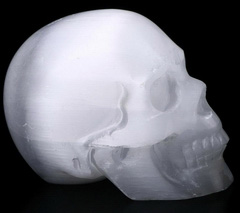 Flash 2.0" Selenite Carved Crystal Skull, Realistic, Crystal Healing
Item ID:S0000982
Size:2.0"x1.3"x1.5" (50x32x38 mm)
Weight:
Material:Selenite
You are looking at a selenite skull. The skull is 2.0 inches long, from front to back. A Gypsum. White/clear striated crystals. Has been used to work against cancer and is known to stabilize epileptic disorders. Mental focus, growth, luck, immunity, kundalini. Centuries-old record keepers of events/information. Smoothes emotions. Holding crystal, visualize it bringing white light/energy (higher ideas/consciousness) from transpersonal point above head down through body, out through feet into earth/physical plane. Place on 3rd eye for stored info. May help physical and emotional letting go. Repro; spine and nerve system, emotional and athletic flexibility. Sends healing to the earth. Expands sensitivity, field of awareness.
| | | |
| --- | --- | --- |
| ORIGIN: Yunnan, China | HARDNESS: 2 | NATURAL: 100% natural |
Below is a sample piece. Due to stones' natural characteristics, what you receive may be of some difference to this one. Each one is unique. And we guarantee all are of same quality.
You are welcome to save or print one or more pictures below as a certification of the skull's Skullis identity.