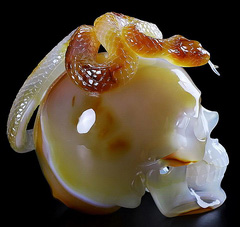 Five Poisons - 6.2" Carnelian Carved Crystal Skull with Snake Companion Sculpture, Super Realistic
Item ID:W4000569
Size:6.2"x4.2"x5.2" (158x107x132 mm)
Weight:
Material:Carnelian
What wisdom might be at the tip of this translucent forked tongue? And a better question might be what to do with that wisdom? The Snake is an exquisite Super Realistic crystal skull sculpture, and is the largest of the group of the Five Poisons crystal skulls. Magnificent in color and pattern, with many areas of interest and varieties within the beautiful colors. And this well detailed serpent could possibly be the longest Skullis artists have ever carved, winding up and over its crystal skull companion!
The Snake crystal skull sculpture is one in the set of the Five Poisons Carnelian Crystal Skulls from Skullis.
A breath-taking complement of five Super Realistic crystal skull sculptures with their "五毒" Five Poisons companions in amazing detail. Frighteningly fascinating and each incredibly beautiful regardless of how one feels about actual spiders and such! Each is carved from superior specimens of our latest supply of excellent carnelian from Brazil. In this set of carvings we can see opaque white chalcedony transition in translucency and colors including yellow, orange, and even intense red. Crystal lined vugs and geode like cavities are common, as are areas of truly gem quality carnelian. The Five Poisons crystal skull sculptures carved from this lovely carnelian can be even more captivating with backlighting. These are beautiful sculptures carved from beautiful carnelian that will be thoroughly appreciated every time they are experienced!
The "五毒" Five Poisons crystal skulls feature the most common symbols in ancient Chinese culture for the dangerous creepy crawlies that appear with the coming of summer and warm weather. Traditionally children wore coin amulets with depictions of the centipede, toad, snake, spider, and scorpion as talismans of protection from these and similar dangers which might be encountered while playing. Along with their other perceived characteristics, each of the five poisons are associated with powerful magic and high alchemy. Interestingly, a brief online search also provides a fascinating modern aspect of the Five Poisons.

The Snake is seen as wise and clever, and potentially duplicitous. Serpents are symbols of royalty and power, wisdom, health, wealth, the primordial life force, and the search for balance. As a symbol of duality, the serpent also represents lust, greed, and temptation. The snake represents fertility as the assertive power of masculinity, the female yin element, and also the nurturing, mothering power of creation, this often being depicted as a serpent encircling the earth.
The snake has been a symbol of secret knowledge, cunning, rebirth and renewal, and transformation. The snake's tendency to withdraw in colder weather, and return again at the call of the sun, has given it the associations of connecting to shadow worlds and of moving in synchronization with natural forces. Snakes also symbolize water, emotion, love, benevolence, loving harmony between the physical and the ethereal, the kundalini spiritual energy within the body, balance, equanimity, union, transformation, healing, rejuvenation, and regeneration. Snakes can be representative of being impulsive while also being careful to consider the outcome of one's actions.

| | | |
| --- | --- | --- |
| ORIGIN: Brazil | HARDNESS: 7 | NATURAL: 100% natural |
The skull pictured is the exact one you will receive.
You are welcome to save or print one or more pictures below as a certification of the skull's Skullis identity.