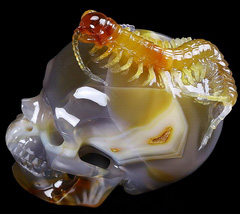 Five Poisons - 5.2" Carnelian Carved Crystal Skull with Centipede Companion Sculpture, Super Realistic
VIDEO
Click above to see the video
Item ID:W4000570
Size:5.2"x3.3"x4.4" (131x84x112 mm)
Weight:
Material:Carnelian
Glittering orange crystal druse lines a hollow vug visible through the left eye socket and nasal cavity of this remarkable crystal skull with centipede companion. This cavity extends through the specimen, exposed again on the right side where the more colorful crystals are surrounded by the uniquely colored opaque material and fortification layers. Just as centipedes prefer the shadows, most of this specimen is composed of material that is darker than others of the Five Poisons crystal skull sculptures. Meandering over the top is an incredibly detailed, seemingly impossible centipede sculpture with each mandible, antennae, and segment strongly encouraging us to not touch it. Controlling it all is a jewel of a head with excellent coloration. We love this unsettling masterpiece!
The Centipede crystal skull sculpture is one in the set of the Five Poisons Carnelian Crystal Skulls from Skullis.
A breath-taking complement of five Super Realistic crystal skull sculptures with their "五毒" Five Poisons companions in amazing detail. Frighteningly fascinating and each incredibly beautiful regardless of how one feels about actual spiders and such! Each is carved from superior specimens of our latest supply of excellent carnelian from Brazil. In this set of carvings we can see opaque white chalcedony transition in translucency and colors including yellow, orange, and even intense red. Crystal lined vugs and geode like cavities are common, as are areas of truly gem quality carnelian. The Five Poisons crystal skull sculptures carved from this lovely carnelian can be even more captivating with backlighting. These are beautiful sculptures carved from beautiful carnelian that will be thoroughly appreciated every time they are experienced!
The "五毒" Five Poisons crystal skulls feature the most common symbols in ancient Chinese culture for the dangerous creepy crawlies that appear with the coming of summer and warm weather. Traditionally children wore coin amulets with depictions of the centipede, toad, snake, spider, and scorpion as talismans of protection from these and similar dangers which might be encountered while playing. Along with their other perceived characteristics, each of the five poisons are associated with powerful magic and high alchemy. Interestingly, a brief online search also provides a fascinating modern aspect of the Five Poisons.
The Centipede. Because they resemble a string of coins as they move, the lucky encounter is seen as signifying coming fortune and prosperity. The centipede is used as a symbol of healing, good fortune, prosperity, and protection. Centipedes are also commonly associated with death and transformation, progress, and balance. The centipede is believed to rival the snake, and even gives dragons cause for concern, though it falls prey to the cock and hen. Centipedes represent psychic energies and connections with others. The centipede reminds us to follow as our heart motivates us, rather than our ego. The centipede symbolizes growth, emotional expression, and progress. Centipedes can be associated with grounding energies, and manifestation and creative energies. The centipede is coordinated and moves with graceful ease, reminding us of focus, perseverence, and seeing long term success rather than obstacles.

| | | |
| --- | --- | --- |
| ORIGIN: Brazil | HARDNESS: 7 | NATURAL: 100% natural |
The skull pictured is the exact one you will receive.
You are welcome to save or print one or more pictures below as a certification of the skull's Skullis identity.