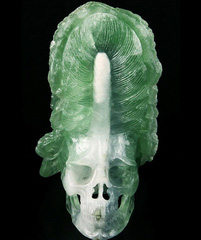 Feb 6, 2015 ACSAD (A Crystal Skull a Day) - One Good Deed - Blue and Green Fluorite Carved Crystal Skull with Feather Sculpture
Item ID:W4000327
Size:5.7"x1.0"x7.9"(146x101x200 mm)
Weight:
Material:Fluorite
One Good Deed is carved from a natural crystal specimen of translucent colorless, blue, and green fluorite from Zhejiang, China. With foresight and amazing artistic vision, part of the crystal skull and the shaft of the feather have been ingeniously carved from the white, or colorless, clear fluorite of the specimen. The fluorite changes from the clear to a beautiful translucent blue, most notably in the crystal skull, and then transforms again to the dominant green of the mineral specimen. The entire sculpture shows a fascinating color variation of blue and green when light is passed through it. The One Good Deed fluorite crystal skull has been carved in the Super Realistic crystal skull design from Skullis with an excellent display of incredible detail in the crystal skull's features. The One Good Deed fluorite crystal skull with feather sculpture measures 5.7 x 1.0 x 7.9 inches (146x101x200mm) and weighs a total of 7.24 pounds (3284g).

The One Good Deed fluorite crystal skull encourages us to know ourselves better in an effort to develop our sense of self confidence and to understand that we actually are more capable of helping other people and ourselves than we may think. One Good Deed inspires us to express ourselves clearly, honestly, and with a calm and thoughtful manner, and to be more open minded in an effort to understand the reasons for why other people do the things they do. This applies to our understanding the purposes and reasons behind our own thoughts and actions as well. If we are to selflessly offer our assistance to other people, we need to be able to determine the different possible, and most effective, ways of doing this. The One Good Deed crystal skull helps us to think impartially and rationally when we are considering how we may be of service in our lives.

One Good Deed also helps us to comprehend the importance of expressing our appreciation in all matters, including what we are given, what is done to help us, and especially the opportunities that are offered to us that enable us to show our appreciation for other people being a part of our lives. We all know how healing and wonderful it is to learn someone is grateful for us and for the things we do, and the One Good Deed crystal skull imparts to us the importance of sharing that experience with the people we come into contact with, when the expression is genuine. The One Good Deed crystal skull sculpture represents the great importance of being thankful and never taking any person or anything for granted. One Good Deed helps us to understand that it is equally important that we graciously accept gratitude when it is expressed to us, because it takes a lot of energy and devotion to be a channel for love and kindness, and we are deserving of the thanks we earn, and obligated to allow that energy to flow back to us.

The One Good Deed fluorite crystal skull and feather sculpture cautions us to regulate the flow of our emotions so we do not become overbearing or too much for other people to accept. We must be careful that we stay within the parameters of what other people are capable of processing, when expressing our emotions and opinions, and when communicating at any level. This holds true for all people and energies we choose to interact with. For example, when talking with a person, it helps to speak in terms that both people can understand, and when appreciating the beauty of nature, it helps to emulate the energy of a flower if we want to share our appreciation of it, because a hug would crush it! One Good Deed also helps us to understand that there is not a need to be emotionally on guard at all times, and we should find the ability to relax and trust that we are safe.

The One Good Deed also reminds us to live without having expectations. Rather, we can remain open to an experience, and learn to be flexible and to harmonize with what situations and people may come to us. If we let go of our expectations, we increase the possibilities of experiencing new and enlightening knowledge, wisdom, and realities while simultaneously reducing the chances of being upset or disappointed because things did not end up as we had hoped. The One Good Deed fluorite crystal skull and feather sculpture empowers us to be grateful and appreciative, and to experience our lives with a greater amount of grace, tolerance, and love.

Along with the aspects of travel, truth, speed, flight, and Lightness, feathers symbolize higher thought, ascension, spiritual growth, and evolution. Feathers represent prayer, communication with Spirit, and wisdom, and the Native American Indians consider feathers to be symbolic of the power of the thunder gods, of the air, and of the wind. Native American Plains Indians considered feathered headdresses to be highly spiritual and magical, and they were worn to protect the wearer from injury and harm. One would have to earn the feathers of a headdress through acts of bravery and good deeds for the community, each feather representing one deed.

As a Celtic symbol the feather again represents the knowledge of the spiritual realm, and feathers were used to invoke the sky gods to allow passage from the physical realm to the ethereal realm.

Egyptians also held the belief that feathers were symbolic of the gods of the sky, and after death the soul of a person would be weighed and compared to the weight of a feather to determine its worthiness.

In Christianity feathers have represented virtues, particularly three feathers together symbolized charity, hope, and faith, and a ring with a signet of three feathers was worn to symbolize a virtuous soul.

Feathers are considered to convey the message to continue on the spiritual path one is on, and can also be a sign to encourage one to remember to laugh. Feathers indicate that, instead of taking things so seriously all the time, one needs to lighten up and find joy in one's situation. Feathers also are symbols of progression, divinity, enlightenment, and heightened awareness.

Fluorite brings equilibrium and harmony to the thoughts and mental processes, increasing one's focus and effectiveness during contemplation of ideas and situations. Fluorite encourages a neutral perspective free of the effect of one's emotions, enabling one to consider and respond to a situation without being swayed by one's personal opinions and feelings. It instills perception, proficiency, and responsibility, and enhances the intuition with these qualities. It promotes ingenuity, mental proficiency and capacity, and incites the imagination and intellectual curiosity, helping one to attain a greater level of understanding and to accomplish goals.

Fluorite assists one to see past deception and illusion to discern what is real and true. It allows for the understanding of relationships and the dynamics involved, bringing balance and opening individuals, and members of relationships and groups, to the ideas of clarity in their methods of communication and harmony in the pursuit of achieving the highest good for all involved.

Fluorite assists one to see the flawless completeness of every aspect of the universe, helping one to understand that what may seem independent and removed is in truth an integral part of the greater whole. This enables one to more easily recognize the expression of the universal perfection of every person, and to identify the lessons that can be learned from all that is perceived which will further the growth and progression towards the harmonious union of the all.

With fluorite one can access and tap into the ubiquitous and unlimited energy of the universe. This energy can be used to replenish and renew the physical body, and to incite one's natural energies to achieve the ideal expression of physical health and well being. It promotes and maintains optimal health, happiness, comfort, mental capacity, and prosperity.

Physically fluorite corrects disorders by eliminating, cleaning, and purifying discordant issues, and can be used effectively as soon as symptoms begin to appear. It has been used for health issues involving tumorous growths and ulcers, to prevent and treat RNA and DNA damage, to regulate cellular growth, formation, and structure, and for regulating bones and skeletal structure. Fluorite is used to alleviate symptoms and to treat infections such as colds, flu, staph and strep infections, infectious cankers, and herpes, and to treat highly infectious dis-eases, also providing protection from infection to caregivers.

Colorless fluorite clears and energizes the crown chakra and the aura and brings the chakras into alignment, facilitating a connection between the physical body and the energy of the universe. It helps to harmonize the mental intellect with the spirit, allowing one to more easily recognize which situations and experiences are and are not helpful and useful for one's spiritual growth. It is used to amplify, concentrate, and direct the energies of other crystals and minerals for manifestation and healing work.

Colorless fluorite promotes optimal vision and is used to clear the eyes, removing cataracts and other impediments from the pupil and iris.

Blue fluorite facilitates and enhances communication with other people and other beings of different realms with precision and clarity. It promotes a methodical and systematic clarity of one's mental processes and helps to regulate and soothe one's emotional state and responses. It also naturally helps to enhance one's ability to organize and maintain information.

The flexible energy of blue fluorite is serene and gentle, lending itself to efforts of bringing peace, relaxation, and comfort to areas or situations of one's choice. It assists with connecting with one's spiritual nature, and enhances the perception of one's intuition.

Blue fluorite is used for health issues of the inner ear, the nasal cavity and passages, the throat, and the eyes and tear ducts. It can also be used to address speech disorders.

Green Fluorite rejuvenates, cleanses, and purifies the chakras. It helps to calm the emotions and bring peace when stress and trauma are experienced. It removes negativity from the environment it is placed in, changing the energy to one of love and light and directing it toward where it is most needed.

Green fluorite can be used to treat the digestive system, bringing comfort and an energy of optimal health. It is used to alleviate irritation and pain caused by sore throat, heartburn, colitis, and similar issues.

NOTE: Skullis does not prescribe treatment for medical issues. Skullis offers information for reference to assist with the selection and understanding of crystal skulls, including this blue and green fluorite crystal skull with feather sculpture.
| | | |
| --- | --- | --- |
| ORIGIN: Zhejiang, China | HARDNESS: 4 | NATURAL: 100% natural |
The skull pictured is the exact one you will receive.
You are welcome to save or print one or more pictures below as a certification of the skull's Skullis identity.