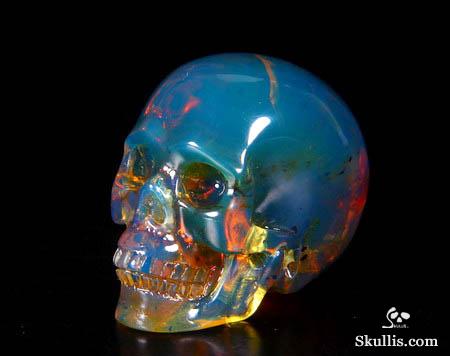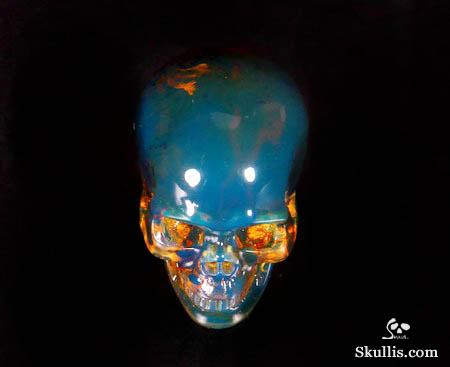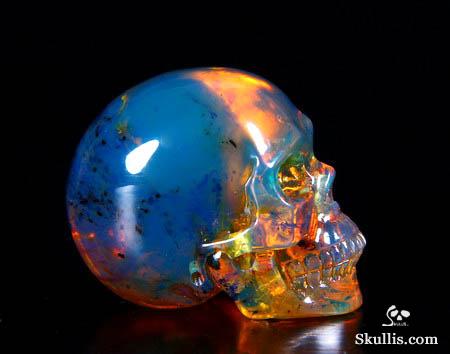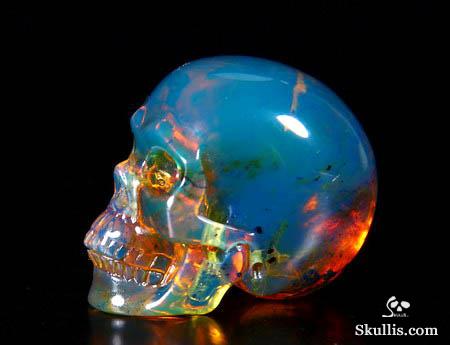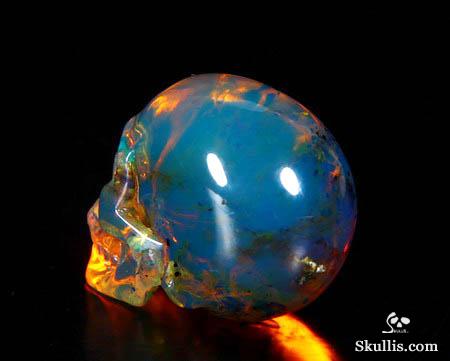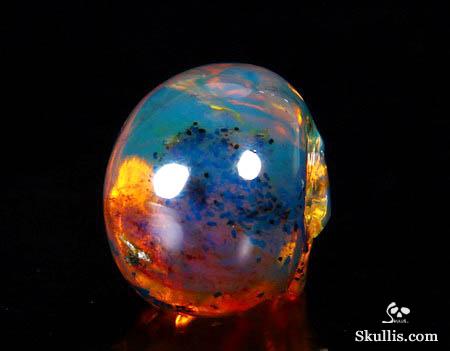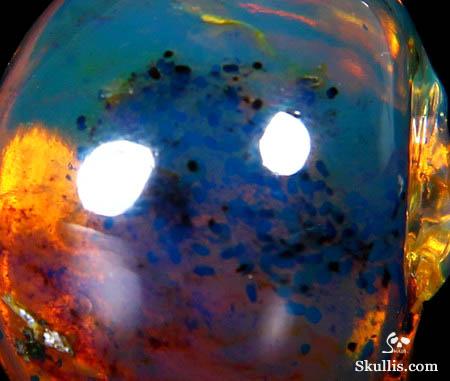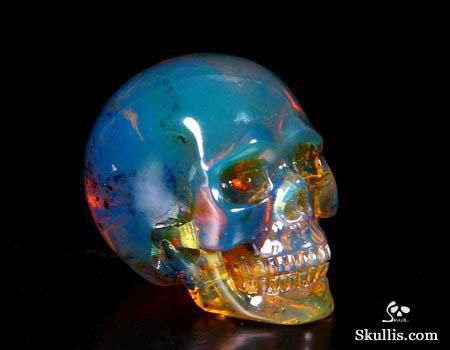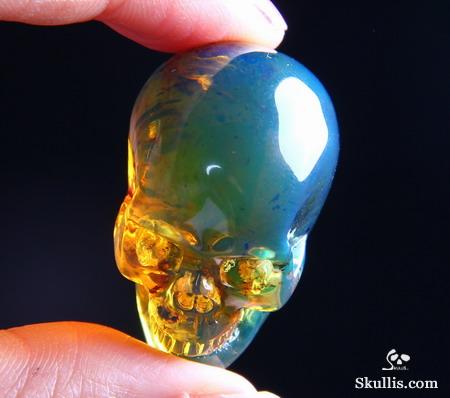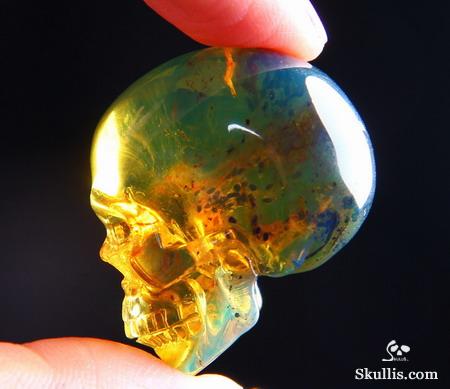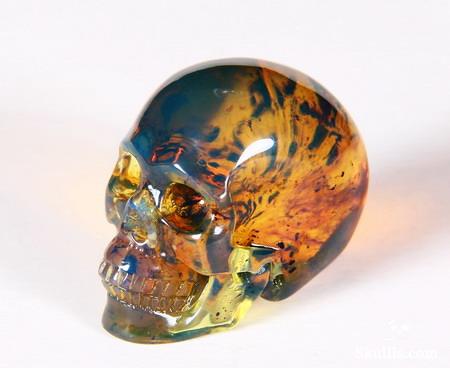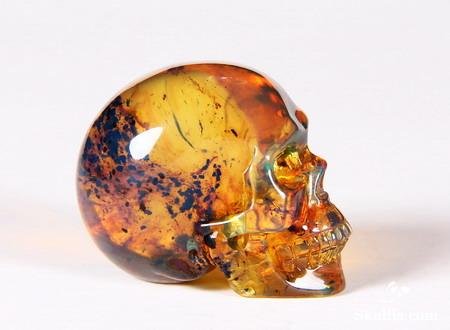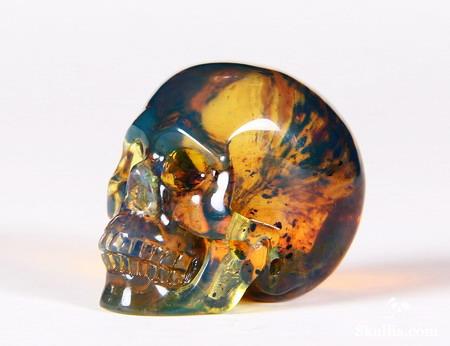 Feb 28, 2015 ACSAD (A Crystal Skull a Day) - Dreaming Reality Anew - Dominican Blue Amber Gem Quality Carved Crystal Skull Sculpture
Item ID:4100898
Size:1.3"x0.9"x1.1" (33x22x27 mm)
Weight:
Material:Dominican Blue Amber
The stunning Dreaming Reality Anew crystal skull is carved from a gem quality specimen of blue amber from the Dominican Republic. This beautiful crystal skull sculpture is colored with an intense sky blue, accented by a swath of black inclusions, and shows some green and red coloration as well, when properly lit.

Blue amber is mainly found in the Dominican Republic, and is actually quite rare, but the most fascinating aspect of blue amber is its coloration. Blue amber looks like normal amber when under artificial light and when held in front of the sun to see light passing through it. But when viewing it as sunlight shines on it, it has a striking fluorescent blue glow, and under ultraviolet lighting it glows with a light blue color. When a specimen of blue amber is lit with natural light while on a white surface, the amber will only show a hint of blue, and will usually look like normal amber. This is because the white surface beneath the amber refracts the natural light. However, if the background is black it will not refract the light, but the amber will. As ultraviolet light from the sun is changed to a lower frequency by the amber, it will actually absorb high energy ultraviolet light and then fluoresce a low energy visible light. Only amber from the Dominican Republic, some found in Chiapas in Mexico, and a variety in Indonesia exhibits this quality of fluorescence.

The Dreaming Reality Anew blue amber crystal skull is a magnificent carving which measures 1.3 x 0.9 x 1.1 inches (33x22x27mm) and weighs 53.0 carats (10.6g)

The Dreaming Reality Anew crystal skull encourages each of us to be sensitive to, and aware of, our intuition and our inner sense of our connection with the physical world. Dreaming Reality Anew inspires us to be attentive to where we may be lead, and to the opportunities we are presented with, as these may result in our growth and a chance to help others.

The Dreaming Reality Anew blue amber crystal skull inspires us to fuel and follow our dreams and motivations, exercising our trust in the synchronicity of the perfect universal consciousness. Dreaming Reality Anew also helps us to develop and maintain our self confidence, knowing that we can achieve happiness and success, and also realize our dreams, when we are dedicated to doing all we can towards these goals.

Dreaming Reality Anew helps us to surpass the confinements of our mundane thought processes and to quiet the overly active mind that is only focused on awareness of our physical reality and situations. We are asked to consider the possibility of setting aside what is tried and true so we may begin to make room for new learning experiences and realities as we grow in our hearts and in our spirits.

This spectacular blue amber crystal skull helps us to continually work to bring our higher consciousness to the forefront of our awareness, and to create more peace and happiness in our lives and the lives of others. The Dreaming Reality Anew crystal skull enables us to release our stress, self doubts, and inhibitions so we can be available to selflessly help others by offering our love and support, by creating friendships and trust, and by eliminating loneliness.

Fossilized amber connects one's consciousness to the Higher Consciousness of the Universe. It encourages contemplation, clear and creative thinking, and self expression, and assists one to make wise decisions when faced with difficult choices. Amber opens and clears the chakras, including the crown chakra, enhancing self-confidence, and teaching and enabling one to accept and express unconditional love.

It is conducive to manifestation, helping to bring one's desires to realization. It is a gem that has been used for increasing monetary wealth, and to bring good fortune and luck. Amber represents one's truthfulness, loyalty, and keeping promises, and has been used during the renewal of marriage vows.

Amber is a sacred gem to Native Americans and Eastern Indians, and was used in fire ceremonies performed by ancient tribal healers. Since medieval times amber has been burned as an incense and as a cleanser to remove negativity from an environment. Amber purifies the environment and also purifies the body, mind, and spirit of a user that wears, carries, or uses amber incense or elixirs.

Amber is a protective stone, giving one a sense of optimism, good health, and well being, balancing the emotions and clearing the mind by releasing negative energy and stress, and eliminating depression, fears, and phobias.

Amber assists in bringing the emotional, mental, and physical bodies into balance to stabilize the flow of life energies with that of the Earth, and in balancing the body's electro-magnetic fields.

The life force preserved within Amber promotes fertility, and encourages the body to self heal by changing negative energy into positive energy. It is beneficial in the treatment of dis-eases and disorders related to the throat, including goiter and laryngitis. Amber has also been used for the treatments of the stomach, intestines, spleen, liver, kidneys, bladder, joints and ligaments, and the endocrine system. It is effective for removing toxins and cleansing the blood, and promotes clear and unobstructed energy flow throughout the body.

Amber brings healing energy to glandular systems, and encourages tissue regeneration and the healing process within the DNA. In ancient times amber was ground and ingested, or soaked as an elixir and drunk as a penicillin type remedy. Amber can also be employed to treat karmic related illnesses.

NOTE: Skullis does not prescribe treatment for medical issues. Skullis offers information for reference to assist with the selection and understanding of crystal skulls, including this Dominican blue amber crystal skull sculpture.

| | | |
| --- | --- | --- |
| ORIGIN: Dominican Republic | HARDNESS: 2.5 | NATURAL: 100% natural |
The skull pictured is the exact one you will receive.
You are welcome to save or print one or more pictures below as a certification of the skull's Skullis identity.