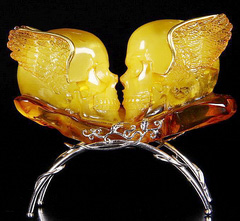 Feb 1, 2015 ACSAD (A Crystal Skull a Day) - Angel's Whispers - Baltic Amber Carved Winged Crystal Skull with Stainless Steel Stand
Item ID:W4000349
Size:4.1"x1.7"x3.5"(103x44x90 mm)
Weight:
Material:Baltic Amber
Angel's Whispers is a sensational sculpture of incredible detail which features a pair of two winged crystal skulls standing, almost touching, face to face. Angel's Whispers has been created from a single translucent and transparent specimen of Baltic amber from the Baltic region. It measures 4.1 x 1.7 x 3.5 inches (103x44x90mm) and weighs 0.37 pounds (166g). Much of the amber, including the wings of the crystal skulls, as well as the base of the carving, are remarkably clear, and the amber adopts a lovely translucent yellow coloration within the core where the two skulls are situated. The Angel's Whispers crystal skulls sculpture sits on an elaborate custom made stainless steel arc shaped stand, held in place by stainless steel vines that wrap around the legs and over the base of the amber carving. The Angel's Whispers Baltic amber winged crystal skulls sculpture is a breathtaking work of fine art and craftsmanship from Skullis.

The Angel's Whispers Baltic amber winged crystal skulls encourage us to nurture and develop our connections with the spiritual worlds, and with our own spiritual nature. They convey to us the importance of bringing our worldly challenges into a spiritual perspective so we may determine the optimal means of addressing and resolving them in a way that benefits our process of growth. The Angel's Whispers crystal skulls help us to understand the concept that interacting with others in the physical world is one way to communicate on the spiritual level, if we are open to perceiving it this way.

Angel's Whispers also encourages us to become comfortable with acknowledging that we cannot always do everything by ourselves, and to learn that asking for assistance, especially if we find the asking to be difficult, is actually a very important part of our growth process. The Angel's Whispers crystal skulls help us understand that alone we are not always able to face every situation, but with help and guidance from our inner spirit, our spiritual teachers, and our trusted friends and companions, we are able to achieve what we may not be able to do by ourselves.

The Angel's Whispers Baltic amber winged crystal skulls help us to remember that often, by discussing, or even simply mentioning aloud, the things we are challenged with, the solutions which we may not have understood before can become readily apparent. It is an honor we give to others to ask for advice, and it is always good to consult with others to learn alternatives that may not have occurred to us. More importantly, the Angel's Whispers crystal skulls teach us that by discussing our situations with others, we are also creating the opportunity for ourselves to learn to listen. We listen by opening our ears and closing our mouths. If we instead ask for advice and then proceed to interrupt to explain why that advice is not useful, then we are not listening. The energy of the Angel's Whispers crystal skulls also helps us to be patient when we listen, waiting for the proper moment to offer additional details that may need to be considered, and that may change the advice and opinions of those we are asking to help us. By listening to others opinions, we can learn so much more about ourselves if we understand that an unbiased perspective is something we might not be able to provide ourselves.

As we learn to ask for help, we open ourselves to greater experiences, we learn to be more courteous, more respectful, and more selfless, and most importantly we may also find we create opportunities in which we, in turn, are able to be of service to others.

Fossilized amber connects one's consciousness to the Higher Consciousness of the Universe. It encourages contemplation, clear and creative thinking, and self expression, and assists one to make wise decisions when faced with difficult choices. Amber opens and clears the chakras, including the crown chakra, enhancing self-confidence, and teaching and enabling one to accept and express unconditional love.

It is conducive to manifestation, helping to bring one's desires to realization. It is a gem that has been used for increasing monetary wealth, and to bring good fortune and luck. Amber represents one's truthfulness, loyalty, and keeping promises, and has been used during the renewal of marriage vows.

Amber is a sacred gem to Native Americans and Eastern Indians, and was used in fire ceremonies performed by ancient tribal healers. Since medieval times amber has been burned as an incense and as a cleanser to remove negativity from an environment. Amber purifies the environment and also purifies the body, mind, and spirit of a user that wears, carries, or uses amber incense or elixirs.

Amber is a protective stone, giving one a sense of optimism, good health, and well being, balancing the emotions and clearing the mind by releasing negative energy and stress, and eliminating depression, fears, and phobias.

Amber assists in bringing the emotional, mental, and physical bodies into balance to stabilize the flow of life energies with that of the Earth, and in balancing the body's electro-magnetic fields.

The life force preserved within Amber promotes fertility, and encourages the body to self heal by changing negative energy into positive energy. It is beneficial in the treatment of dis-eases and disorders related to the throat, including goiter and laryngitis. Amber has also been used for the treatments of the stomach, intestines, spleen, liver, kidneys, bladder, joints and ligaments, and the endocrine system. It is effective for removing toxins and cleansing the blood, and promotes clear and unobstructed energy flow throughout the body.

Amber brings healing energy to glandular systems, and encourages tissue regeneration and the healing process within the DNA. In ancient times amber was ground and ingested, or soaked as an elixir and drunk as a penicillin type remedy. Amber can also be employed to treat karmic related illnesses.

NOTE: Skullis does not prescribe treatment for medical issues. Skullis offers information for reference to assist with the selection and understanding of crystal skulls, including this Baltic amber winged crystal skulls sculpture.

| | | |
| --- | --- | --- |
| ORIGIN: Baltic | HARDNESS: 2.5 | NATURAL: 100% natural |
The skull pictured is the exact one you will receive.
You are welcome to save or print one or more pictures below as a certification of the skull's Skullis identity.