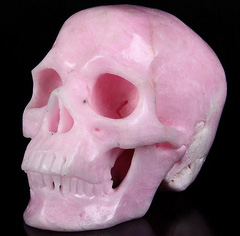 Dec 9, 2014 ACSAD (A Crystal Skull a Day) - Perpetual Growth - Pink Aragonite Carved Crystal Skull Sculpture
Item ID:W4000265
Size:7.2"x4.8"x5.5"(183x122x140 mm)
Weight:
Material:Pink Aragonite
Perpetual Growth is a sizeable crystal skull of pink aragonite measuring 7.2 x 4.8 x 5.5 inches (183x122x140mm) and weighing 7.8 pounds (3540g). Perpetual Growth has been carved from a specimen of pink aragonite from Sichuan, China in the Super Realistic crystal skull design from Skullis Crystal Skulls. The Perpetual Growth pink aragonite crystal skull is a beautiful and extremely well detailed sculpture with a very noticeable presence of personality.

Perpetual Growth inspires our intuition and imagination, and expresses a joyful and humorous approach to life. This handsome crystal skull encourages us to expand ourselves at all levels, developing our self confidence and strong will, balancing and regulating ourselves emotionally, maintaining high ideals, and being open minded and without judgment toward all that we experience. Perpetual Growth also encourages us to continually endeavor to improve our powers of patience and forgiveness, understanding the beauty and value of a life experience created by being consciously loving, selfless and compassionate, and practicing tolerance without judgment.

Perpetual Growth is a crystal skull of warmth, optimism, and clever humor, sharing these qualities with us and promoting our own inherent aspects of being caring, considerate, and helpful when we the opportunity to be of service to others. The Perpetual Growth crystal skull advocates fairness, fun, and positivity, and inspires each of us to persevere while working to achieve growth, goals, and enlightenment, with the promise that the end results will far exceed that which has been endured during the process.

The Perpetual Growth pink aragonite crystal skull teaches the valuable lesson that striving to achieve perfection is different than achieving growth and enlightenment. We are encouraged to always be conscious of how we may improve ourselves emotionally, mentally, physically, and spiritually, while at the same time remembering and accepting the truth that we are always already perfect, just as we are.

Aragonite is used for centering oneself for the purpose of healing work and meditation. It enhances energy levels and communication, especially between the physical and the spiritual realms, thereby enhancing prayers and strengthening the connection with the spiritual to allow for greater understanding and receiving of information.

Aragonite is used to protect from, and reduce, anger and stress by assisting one to practice patience and non-judgment. It is also effective for reducing stress in, and helping bring calm to, animals that are experiencing, or have experienced, trauma.

Aragonite promotes discipline and self reliance, self worth, and self confidence, also allowing others to experience dependability. It assists in calming and clearing the mind, provides insight and energy which assist in finding solutions to challenges, and teaches one to think before taking action, reducing tendencies of excessiveness and impulsiveness. By eliciting philosophical and thoughtful contemplation, aragonite enables one to approach daily life with an open heart and mind. Aragonite can also be used to help access past life information.

Physically aragonite has been used for providing energy to the body and exerting positive influences on the nervous system, heart, and brain. It has been used to bring energy to those who experience chronic fatigue. It has been used for skin disorders, utilizing calcium to assist the skeletal structure, mending broken bones, and bringing relief to spinal pain. Aragonite strengthens the connection between the body and the Earth, and is used to bring warmth to chilled areas of the body that may be caused by cold or flu.

NOTE: Skullis does not prescribe treatment for medical issues. Skullis offers information for reference to assist with the selection and understanding of crystal skulls, including this pink aragonite crystal skull sculpture.

| | | |
| --- | --- | --- |
| ORIGIN: Sichuan, China | HARDNESS: 3 | NATURAL: 100% natural |
The skull pictured is the exact one you will receive.
You are welcome to save or print one or more pictures below as a certification of the skull's Skullis identity.