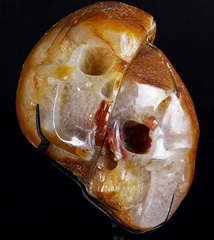 Dec 20, 2014 ACSAD (A Crystal Skull a Day) - Duality - Agate Carved Crystal Skull Sculpture with Stand
Item ID:W4000315
Size:4.0"x3.9"x4.8"(102x98x1219 mm) 3.7"x3.7"x9.2"(x95x93 233mm)
Weight:
Material:Agate
The Duality crystal skull sculpture is carved from a fascinating specimen of agate from Brazil, measuring 4.0 x 3.9 x 4.8 inches (102x98x1219mm) and weighing 3.29 pounds (1495g). Duality mounts above a polished wood stand which measures 3.7 x 3.7 x 9.2 inches (95x93x233mm) and weighs an additional 1 pound (453g). In keeping with the natural appearance of the agate specimen, the Duality crystal skull appears to have split in two pieces, but it is in fact one solid agate specimen. The exterior has been left naturally rough and unpolished, and the coloration of the agate transforms from an earthy orange brown to a translucent clear crystal interior with milky white and red colored accents. A wonderfully innovative presentation taking full advantage of this very unique agate, the Duality crystal skull is a stunning work of crystal skull art.

The Duality agate crystal skull sculpture represents the dynamic interrelationships of the aspects of ourselves that can initially seem contradictory and even counterproductive to our needs and desires. Duality empowers each of us to endeavor to understand that our conflicting internal thoughts, feelings, and beliefs, and our behaviors born from these, are the necessary sources for generating the experiences that eventually lead us to gain knowledge, wisdom, and enlightenment.

This is also applicable to the external situations and events that we experience. The Duality agate crystal skull helps us to understand that when we are at odds with other people, it is usually a result of a lacking of our own inner peace. Inevitably, we are better suited to welcoming and accepting people's differing opinions and beliefs.

Duality encourages us to accept and allow for our opinionated and short-sighted perceptions and actions, for the examination of these are what enable us to experience our greatest mental, emotional, and spiritual growth. The Duality agate crystal skull sculpture helps us to understand the origins and the reasons for these. With the growth they inspire, we are able to finally move past these in our lives, and we also become more tolerant and gentle toward others who have not yet made the realizations regarding the same experiences we have had.

The Duality agate crystal skull sculpture encourages us to find a comfortable balance between spirituality and living in the material realm, to learn to maintain an equilibrium of our emotions, our thoughts of ourselves and others, our aspirations, and most importantly, to embrace and accept our dual natures. At the same time, the Duality agate crystal skull reassures us that falling short of finding a perfect balance of our spiritual and material aspects is very possibly a much better outcome than achieving it. Without the imbalance and imperfect alignment, it is very possible that our learning would slow and we might lose sight of our path toward enlightenment.

Agate has long been used as a stone of protection, to stimulate analytical capabilities and precision, for providing for perceptiveness to situations, and for awakening ones inherent talents and adroitness. It is also used to avert, and protect from, lighting and stormy weather (physically and metaphysically), and it is considered to be very effective for the protection of children, especially protecting children from falling.

It has also been used to produce inspiration from, and connectedness to, the spiritual worlds. Agate raises one's consciousness, builds self-confidence, and assists one in choosing one's friends carefully. Agate provides strength, helps us to have patience and courage, and its calming effect allows for finding inner peace.

Agate has been used to promote marital fidelity and stability within ceremonial activities, for balancing body, mind, emotions, spirit, and yin/yang energies, and as a stone of harmony and unification of all people. Agate symbolizes benevolence and good will, with these originating from the nurturing energy within the stone. Agate can alleviate hostility, irritability, and boredom, while enhancing one's generosity, responsiveness, and receptivity. Agate is often used as a gazing tool for divination and meditation. It assists in examination of the self and the learning situations that bring about growth. Agate also assists in abating stress and anxiety.

Agate is used to bring prosperity on all levels, and is considered an excellent stone for artists and students, as it amplifies creative and intellectual thinking.

Agate heightens and intensifies energy, sharing it when it is required, and storing energy when it is not needed, enhancing one's durability and endurance. Agate gives one emotional strength, alleviates fears, and dispels envy and desire through the grounding of emotions. Agate teaches acceptance of one's thoughts and feelings which helps one to overcome the emotions one desires to be free of. Agate's nature of bringing harmony allows for removing and releasing bitterness, resentment, ill will, and the desire for vengeance and retaliation, teaching one to learn and practice forgiveness. In this way, agate heals and improves relationships.

Agate transforms negative energy to harmonious energy which cleans and balances the aura. It harmonizes the energy of the body with the energy of the Earth, grounding and strengthening one's connection with the planet.

Agate stimulates the digestive system and relieves gastritis, the inflammation of the lining of the stomach. Agate is used to strengthen sight, promoting a state of good health for the eyes, and has also been used to diminish thirst. It is connected to the optimal health of the hollow organs such as the heart, lungs, stomach, intestines, and uterus, and is used to heal skin disorders. It has been used to alleviate itching caused by insect bites. Agate assists the heart and blood vessels, strengthening the heart and also healing emotional discord that may be blocking one's ability to accept love. Agate has been used to cure fever and reduce the symptoms of epilepsy, and may help some people with somnambulism. Agate is also used to cleanse the lymphatic system and the pancreas.

NOTE: Skullis does not prescribe treatment for medical issues. Skullis offers information for reference to assist with the selection and understanding of crystal skulls, including this agate crystal skull sculpture.

| | | |
| --- | --- | --- |
| ORIGIN: Brazil | HARDNESS: 7 | NATURAL: 100% natural |
The skull pictured is the exact one you will receive.
You are welcome to save or print one or more pictures below as a certification of the skull's Skullis identity.