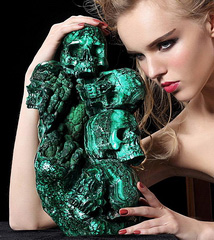 Dec 1, 2014 ACSAD (A Crystal Skull a Day) - The Peace Bringers - Malachite Carved Crystal Skulls Sculpture
Item ID:W0000068
Size:7.1"x8.5"x14.3"(180x215x365 mm)
Weight:
Material:Malachite
The Peace Bringers are five beautifully carved crystal skulls sculpted from a massive malachite specimen from Zambia. The wonderful layered patterns of the malachite's different shades of green combined with natural sparkling druse of malachite crystal terminations create fascinating features that add to the eloquence and dignity of this highly detailed elaborate crystal skull carving. The Peace Bringers are surrounded by this magnificent variation and the spectacular distinction between the artistry of nature and that of Skullis Crystal Skulls designers and creators. This stunning malachite carving measures 7.1 x 8.5 x 14.3 inches (180x215x365mm) and weighs 39.8 pounds (18070g).

The Peace Bringers malachite crystal skulls embody the message we will all benefit from listening to; the message of peace, harmony, happiness, and gratification for all people. The Peace Bringers represent unity and strength, friendship and shared joy and prosperity, and inspire us to accept all people with open arms and genuine compassion; exactly what we all desire to receive from others.

The Peace Bringers malachite crystal skulls maintain a watchful energy to protect us from negativity and disharmony, acting to alter such energies and intentions to a more productive nature of loving cooperation and forgiveness. The Peace Bringers teach us to offer our own efforts to combine with those of others, creating a powerful serenity that is far greater than we can express individually. When we join hands and combine our efforts, aligning our intentions, we can create a process that cannot be broken or misdirected, bringing a reassurance to all people that we can manifest a great and lasting peace and unity. The Peace Bringers encourages us to lay aside our tendencies to compete, to disagree, and to be a part of conflict, teaching that when there is unity there will be no need for enforcing or protecting, and conversely, where there is no force or harm, there will be harmony and community.

The Peace Bringers malachite crystal skulls inspire and challenge us to redirect our mental approach to others through our hearts so we may more easily express ourselves lovingly and without judgment. We can each choose to work to be in agreement with other people, with goodwill for all people, and understand that when an agreement doesn't seem possible, we can make a mutual decision to find resolution by simply letting go of the situation entirely. We can recognize and admit that no thing is more important than the shared harmony between all people, for each of us already knows, in our hearts, that this is truth. The Peace Bringers inspire us to pursue equality, friendship, love, and honor for all people now and for the generations to come, for as long as we will live on this Earth.

Malachite is a stone of transformation, protection, healing, and travel. It enhances one's connection to all plant life and is considered to be a stone of the material plane. It is used to maintain a connection with friends, family, and loved ones who are separated by distance.

It has been used to enhance intuition and visions, to protect from the evil eye, to ward against negative events, and it is commonly believed to protect from impending danger by breaking into pieces. Malachite absorbs negativity and pollutants from the body and the environment, protects from all types of radiation, and clears harmful electromagnetic pollution while radiating healing earth energies in its surroundings. It also helps to protect one from noise, excessive fluorescent lighting, and negativity conveyed through communications such as phone calls and messages, and emails.

Malachite is used to protect during traveling, and to release fear and anxiety of flight and of new places and experiences. It assists to negate jet lag, and brings protection in heavy traffic, moving ahead on one's route to facilitate pleasant traveling experiences and protect from accidents.

Malachite helps one adjust to changes. It encourages, and reveals blockages to, spiritual growth, and helps to identify and release detrimental thinking and behavior patterns. Malachite teaches one to communicate and express their true feelings, helps to overcome shyness and self-doubt, and brings the lesson of being responsible for one's thoughts and actions. Malachite supports friendship and empathy for others.

Malachite stimulates clarity of thought and strengthens memory, and is especially helpful with short term memory issues. It helps to alleviate depression and to bring healing to areas of emotional abuse, especially that which has been experienced during childhood. Malachite directs one to find mutually beneficial relationships with others based in love rather than desire.

Malachite assists in healing of the physical and emotional bodies. It helps these bodies to eliminate toxins and discordant energies, and gives revitalizing life force energy to the body and aura.

Malachite is useful for regulating the menstrual cycle, relieving cramps, and easing labor. Known as the Midwife Stone, its energies are particularly helpful for the female reproductive system. Malachite is useful for treating stomach conditions, sexual dis-ease, malaria, trembling and Parkinson's disease, and helps with relieving cold sweats, asthma, intestinal problems, and pain in the back and extremities. Malachite assists those dealing with osteoarthritis, especially of the spine, can be used to help treat kidney and gallstones, and is used as a diuretic.

Malachite also lowers blood pressure, treats epilepsy, travel sickness, and vertigo. It assists to regulate healing of fractures and broken bones, swollen joints, growths and tumors, and torn muscles. Malachite bolsters the immune system and stimulates the liver to release toxins.

NOTE: Malachite contains copper which is toxic. Malachite should only be used in its polished form. Handle druse or massive rough specimens with caution. Avoid creating dust which should not be ingested or inhaled. Do not place malachite in the mouth. Do not make and use a malachite elixir in the standard manner. Handling polished malachite does not present health risks, but inhaling malachite dust is dangerous. As a gem, malachite is better suited to necklaces, pendants, earrings, and brooch types of jewelry as opposed to rings and bracelets which are much more likely to be damaged.

NOTE: Skullis does not prescribe treatment for medical issues. Skullis offers information for reference to assist with the selection and understanding of crystal skulls, including this malachite crystal skull sculpture.

| | | |
| --- | --- | --- |
| ORIGIN: Zambia | HARDNESS: 3.75 | NATURAL: 100% natural |
The skull pictured is the exact one you will receive.
You are welcome to save or print one or more pictures below as a certification of the skull's Skullis identity.