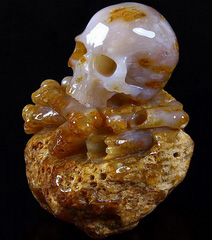 Jun 3, 2014 ACSAD (A Crystal Skull a Day) - Davy Jones - Fossilized Coral Fossil Carved Crystal Skull Sculpture
Item ID:W0000100
Size:5.5"x4.4"x5.8"(140x112x147 mm)
Weight:
Material:Coral Fossil
Davy Jones, this pile of bones,
Lost to sea, accompany,
Fish and reef, rescind belief,
Act of chance, or circumstance.

Davy Jones, left only bones,
Lost at sea, no company,
Waves and reef, descend beneath,
What fate grants, all happenstance.

Davy Jones, his skull and bones,
Choose to see, what you believe,
Coral reef, consign relief,
Now advance, again to dance.

A translucent white and orange agate crystal skull sits atop a pile of bones littering an ancient reef. The corralite recesses in this fossilized coral left from prehistoric polyps add intrigue and fascination to this beautiful stone, leading designer Steven Z to contemplate the vicissitudes of our daily lives, of the world, and of the prehistoric alien sea where this coral lived and died.

In the hands of fate, consigned to the sea, Davy Jones joined with this bygone coral to be preserved in the agate vein running through it. Fate alters again, choosing now to be kind, and offers Davy Jones a reprieve from his misfortune, to join the world of the living again here at Skullis. Welcome back Davy!

Agate has been used to strengthen sight, diminish thirst, and promote marital fidelity and stability within ceremonial activities, for providing a balancing energy of body, mind, emotions, and spirit, and as a stone of unification of all people. Agate can symbolize benevolence and good will, coming from the nurturing energy within the stone. Agate can alleviate hostility, irritability, and boredom, while enhancing generosity, responsiveness and receptivity.

Coral symbolizes tact and working together for the greater good. It is used to calm the emotions and bring inner peace. Coral inspires intuition, imagination and visualization and assists in understanding applying the mystical aspects of communication with past spiritual masters, and speed the sharing of knowledge.

Fossils, in the distant past, were believed to be seeds from the stars that were grown in the earth and as such, are considered to enhance telepathic communication with worlds of the past and with other worlds today. Fossils are used to enhance and intensify achievements in business and to diffuse quality and purity into an environment. Fossils can assist in letting go of habits and undesirable thought processes, and to be aware and considerate of new options and energies that are available.

| | | |
| --- | --- | --- |
| ORIGIN: Indonesia | HARDNESS: 7.5 | NATURAL: 100% natural |
The skull pictured is the exact one you will receive.
You are welcome to save or print one or more pictures below as a certification of the skull's Skullis identity.