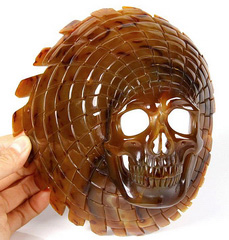 Apr 19, 2015 ACSAD (A Crystal Skull a Day) - The Storyteller - Carnelian Carved Crystal Skull Sculpture with Stand
Item ID:W4000383
Size:3.0"x5.6"x6.3"(75x142x160 mm) 3.8"x3.9"x10.7"(96x100x272 mm)
Weight:
Material:Carnelian
The Storyteller is an amazingly designed crystal skull carved from a beautiful specimen of translucent carnelian from Brazil, a superb sample that becomes even more fascinating when light passes through it, accenting the darker features within the crystal. An imaginative and innovative sculpture, The Storyteller is decorated with a weave pattern which radiates outward from the crystal skull's intricately carved features. The extensions along the edges give The Storyteller the feel of a project continuing in its progress. The Storyteller carnelian crystal skull sculpture measures 3.0 x 5.6 x 6.3 inches (75x142x160 mm) and displays on an iron work setting rising from a finely finished wood base, measuring 3.8 x 3.9 x 10.7 inches (96x100x272 mm). The weight is 2.04 pounds (924 g).

The Storyteller crystal skull shares an energy that assists us to learn from our past, while also learning from, and then letting go of, emotionally charged thoughts and beliefs which do not positively affect our growth and enlightenment. The Storyteller also helps us to choose our words wisely, with consideration for how what we have to say may affect those we are speaking to, as well as those who will hear us.

The Storyteller carnelian crystal skull helps us to understand that, though we may be ready to offer advice and share the benefits of our wisdom gained from experience, other people may not yet be at a level of development which allows them to listen. In these situations, The Storyteller crystal skull enables us to know when others do not listen to our advice, it does not reflect on their level of intelligence. Rather this may indicate their progress in regards to their personal growth, in which being given the answers will deny them the opportunity to learn through experience. The Storyteller encourages us to always be mindful of our tendency to misperceive and misunderstand a situation based on assumptions we make out of ignorance, helping us to understand we will always be wiser when we choose to act with compassion and love.

The Storyteller encourages us to be comfortable with the person we are, and to no longer concern ourselves with what we expect others may or may not do or think. Instead, The Storyteller carnelian crystal skull sculpture encourages us to also follow our hearts and our intuition, and inspires in each of us the spontaneity, imagination, and creativity that will help us create our own reality and manifest true happiness and peace in our lives.

Carnelian instills leadership, initiative, stamina, courage and determination. It encourages a sense of community and practicality, values, morality, and generosity, and enhances one's ability to communicate with refined articulation and persuasion. Carnelian is symbolic of sunrise and sunset, the transitory periods of the day that connects two realms. It brings balance, and shares the ability to understand people by seeing the world through their eyes and empathizing with them. Lighter shades of carnelian are representative of the feminine aspects of our being, while the darker shades are associated with masculine energies. Carnelian is used to amplify and strengthen love, passion, and desires, to enhance fertility, and can be used to aid in conception.

Carnelian brings energy and motivation to the mind as well, helping one to gain and maintain an optimistic outlook and leave behind feelings of disinterest and indifference. It can be used to access past life and Earth memory information, and it inspires an amplified love and gratitude of the natural world and its beauty.

Carnelian is used to stimulate one's creative efforts, and is useful for inventors, architects, and builders of all kinds, as well as artists who work with three dimensional mediums. For those who work with words, both verbal and written, carnelian can help to bring structure and coordination to their compositions. It is a useful crystal for singers and speakers, and helps bolster self confidence for entertainers and performers.

It brings empowerment to help one overcome inconsiderate behavior of employers who take their working staff for granted and make impractical demands and unrealistic requirements. Carnelian also helps one to move past the experiences of any type of abuse, sexual inhibitions and anxieties, eating disorders, and mid-life crisis, and teaches one how to trust in oneself and one's abilities of discernment. Carnelian teaches one to release the desire to control, and instead to allow the natural flow of universal energy work to achieve the highest good for all involved. It helps one to understand that the emotional state one chooses to experience directly affects the mental, physical, emotional, and spiritual bodies. Carnelian allows one's natural talents to be activated, and enables one to see the truth that love is received when love is freely given.

Carnelian is a stone of good luck, prosperity, and resourcefulness. It is used to protect from accidents, specifically with tools, machines, and falling objects, and is used to ward off theft, dangerous weather conditions, fire, and accidents in homes and places of business.

Carnelian can be helpful in alleviating depression and replacing it with a love for life, in promoting better focus and concentration, and keeping one's attention in the present moment rather than allowing the mind to wander and become distracted. Carnelian defends and prevents one's own feelings of jealousy, possessiveness, anger, and animosity, and it provides protection from these feelings coming from other people.

It has been used to bring physical strength and coordination to the body and is very supportive for following exercise regimens. Carnelian also helps with bringing balance and stability in all aspects, and is an excellent mediator for the mind and body, helping to strengthen the connection between, and one's understanding of, each of these. It enhances intuition, especially when the focus is on personal growth and one's life purpose. It brings understanding of the temporary physical experience, helps one to release fears of death, and has been used to protect souls during transition to the next state of being.

Carnelian is a good stone for gaining general overall health. It has been used to prevent dis-ease and infection. It stimulates the blood supply for tissue and organs, regulating a proper fluidity of the blood, and enhances the body's metabolism. It helps to treat and prevent blood disorders, nosebleeds, varicose veins, and hemorrhoids. It aids in treating the symptoms of menopause and menstruation. It helps to increase one's apatite and can aid in the absorption of minerals, nutrients, and vitamins. Carnelian is also used to affect skin disorders and irritations, and speed the healing of ligament, bone and tissue damage. It also treats disorders of the nervous systems and of specific nerves, lower back issues, arthritis, rheumatism, and congestion. It is considered to be very helpful for negating inebriation from drugs and alcohol and for letting go of destructive behaviors.

NOTE: Skullis does not prescribe treatment for medical issues. Skullis offers information for reference to assist with the selection and understanding of crystal skulls, including this carnelian crystal skull sculpture.

| | | |
| --- | --- | --- |
| ORIGIN: Brazil | HARDNESS: 7 | NATURAL: 100% natural |
The skull pictured is the exact one you will receive.
You are welcome to save or print one or more pictures below as a certification of the skull's Skullis identity.