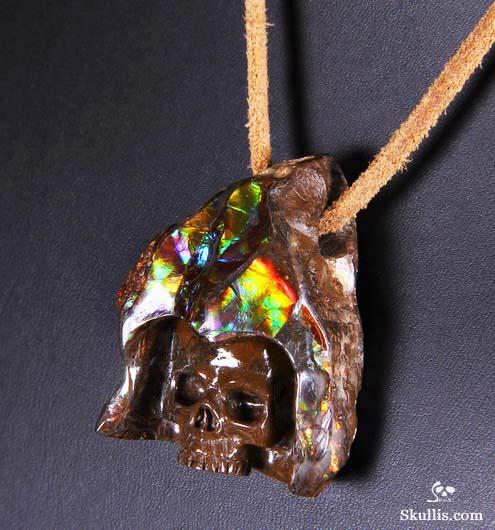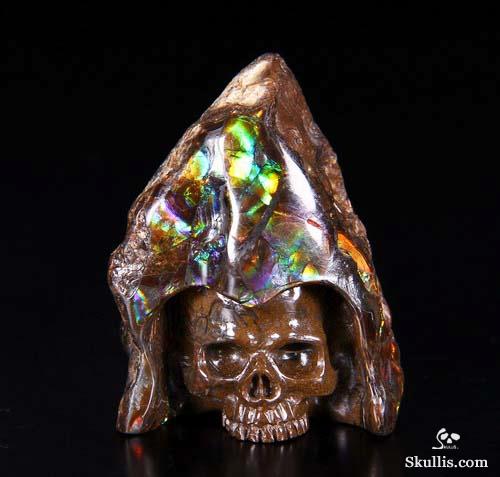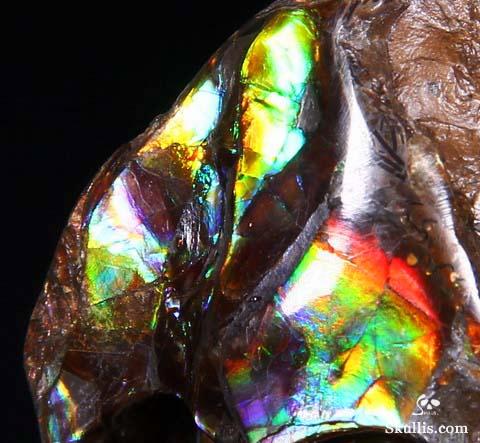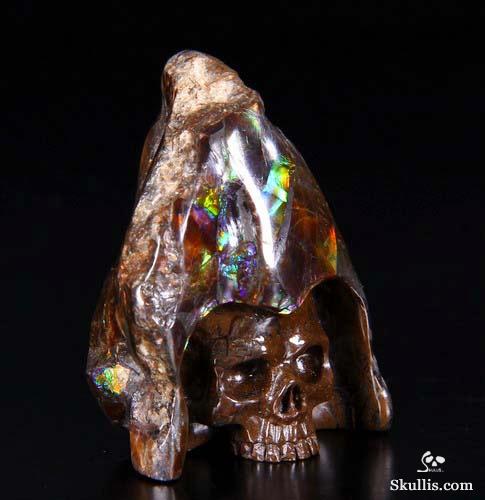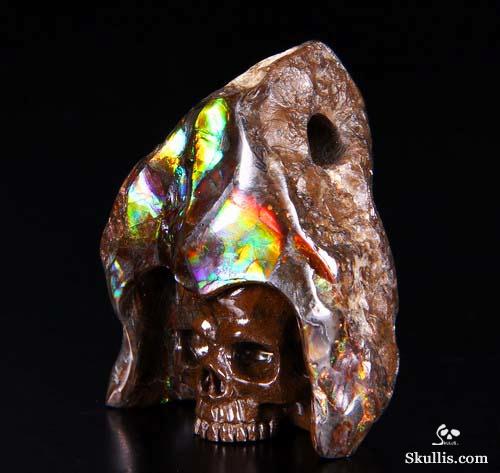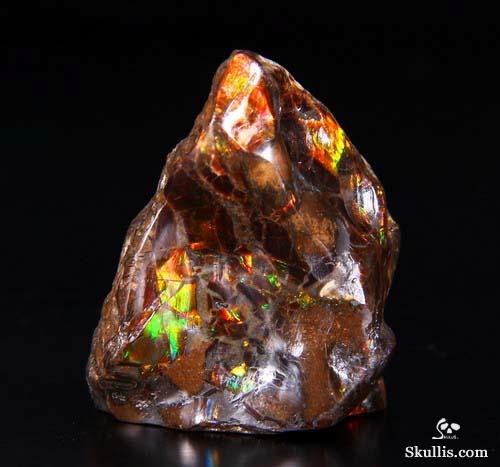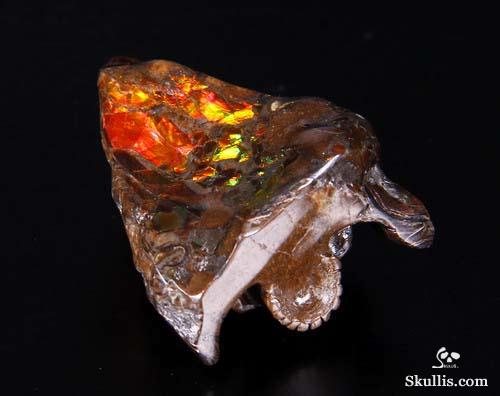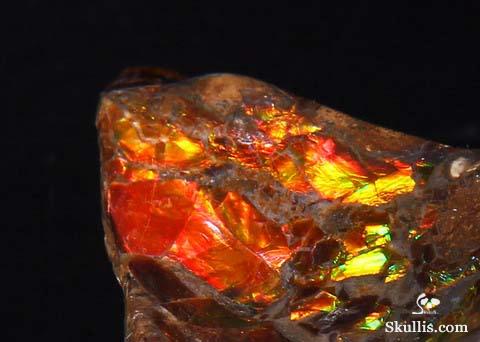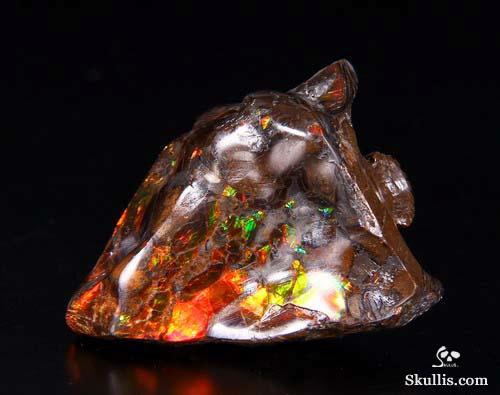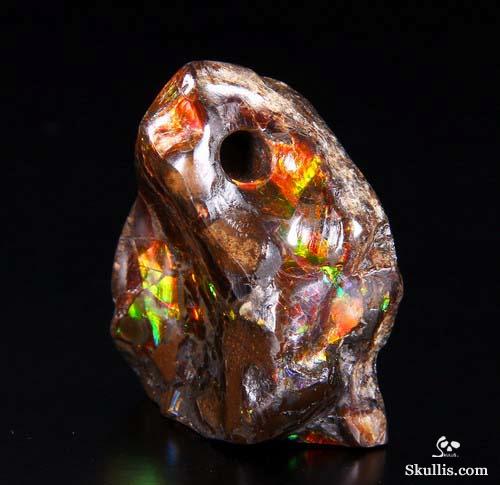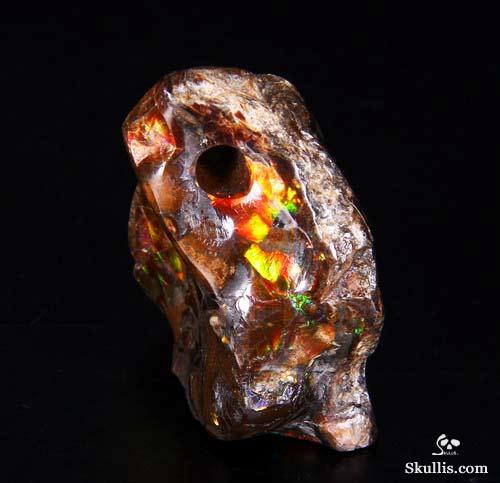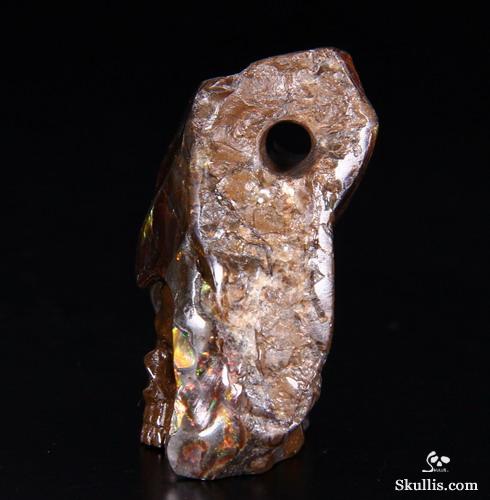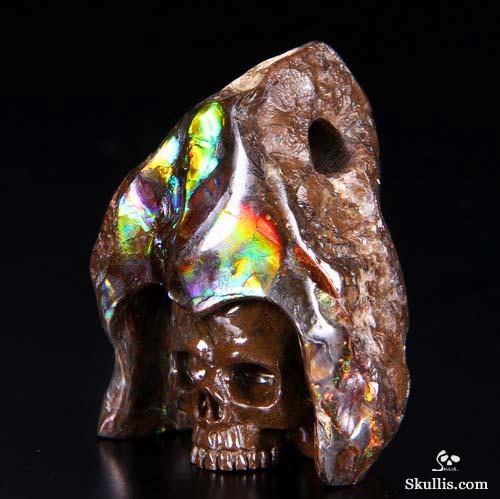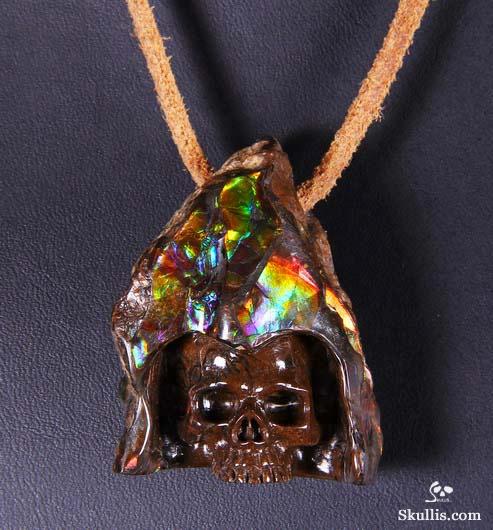 Ammolite Carved Crystal Skull Pendant
Item ID:4101010
Size:1.7"x1.3"x0.9" (43x34x23 mm)
Weight:
Material:Ammolite
You are looking at an Ammolite skull. The AMMOLITE is the National Treasure of the Canada.
Ammolite

Sources and Origin

Ammolite is formed from an ancient marine fossil called ammonite. Although sources of ammonite exist in other locations around the globe, it is only in one isolated region of Southern Alberta, Canada, that this deposit produces the gemstone Ammolite. 71 million years of tectonic pressure, heat and mineralization have resulted in the formation of this geological wonder.



Color
The color present in Ammolite is caused by light interference during refraction into the many layers of the gemstone. Each color in Ammolite represents a different layer of the gem material. So, depending on the number of fine layers in the rough, everything from one color to the full visible spectrum will be displayed. Since the play of light varies, every Ammolite gem shows a unique array of color.

Referred to as the "Seven Color Prosperity Stone," it is believed that each color in Ammolite has a different meaning and benefits the wearer in a different manner.

Red stimulates growth and energy
Orange generates creativity and increased libido
Yellow improves wealth
Green improves wisdom, intellect and promotes the independent spirit
Blue, Indigo and Violet all promote health and serenity
In the past, attempts were made to categorize Ammolite gems based on patterns, however this method has been cast aside in favor of appreciating each gem for its own uniqueness.

Every fissure, fracture and matrix line often found in Ammolite is completely characteristic of the gem, adds to the natural beauty, and helps tell the story of the immense pressure and tectonic movement under which it formed.

Properties
Ammonite is a stone of protection. It provides for insight and it helps to assist one in seeing the"whole picture" Gives stability to it's user. Since it is associated with the Root Chakra, it encourages ones survival instincts and is grounding.

Supply
The supply of Ammolite is extremely limited and with only one area for mining, Ammolite truly is one of nature's rarest gems. At current production levels supplies of high grade ammolite are expected to be completely exhausted in approximately 20 years.


| | | |
| --- | --- | --- |
| ORIGIN: Canada | HARDNESS: 5.5 | NATURAL: 100% natural |
The skull pictured is the exact one you will receive. All pictures were taken in natural light.
You are welcome to save or print one or more pictures below as a certification of the skull's Skullis identity.