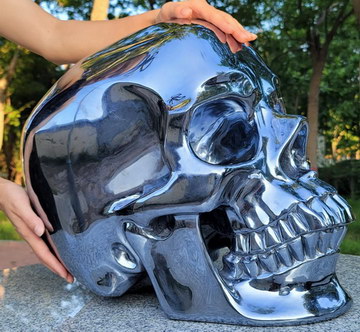 19.1" MASSIVE 144.3LB Titan 19.1" Terahertz Crystalline Silicon Super Realistic Carved Crystal Skull Sculpture
Item ID:4812369
Size:19.1"x12.8"x14.8" (485x325x375 mm)
Weight:
Material:Terahertz Crystalline Silicon
Wow! It's the largest polycrystalline silicon specimen we've carved here at Skullis! This finely sculpted crystal skull is breath taking! As you circle, you'll be treated to a unique reflection of your surroundings playing across the expertly detailed features of the skull. You can even admire the reflection of yourself admiring the sculpture!
While crystalline silicon is a photovoltaic material used for converting light to electricity in solar cells, as well as its applications in semiconductor devices, integrated circuits, and other electronics, it may be even more impressive as a carved and polished sculpture. Once polished, crystalline silicon has an amazing mirrored, chrome-like finish.
Skullis has used this stunning effect to enhance several of our original designs of crystal skull jewelry and sculptures, but surely this Titan Super Realistic crystal skull is the epitome of our efforts! Measuring an impressive 19.1x12.8x14.8 inches (485x325x375 mm) and weighing 144.3LB (65500g), this ONE-OF-A-KIND single piece sculpture is carved from a solid polycrystalline silicon specimen. Impossible to ignore, a joy to spend time with, and certainly you'll find it to be a constant source of inspiration and contemplation.
| | | |
| --- | --- | --- |
| ORIGIN: man-made | HARDNESS: | NATURAL: Syethetic |
The skull pictured is the exact one you will receive.
You are welcome to save or print one or more pictures below as a certification of the skull's Skullis identity.