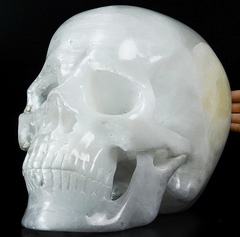 ( 25.2LB) AMAZING Titan 10.5" Selenite Carved Crystal Skull, Super Realistic
Item ID:W4000436
Size:10.5"x6.9"x8.3" (267x175x210 mm)
Weight:
Material:Selenite
You are looking at an Selenite skull. The skull is 10.5 inches long, from front to back.

A Gypsum. White/clear striated crystals. Has been used to work against cancer and is known to stabilize epileptic disorders. Mental focus, growth, luck, immunity, kundalini. Centuries-old record keepers of events/information. Smoothes emotions. Holding crystal, visualize it bringing white light/energy (higher ideas/consciousness) from transpersonal point above head down through body, out through feet into earth/physical plane. Place on 3rd eye for stored info. May help physical and emotional letting go. Repro; spine and nerve system, emotional and athletic flexibility. Sends healing to the earth. Expands sensitivity, field of awareness.

| | | |
| --- | --- | --- |
| ORIGIN: Morocco | HARDNESS: 2 | NATURAL: 100% natural |
The skull pictured is the exact one you will receive.
You are welcome to save or print one or more pictures below as a certification of the skull's Skullis identity.