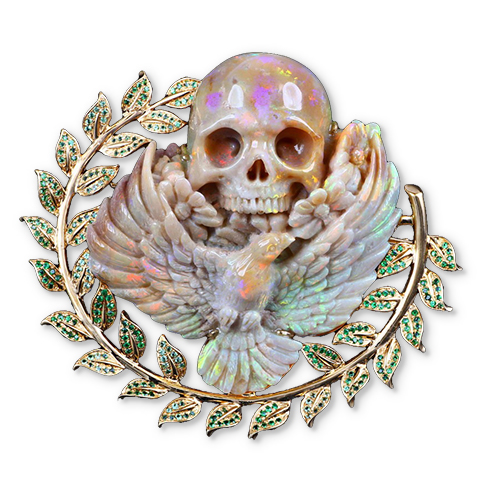 AMAZING 2.3" Australian Opal & 18K Gold inlaid Tsavorite Carved Crystal Skull & Eagle Brooch, Crystal Healing
Item ID:W4000627
Size:2.0"x2.3"x0.7" (51x59x18 mm)
Weight:
Material:Australian Opal & 18K Gold inlaid Tsavorite
You are looking at an Australian Opal skull Brooch. It's 2.3 long, from front to back. It can also be used as a pendant. Technically, opal is non-crystalline silica (in a rigid gel form) containing approximately 5% to 9% water. Non-crystalline silica is similar to quartz and sand. Opal is not only one of the world's most beautiful precious gemstones; it is also one of the worlds rarest. Opals rarity has made it a desirable and at times divisive part of many cultures over thousands of years. Opal is from the Greek "Opallos" meaning to "see a change of colour. Each Australian opal is unique and the different varieties offer a spectacular choice of colour, shape and size. When rotated, the opal displays a constantly changing interplay of fiery colours. The finest quality stones can command prices similar to the finest emeralds, rubies and diamonds.
| | | |
| --- | --- | --- |
| ORIGIN: Australia | HARDNESS: 6 | NATURAL: 100% natural |
The skull pictured is the exact one you will receive.
You are welcome to save or print one or more pictures below as a certification of the skull's Skullis identity.