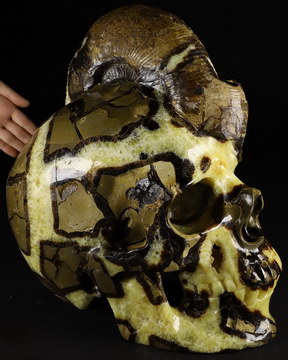 15.7" Titan 80.6LB Dragon Septarian Stone Super Realistic Carved Crystal Skull Sculpture
Item ID:4812370
Size:15.0"x9.8"x15.7" (380x250x400 mm)
Weight:
Material:Dragon Septarian Stone
While it isn't uncommon to see the same crystal companionship of brown aragonite framing yellow calcite crystals in the inner chambers of ammonite specimens, it certainly got us to stop and stare when we found an ammonite inside a septarian nodule! Not to mention the size! After carving, this sculpture measures a colossal 15 inches from front to back and 15.7 inches high! The impressively sized ammonite protrudes from the top, at a slight angle and just right of center from the crystal skull below. This fine specimen also features vugs of both yellow calcite crystal points and sparkling brown aragonite druse. The left side of the crystal skull gives a hint of the turtle shell pattern that makes turtle stone one of septarian's common names, while the face, right side, and back of the skull all offer a perfect blend of contrasting colors. And sure to please any person with an eye for detail, an exposed section of the fossil shows impossibly intricate etched areas of the ammonite's suture patterns. Click on the close up at Skullis.com to see the high resolution photo. It's just a remarkable specimen! Septarian Dragon Stone nodules are one of the beautiful mysteries of the world. We're not certain how these nodules formed their inner walls. It is suggested an organic mass becomes encased in mud that will become limestone, forming a concretion. The outside of the nodule hardens and then the mass in the center dehydrates, cracking to create the inner walls called septaria. The hollow interior is then filled with the crystalline formations. Rarely, solid fossils are found in septarian nodules, and are thought to be the original cause of the forming of those concretions. We're not fossil experts so we won't guess about the date, but other specimens like this from Madagascar are said to date from the Middle to Late Jurassic making them between 145 and 174 million years old. A connection to our world's living history, how many millions of years we'll never be able to comprehend, this Titan sized Super Realistic septarian crystal skull with ammonite fossil is yet another excellent example of the fully unique treasures available from Skullis.
| | | |
| --- | --- | --- |
| ORIGIN: Madagascar | HARDNESS: 5 | NATURAL: 100% natural |
The skull pictured is the exact one you will receive.
You are welcome to save or print one or more pictures below as a certification of the skull's Skullis identity.