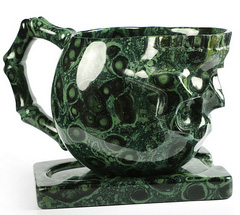 6.3" Kambaba Jasper Carved Crystal Skull Cup, 10.5 OZ
VIDEO
Click above to see the video
Item ID:S0009091
Size:6.3"x3.6"x3.7" (162x91x92 mm)
Weight:
Material:Kambaba Jasper
Also known as Brecciated Army Jasper, Camo Stone   Kambaba Jasper is an exotic looking jasper from Africa, Its pattern includes speckles and concentric rings. It contains a jumbled jungle of forest green, mint green, black and brown. It is said to mystically soothe the nerves and state of mind. As with other jaspers, traditional lore says that it is good for grounding and protection. It is purported to be beneficial for plant growth and health, particularly in arid environments or where the soil is poor. Crystal healing lore says that Kambaba Jasper helps dietary stabilization, assimilation of vitamins and minerals, and cleansing the body of toxins.
| | | |
| --- | --- | --- |
| ORIGIN: Madagascar | HARDNESS: 7 | NATURAL: 100% natural |
Below is a sample piece. Due to stones' natural characteristics, what you receive may be of some difference to this one. Each one is unique. And we guarantee all are of same quality.
You are welcome to save or print one or more pictures below as a certification of the skull's Skullis identity.