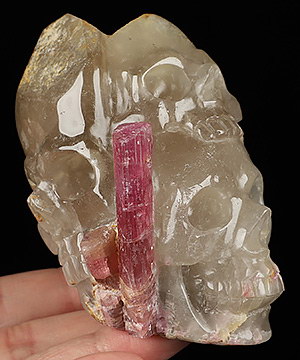 3.3" Tourmaline Carved Crystal Skulls Sculpture
Item ID:4703292
Size:3.3"x2.4"x3.1" (84x60x78 mm)
Weight:
Material:Tourmaline
You are looking at a Rubellite Tourmaline skull. The skull is 3.3 inches long? from front to back.


This is probably the best and the largest Rubellite skull ever made in the world, judging by its extraordinary color, clarity and size. You wouldn't miss it for the world, for it is not only a piece of high artistic value but also a good choice for investment. It's stunningly beautiful and will sure stand out among your collection.


The rubellite is a particularly beautiful gemstone from the colourful family of the tourmalines. Its colour shines in the most beautiful nuances from red to shocking pink. There are red and pink tourmalines in many nuances, which include a tender pink, a fine shocking pink, an intense violet and a bold ruby-red. However, only a few of these are entitled to call themselves 'rubellites'. The name comes from the Latin 'rubellus', which means reddish. Rubellites are not merely red or shocking pink tourmalines. There is an important criterion for this especially beautiful gemstone, and that is the way its colour behaves in daylight and artificial light. Many gemstones change their colour depending on the light source. A true rubellite does not. It shines just as intensely in artificial light as it does in daylight. The colour of most other pink or red tourmalines, by contrast, displays a more or less clearly visible tinge of brown in artificial light.

| | | |
| --- | --- | --- |
| ORIGIN: Brazil | HARDNESS: 7.5 | NATURAL: 100% natural |
The skull pictured is the exact one you will receive.
You are welcome to save or print one or more pictures below as a certification of the skull's Skullis identity.