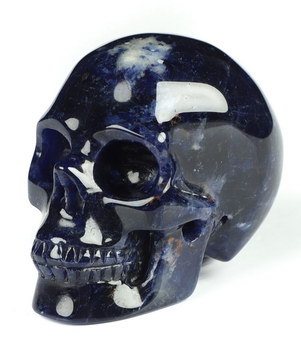 2.0" Sodalite Hand Carved Crystal Skull, Realistic, Crystal Healing
Item ID:4504260
Size:2.0"x1.3"x1.6" (50x34x40 mm)
Weight:
Material:Sodalite
You are looking at a Sodalite skull. The skull is 2 inches long from front to back.
Sodalite unites logic with intuition and opens spiritual perception, bringing information from the higher mind down to the physical level. This stone stimulates the pineal gland and the third eye and deepens meditation. When in sodalite-enhanced meditation, the mind can be used to understand the circumstances in which you find yourself. This stone instills a drive for truth and an urge toward idealism, making it possible to remain true to yourself and stand up for your beliefs.
| | | |
| --- | --- | --- |
| ORIGIN: Brazil | HARDNESS: 5.5 | NATURAL: 100% Natural |
The skull pictured is the exact one you will receive.
You are welcome to save or print one or more pictures below as a certification of the fine art's Skullis identity.