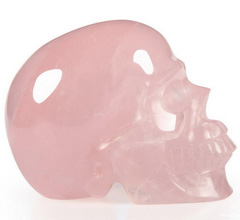 2.0" Rose Quartz Carved Crystal Skull, Realistic
Item ID:S0000898
Size: 2.0"x1.3"x1.6" (50x33x40 mm)
Weight:
Material:Rose Quartz
You are looking at a Rose Quartz skull. The skull is 2.0 inches long, from front to back.

Rose Quartz represents love, beauty, peacefulness, forgiving, lovingness, self-love and emotional balance! Rose Quartz works with the Heart Chakra. It is a soft, gentle, soothing stone that warms the heart center. Its value as a nurturing friend cannot be overstated. Neither can it's soothing influence. Helps diffuse negative stimuli and uncomfortable memories. Helps us discover the ability to love ourselves and makes us more open to other people. It is of particular value in helping us to forgive ourselves, hastening self-acceptance. Helps us realize that all change is important, even difficult change. Stimulates love and tender appreciation of all things.

| | | |
| --- | --- | --- |
| ORIGIN: Brazil | HARDNESS: 7 | NATURAL: 100% natural |
Below is a sample piece. Due to stones' natural characteristics, what you receive may be of some difference to this one. Each one is unique. And we guarantee all are of same quality.
You are welcome to save or print one or more pictures below as a certification of the skull's Skullis identity.