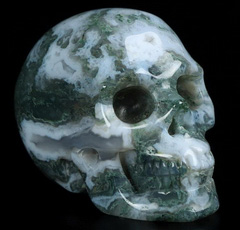 2.0" Green Moss Agate Carved Crystal Skull, Realistic, Crystal Healing
Item ID:S0001259
Size:2.0"x1.3"x1.6" (50x34x40 mm)
Weight:
Material:Green Moss Agate
Connects one to Nature. Translucent, transparent agate containing inclusions of minerals that look like moss or foliage. Improves ego and self-esteem, emotional balance and strengthens positive personality traits. Allows one to see all the beauty one's eyes touch.

| | | |
| --- | --- | --- |
| ORIGIN: India | HARDNESS: 7 | NATURAL: 100% natural |
Below is a sample piece. Due to stones' natural characteristics, what you receive may be of some difference to this one. Each one is unique. And we guarantee all are of same quality.
You are welcome to save or print one or more pictures below as a certification of the skull's Skullis identity.